Armenia in Dire Straits as Karabakh Conflict Reignites
Publication: Eurasia Daily Monitor Volume: 17 Issue: 137
By: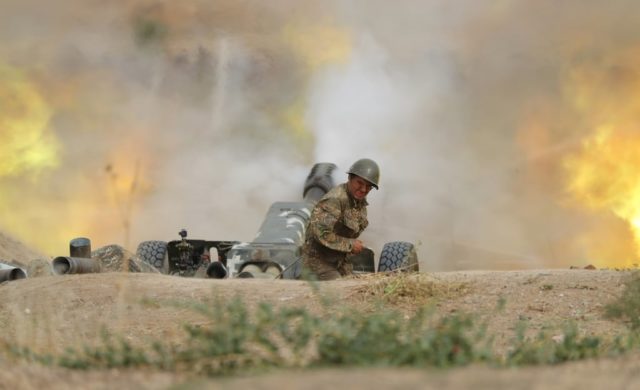 The ceasefire agreement in Karabakh collapsed again on Sunday (September 27), and full-scale fighting between Armenian and Azerbaijani forces is now in full swing for the fifth straight day, with heavy casualties being reported. The international community, including the United Nations and the European Union, have been calling (so far unsuccessfully) on both sides to immediately end the fighting and resume negotiations. The presidents of France, Russia and the United States—as co-chairs of the Organization for Security and Cooperation in Europe's (OSCE) Minsk Group, created in 1992 to resolve the Karabakh conflict—issued a joint statement condemning the latest bout of violence and calling for an immediate ceasefire and unconditional resumption of peace negotiations. This declaration is unlikely to have any effect on the fighting (Interfax, October 1).
The Nagorno-Karabakh Autonomous Oblast was an autonomous region of Soviet Azerbaijan, mostly populated by Armenians. In 1988, a popular movement began in Armenia and Nagorno-Karabakh for the latter to separate from Azerbaijan, resulting in sectarian violence and guerrilla-style warfare in Karabakh. After the collapse of the Soviet Union, the Karabakh conflict escalated into a full-scale Azerbaijani-Armenian war, though, officially, the Armenian national army was not involved. The international community legally considers the self-proclaimed Nagorno-Karabakh Republic, which emerged out of the fighting, as part of Azerbaijan. Nonetheless, the Nagorno-Karabakh War ultimately ended with a decisive Armenian victory: Yerevan took control of Karabakh as well as occupied a neighboring buffer zone previously populated by Azerbaijanis. Hundreds of thousands of refugees fled or were forcibly expelled: Armenians from Azerbaijan and Azerbaijanis from Armenia, Mountainous Karabakh and the surrounding buffer zone. The May 1994 ceasefire agreement established a line of conflict (LoC) between Armenian and Azerbaijani forces. All attempts over the years to broker a political solution by the Minsk Group states utterly failed. Skirmishes between Azerbaijani and Armenian forces broke out regularly along the LoC. And in April 2016, a particularly acute escalation (the "Four-Day War") erupted there, leaving hundreds of soldiers on both sides killed or wounded. But the ceasefire was quickly reestablished, with Moscow playing a key mediating role. In July 2020, a serious armed confrontation flared up on the internationally recognized Azerbaijani-Armenian border, north of occupied Karabakh. After some ten days of fighting and shelling, a ceasefire was established. As long as these periodic clashes remained low-key and the violence contained, the outside world paid little attention, preoccupied with other problems and conflicts (see EDM, July 16).
However, both sides have been preparing for a military showdown for years. Armenia and its proxy regime in Karabakh retained and kept operational large arsenals of Soviet-era heavy weapons: tanks, guns, armored personnel carriers (APC), multiple-launch rocket systems (MLRS), R-17 (Scud-B) tactical ballistic missiles, anti-aircraft batteries and so on. Armenia had little access or money to purchase modern, precision-guided weapons and targeting capabilities. Yerevan's victory in the Nagorno-Karabakh War made the Armenians overconfident they could again best the "inferior" Azerbaijanis if enough heavy weapons and men could be swiftly mobilized and moved into the field. But during this same period, hydrocarbon-rich Azerbaijan, whose annual defense spending exceeded Armenia's entire state budget, procured large amounts of weapons from Russia (which was simultaneously selling arms on credit to Armenia), Israel, South Korea and Turkey. Today, Azerbaijan wields modern Russian and Israeli air-defense missiles, Israeli and Turkish attack and reconnaissance drones, as well as modern Israeli Spike and South Korean AT-1K Raybolt self-guided anti-tank missiles that surpass anything in the Russian inventory. Furthermore, Azerbaijani forces have developed the capability to utilize drone and satellite imaging to correct their artillery and MRLS fire. Thus, even though the overall count of Armenian and Azerbaijani heavy weapons is now more or less equal, Azerbaijan's military boasts a definite qualitative technological edge. Armenia has been trying to keep up, negotiating new arms deals with Russia and procuring Iskander ballistic missiles, Su-30 jet fighters and T-90 tanks. An Azerbaijani move to reclaim lost territory and avenge its national pride while their qualitative edge remained preserved looked inevitable (Novaya Gazeta, July 18).
Other internal and external factors also pushed the two nations to war. Following the April 2016 and July 2020 clashes, public opinion in Azerbaijan (especially war refugee families) demanded action—not to stop but to "liberate" all of Karabakh. Azerbaijani President Ilham Aliyev's firm grip on power came under question as the domestic economy reeled from the COVID-19 pandemic and the fall in global oil and natural gas prices. At the same time, Turkey offered its full military, political and diplomatic support to Azerbaijan in reclaiming Karabakh, whereas Armenian Prime Minister Nikol Pashinyan appeared isolated, his relations strained with Moscow, which considers him a pro-Western liberal revolutionary. On September 27, massive combat suddenly erupted up and down the entire length of the LoC, clearly taking most of the international community by surprise. In Baku, officials announced that Azerbaijani forces had begun a "counteroffensive operation in response to Armenian provocation." Both sides, as usual, have been reporting inflated numbers of enemy losses and downplaying their own; but undoubtedly, both sides have suffered heavily—hundreds of men wounded or killed in action and lots of heavy equipment destroyed. The Azerbaijani offensive has achieved some success in capturing Armenian-controlled territory in Karabakh and adjoining Azerbaijani regions, but the strategic significance of these gains to date has been debatable (see EDM, September 28). In Armenia and Karabakh, the authorities declared martial law and full mobilization. Azerbaijan's government did the same, though the mobilization there has been "partial." Initial Armenian counterattacks failed to turn the tide of the slow but punishing Azerbaijani offensive. The conflict now looks to be developing into a war of attrition (Novaya Gazeta, September 29).
In such a war, smaller Armenia, isolated politically and geographically, is unlikely to prevail despite the relative strength of its lobby in the United States. If Armenia is defeated and Baku reclaims Karabakh, Pashinyan will fall. And with the self-proclaimed Karabakh no longer a regional headache and Pashinyan replaced, the Kremlin may feel that its long-term strategic aim of making both Armenia and Azerbaijan Russian vassals could become easier to achieve. Of course this outcome will depend on ensuring Turkey is not allowed to move in force into the South Caucasus—Moscow's true red line and one Yerevan understands and is desperately trying to exploit (Kommersant, October 1). At present, while the fighting is contained to Karabakh territory, Russia seems content to stay neutral.