Armenia Likely to Yield Even More of Its Sovereignty to Russia
Publication: Eurasia Daily Monitor Volume: 14 Issue: 108
By: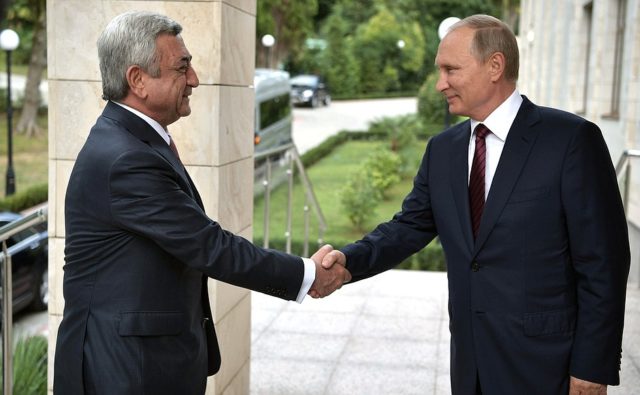 The United States' ambassador to Yerevan, Richard M. Mills, praised the participation of an Armenian unit in the US-led Noble Partner 2017 exercise, held on July 30 to August 12, in Georgia, along with Georgian, British, German, Slovenian, Turkish and Ukrainian military forces. Ambassador Mills noted, "Armenia does a good job of balancing its relationships with all its neighbors" (Azatutyun.am, August 25). Earlier this year, an Armenian unit participated in another exercise in Georgia (see EDM, February 7). Georgia's Ministry of Defense also announced that Armenia would be among the participants of the Agile Spirit 2017 exercise in September as well (Apsny.ge, July 12).
However, on September 3, when the Agile Spirit participants gathered at the Orpolo firing range in southern Georgia, it turned out that Armenia's involvement had been canceled. The withdrawal was unexpected, and Georgian news agencies continued to mention Armenia among the participants in reports published into the early afternoon (Agenda.ge, September 3). The spokesperson for the Armenian Ministry of Defense, as well as other Yerevan officials, refused to comment. Later that day, the Georgian defense ministry expressed regret for Armenia's refusal to participate at the last moment (Lragir.am, September 3). It was noted that the beginning of the exercise coincided with the anniversary of President Serzh Sargsyan's overnight decision not to sign the Association Agreement with the European Union in 2013; and in both cases, such decisions were taken soon after Sargsyan's meetings with Russian President Vladimir Putin. In 2013, the withdrawal from the agreement with the EU occurred immediately afterward; this time, a Putin-Sargsyan meeting took place roughly a week earlier, on August 23 (1in.am, September 3). Details of that latest meeting have not yet been disclosed.
Armenian officials gave several not fully consistent explanations a day later. The defense ministry spokesperson said that the Ministry of Defense had never planned to participate, and his statement was backed up by a statement to this effect on the ministry's website (Mil.am, September 4). Whereas, Deputy Defense Minister Artak Zakaryan said participation had been planned, but those plans were revised at a later stage (Factor.am, September 4). The deputy speaker of the National Assembly and a spokesperson of the ruling Republican Party of Armenia, Eduard Sharmazanov, in his turn said that Armenia could not participate in exercises aimed "against our ally" (Factor.am, September 4). Sharmazanov's statement resembles a prevalent Russian argument that any activities involving the North Atlantic Treaty Organization (NATO) in the South Caucasus is designed to put pressure on Moscow (Armeniasputnik.am, September 4). Previously, Russia already expressed disapproval of Armenia's participation in the Noble Partner exercise (Nezavisimaya Gazeta, July 31). An article published by the Russian propaganda outlet Sputnik Armenia about Armenia's decision not to participate in Agile Spirit 2017 was also quite suggestive: "[Armenia] Got off With a Rebuke" (Armeniasputnik.am, September 3).
In a written statement sent to RFE/RL's Armenian service, the Georgian defense ministry reconfirmed that the Armenian side had confirmed participation during the final planning conference in July, and Tbilisi was notified that the Armenians would not participate shortly before the active phase of Agile Spirit 2017, while the reason for the refusal was not explained (Azatutyun.am, September 8).
It is worth noticing that Russian pressure, the existence of which Armenian officials continue to habitually deny, could have been decisively applied not during Sargsyan's meeting with Putin but later—perhaps in order to assert that Russia remains in control with regard to Armenia and as a way to respond to Ambassador Mills' statement quoted above. In his remarks, the US ambassador had also mentioned the need to empower Armenia to make its own decisions: "[W]e want to help give Armenia the tools to continue making sovereign choices and to make sure that it's not overly influenced or forced by others to follow certain paths that perhaps Armenia doesn't want to follow." He further said that Washington, being committed to Armenia's security, would continue to avoid selling offensive weapons to the parties of the Karabakh conflict: "I think that is one area where we differ from Russia" (Azatutyun.am, August 25). Mills' statement provoked a hostile reaction from Moscow, again via Sputnik Armenia (Armeniasputnik.am, August 26).
On August 27, President Sargsyan addressed the participants of a pro-government youth camp. He said the belief that his 2013 decision not to sign the EU Association Agreement had been made at the last minute and under Russian pressure was "ridiculous." Moreover, he claimed that the government had been negotiating with both the EU and Russia (regarding entry into the Moscow-led Eurasian Customs Union) at the same time (Azatutyun.am, August 28). However, Sargsyan's claim is not true: no negotiations on joining the Customs Union (which would later become the Eurasian Economic Union) were held before his decision on September 3, 2013. In his statement, Sargsyan also said that a less ambitious version of the EU Association Agreement—the Comprehensive and Enhanced Partnership Agreement—would be signed soon. Yet, although Sargsyan said he was wedded to this new EU-Armenian agreement because the document had already been finalized, it should be remembered that the negotiations on the 2013 Association Agreement had been finalized a full six weeks before his decision not to sign it.
It may be expected that the Sargsyan administration will continue fulfilling Russia's demands in order to protect its own interests. Currently, the Armenian leader's top priority is securing a smooth transition from a presidential to a parliamentary system, which has to be completed by spring 2018. Hostility from Russia might disrupt his plans to stay in power as a party leader or otherwise, and it could undermine his control over Armenia's oligarchic economy. Therefore, he is most likely to concentrate on that domestic goal and to sacrifice any international cooperation disapproved by Moscow, despite the possibility of Armenia's further isolation.