Armenia Plans More NATO-Backed Defense Reforms
Publication: Eurasia Daily Monitor Volume: 8 Issue: 153
By: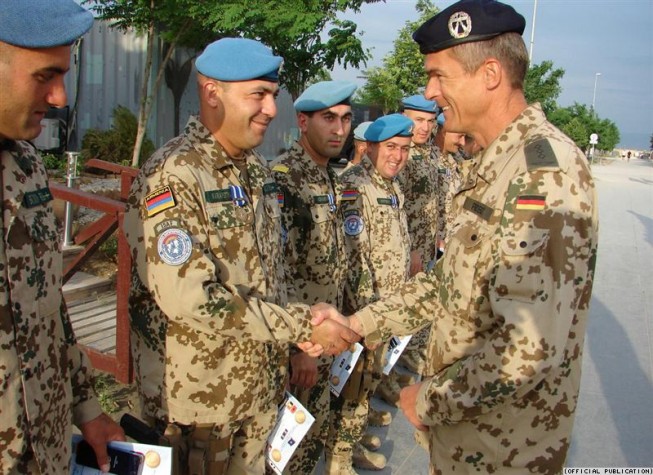 In the latest manifestation of its delicate balancing act between Russia and the West, Armenia has announced plans for a further reform of its armed forces stemming from its growing ties with NATO. Undaunted by a possible negative reaction from Moscow, official Yerevan also seems to be stepping up its military cooperation with Washington, both within the NATO framework and on a bilateral basis. The US and Armenian militaries have reportedly agreed to hold their first-ever joint exercises in the near future.
On July 27, Armenian Defense Minister Seyran Ohanian and Foreign Minister Edward Nalbandian held an annual meeting in Brussels with members of NATO's North Atlantic Council. Official sources in Yerevan said they briefed members of the body representing NATO member states on the current status of Armenia's Individual Partnership Action Plan (IPAP) with the Western alliance (www.armenialiberty.org, July 28).
Ohanian, in particular, spoke about a recent "strategic review" of military issues and security challenges that was conducted by the Armenian government in accordance with the IPAP. "As a result of that review, we have devised a mid-term plan to develop the Armed Forces of Armenia in 2011-2015, which guarantees a defense management based on their democratic and civilian oversight," he said, according to a statement issued by the Armenian defense ministry. The statement gave no details of that plan. The Armenian army has already undergone major structural reforms since the launch of the IPAP in 2005. These include the passage in 2007 of a law that allows the defense ministry to hire civilian personnel. The Armenian government also changed the largely Soviet-style statutes and structures of the ministry and the army's General Staff around that time. Also in 2007, the government adopted Armenia's official national security and military doctrines that declare stronger links with NATO (falling short of membership in the alliance) as a top priority. Both documents make clear, however, that military ties with Russia will remain the bedrock of the Armenian defense strategy (Armenian Public Radio, July 27).
A revised version of the IPAP publicized one year ago commits Yerevan to continuing the reforms. In particular, the 15-page document envisages that the Armenian military will "review" its chain of command and control procedures and revamp its military education and training systems. The July 27 statement by the defense ministry revealed that Armenian and NATO officials are currently working on a fresh modification of the cooperation framework. However, it did not elaborate any details.
The Brussels meeting came less than one week after Armenia's First Deputy Defense Minister Davit Tonoyan held talks in Washington with US Assistant Secretary of Defense Alexander Vershbow and his Deputy Celeste Wallander. "The parties expressed readiness to expand the spheres of cooperation," the defense ministry said in a July 22 statement. It said they discussed the Armenian strategic review and mapped out "new areas of future cooperation."
The defense ministry spokesman, Davit Karapetian, specified separately that Tonoyan and the Pentagon officials reached a "tentative agreement to hold joint exercises of peacekeeping forces of the two countries in Armenia in 2012 or 2013." Karapetian said the drills will primarily aim to improve their interoperability in Afghanistan (www.armenialiberty.org, July 22). In a move welcomed by Washington, Yerevan sent an additional 81 soldiers to Afghanistan in June, almost tripling its participation in the NATO-led multinational force deployed there.
US and Armenian troops have until now trained together only in multinational exercises organized by NATO. Their first-ever bilateral drills will hardly please Russia, which remains Armenia's main military ally. In what may have been an effort to allay possible Russian concerns, Tonoyan, who previously served as Armenia's top military representative at NATO headquarters, flew to Moscow just days after returning from Washington. He met with Russia's Deputy Defense Minister Anatoliy Antonov and Nikolay Bordyuzha, Secretary-General of the Russian-led Collective Security Treaty Organization (CSTO) (Armenian Public Radio, July 28). Incidentally, the CSTO is also scheduled to hold military exercises in Armenia in October.
As much as it is jittery about any Western security role in the former Soviet Union, Moscow should be safe in the knowledge that Armenia will remain heavily reliant on Russia for defense and security in the foreseeable future, especially if its conflict with Azerbaijan over Karabakh remains unresolved. Underscoring this reality in August 2010 a new Russian-Armenian agreement was signed that prolongs the presence of a Russian military base in Armenia by 25 years (until 2044) and upgraded its security mission. It also committed Russia to supply the Armenian military with more modern weaponry.
The defense pact seems to be giving added value to Armenia's evolving security dealings with the West in the eyes of NATO and US officials. They insist in public that the Russian-Armenian alliance is not an obstacle to their continued cooperation with the South Caucasus state. "There is not necessarily a tradeoff," Wallander, the US deputy assistant secretary of defense for Russia, Ukraine and Eurasia policy, said during a visit to Yerevan on June 28 (www.armenialiberty.org, June 29).
With their expectations from Yerevan set significantly lower than the staunchly pro-Western government in neighboring Georgia, Western officials have been full of praise for every NATO-related gesture by President Serzh Sarksyan and other Armenian leaders. One senior US diplomat privately described Ohanian earlier this year as a "terrific partner" for Washington. Wallander likewise noted that each time she meets with the Armenian defense minister "we have more and more to discuss" (www.armenialiberty.org, June 29).