Armenia Poised to Make Pivotal Decision About Further Cooperation With European Union
Publication: Eurasia Daily Monitor Volume: 12 Issue: 55
By: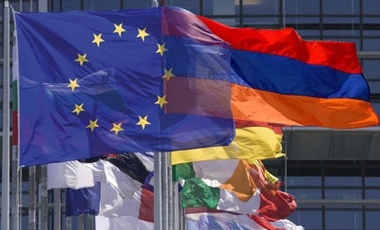 European Union officials hope that among the outcomes of the upcoming May 2015 Eastern Partnership (EaP) summit in Riga will be a new and more flexible cooperation framework for redefining the EU's relations with Armenia and other neighboring countries. Indeed, Latvia, which currently holds the rotating presidency of the EU Council of Ministers (January–June 2015), announced that one of its priorities would be a further development of the EaP with greater consideration given to the partner countries' individual preferences (Azatutyun.am, November 27, 2014). After two rounds of consultations with Armenian officials, the head of the EU delegation to Armenia, Traian Hristea, expressed hope that a new framework for cooperation could be agreed upon. He also mentioned that establishing a united European economic area might be discussed at the Riga summit (Haykakan Zhamanak, February 16, 2015).
Armenian officials had previously suggested that Yerevan would prefer to sign an Association Agreement with the EU without the document's trade provisions; but Brussels has been skeptical of such an arrangement. Moreover, in March 2014, after President Serzh Sargsyan's statement welcoming the Crimea annexation "referendum" held in the presence of Russian occupying troops, and Armenia's vote against the United Nations General Assembly resolution declaring the referendum invalid, EU officials excluded the possibility of any association with Yerevan. According to the European diplomats, Armenia was "in a different league" (RFE/RL, March 23, 2014).
During a recent session of the Euronest Parliamentary Assembly (forum consisting of a 60-member European Parliament delegation and ten parliamentarians from each of the six Eastern partner states), held in Yerevan, on March 16, Finnish co-chair Heidi Hautala stated that currently Brussels does not plan to proceed with an Association Agreement with Armenia. Instead, the EU will offer the country a different framework for cooperation on anti-corruption measures, justice reform, human rights, educational programs, small business development and investment promotion, and the implementation of government reforms (Aravot.am, March 14). Another member of the EU delegation, Krzysztof Bobinski from Poland, pointed out to Armenian journalists that although Armenia had joined the Moscow-led Eurasian Economic Union (EEU) because of the security guarantees promised by Russia, recent months' tensions on the border with Azerbaijan show that Armenia's security has not improved. Armenia may need to re-evaluate its policies, Bobinski asserted (Azatamart.am, March 16). He also noted that little time remained before the Riga summit for all 28 EU member states to approve any new agreement, so that it can be signed and for the EU to be able to allocate financial assistance for Armenia (Haykakan Zhamanak, March 17).
Armenia's Foreign Minister Eduard Nalbandyan and some other Armenian officials participating in the session expressed an intention to sign such an agreement with the EU; but skepticism remained. Shirak Torosyan, a member of the Armenian parliament's standing committee on foreign affairs, said it remained to be seen if Yerevan would decide to develop closer relations with Europe. Characteristically, he repeated an argument quoted by a number of Armenian officials since September 2013: Torosyan said that Brussels had been responsible for Yerevan's decision not to sign the Association Agreement, because the EU had behaved "aggressively" and offered an "either-or" approach, i.e. had made it impossible for Armenia to sign the Association Agreement and at the same time to join the EEU (Aravot.am, March 13). Indeed, the EU did not consider such a possibility for any of the EaP states because of its technical incompatibility: EU association would mean full trade liberalization with Europe, while EEU membership would require higher customs duties on most EU-made goods. However, the principal issue is that association and free trade with the EU does not forbid having bilateral free trade agreements with third parties, while EEU members cannot pursue free trade relationships with non-members (in Armenia's case, free trade with Georgia is the only exception allowed by Russia).
Blaming the EU for an "either-or" approach is not a uniquely Armenian attitude. In fact, that notion was introduced and has been repeated a number of times by Russian officials and media. Even though Armenia is not currently discussing the possibility of a free trade agreement with the EU, the charge continues to be raised in Russian media outlets. Most recently, the chairman of the standing committee on international affairs of Russia's Federative Council (upper chamber of parliament), Konstantin Kosachev, expressed disapproval of the work of Armenian non-governmental organizations that are advocating for Armenia's closer cooperation with the EU. Kosachev declared that Moscow does not consider such efforts acceptable. He also repeated a threat often voiced from Moscow that choosing to move away from Russia would destroy any country—just like happened with Ukraine (RIA Novosti, February 26).
Last year, Russian extreme right "Eurasianist" ideologue Alexander Dugin predicted in an interview that Moscow would deploy troops to Crimea, about a week before armed military personnel without insignia (the so-called "little green men") appeared there. In the same interview, Dugin warned that the only available options for Armenia would be "Customs Union [forerunner of the EEU] membership, or bloodshed and disappearance from the map" (1in.am, February 20, 2014).
Armenia is currently suffering from a precarious economic situation due to the country's strong dependence on Russia (see EDM, January 5). Therefore, Yerevan may seriously wish to pursue the possibility of financial assistance from the EU and an improvement to Armenia's investment climate. However, the government is hesitating on whether or not to accept the EU's offer because of Russia's possible negative attitude and a strong pro-Russian sentiment among a large part of the Armenian political establishment.
Despite numerous threatening statements directed against Yerevan from Moscow via the media, at conferences, etc., Armenian officials have never openly admitted that Russia poses any sort of threat, always pointing to Russian security guarantees as reasons for Armenia making any major geo-strategic choice. Consequently, the Armenian government may reject the EU's latest proposal for closer relations while again pretending that Moscow did not apply pressure on Yerevan to make this choice. As time is short for finalizing negotiations and securing approval from all EU members, the Armenian government may simply opt to allow the clock to run out. Soon, it will become clear whether the upcoming EaP Riga summit is going to become a turning point in EU-Armenia relations, with Yerevan partially rebalancing its foreign policy, or if Armenia will remain Russia's exclusive playground.