Armenia to Triple Military Deployment In Afghanistan
Publication: Eurasia Daily Monitor Volume: 8 Issue: 101
By: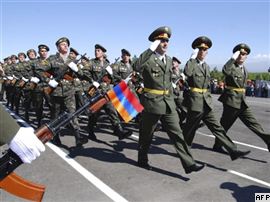 Armenia has decided to almost triple the number of its troops stationed in Afghanistan as part of the U.S.-led multinational mission operating there under NATO's aegis. The decision is a further indication that the South Caucasus state is continuing to seek closer security ties with the West, despite prolonging and enhancing its military alliance with Russia less than one year ago. Armenian leaders seem confident that they can maintain this delicate balancing act, which has been a key element of Armenia's foreign policy.
Yerevan joined the International Security Assistance Force (ISAF) for Afghanistan just over a year ago with the deployment of a 40-strong Armenian military contingent near the northern Afghan city of Kunduz. The deployment followed months of negotiations with NATO and Germany, which is in charge of ISAF's Northern Command. Five other Armenian military personnel were dispatched to the war-ravaged country early this year with the aim of helping to train an Afghan army battalion.
Colonel-General Yury Khachaturov, the Chief of the General Staff in Armenia, announced his government's plans to increase the small contingent when he attended a May 4 – 5 meeting in Brussels of fellow military commanders from NATO's member and partner states (Statement by the Armenian Defense Ministry, May 6). Less than one week later, the Armenian parliament unanimously approved corresponding amendments to a December 2009 agreement with NATO on Armenian participation in ISAF. The amendments allowed the Armenian military to have up to 130 soldiers on the ground. Their total number could temporarily rise to 260 during regular troop rotations. The troops will stay in Afghanistan at least until December 2012 (Armenian Public Television, May 11).
Addressing the parliament, Armenian Defense Minister Seyran Ohanian said the additional deployment was requested and will be financed by the German government. The latter has already provided equipment and additional training to the Armenian soldiers serving in Afghanistan. Ohanian, who visited Afghanistan in July 2010, argued that a stronger military presence there will further boost Armenia's ties with NATO and raise his country's international profile. He also emphasized the fact that Armenia will surpass its arch-rival Azerbaijan in terms of the size of its Afghan contingent (www.armenialiberty.org, May 10).
The Armenian government's decision was rather unexpected against the backdrop of a new Russian-Armenian military agreement signed during President Dmitry Medvedev's August 2010 visit to Yerevan. The agreement prolonged the presence of a Russian military base in Armenia by 25 years—until 2044—and upgraded its security mission. It also committed Russia to supply the Armenian military with more modern weaponry.
By boosting its military commitments in Afghanistan, Yerevan is signaling that the new defense pact with Moscow will not hold it back from seeking closer military cooperation with Western powers, which has deepened significantly over the past decade. Armenia participated in the U.S.-led occupation force in Iraq with a small army contingent, and currently has about 80 soldiers serving in Kosovo under NATO command.
Armenia has been developing its broader ties with NATO under the Individual Partnership Action Plan (IPAP) launched in 2005. The document envisages not only greater Armenian involvement in international peace-keeping operations but also sweeping defense reforms that would bring the Armenian armed forces into greater conformity with NATO standards. According to a revised version of the IPAP publicized last year, the Armenian authorities will ensure "maximum transparency" in defense planning and budgeting and an "adequate mix" of civilian and military personnel within the defense ministry. They are also due to reform the military's chain of command and control procedures.
A team of officials from NATO's Defense Policy and Planning Division visited Yerevan last month for a regular review of IPAP-related actions taken by President Serzh Sargsyan's government. In a statement issued on April 8, the Armenian foreign ministry said they noted further progress in the implementation of the cooperation framework.
Armenia's official national security and military doctrines adopted in 2007 declare stronger links with NATO (falling short of membership in the alliance) as a top priority. Both documents make clear, however, that military ties with Russia—both on a bilateral basis and within the framework of the Russian-led Collective Security Treaty Organization (CSTO)—will remain the bedrock of the Armenian defense strategy.

Ohanian denied any contradiction between these two policy objectives as he spoke at a government-organized conference in Yerevan that discussed the CSTO's role in the South Caucasus. "The Cold War era is long over, and the new generation of Armenian servicemen does not view the CSTO as a way or means of countering other military-political blocs," he said. Ohanian also claimed that Russia and the West are increasingly united by common security threats such as international terrorism (Regnum, May 19).
This so-called "complementary" policy and, in particular, the Armenian military presence in Afghanistan hardly sits well with a Russian government jealous about perceived Western inroads into what it regards as Russia's zone of influence. Still, Moscow has never publicly faulted Yerevan, suggesting that it does not yet consider the growing Armenia-NATO ties a cause for serious concern. According to Anatoly Tsyganok, a Russian defense analyst, the Kremlin "does not quite like" them but at the same time "understands the difficult situation Armenia is in. Russia will not insist that the Armenian armed forces stop cooperating with NATO," Tsyganok was quoted by Regnum as saying on May 13.