Armenian Government, Opposition Opt For Far-Reaching Dialogue
Publication: Eurasia Daily Monitor Volume: 8 Issue: 93
By: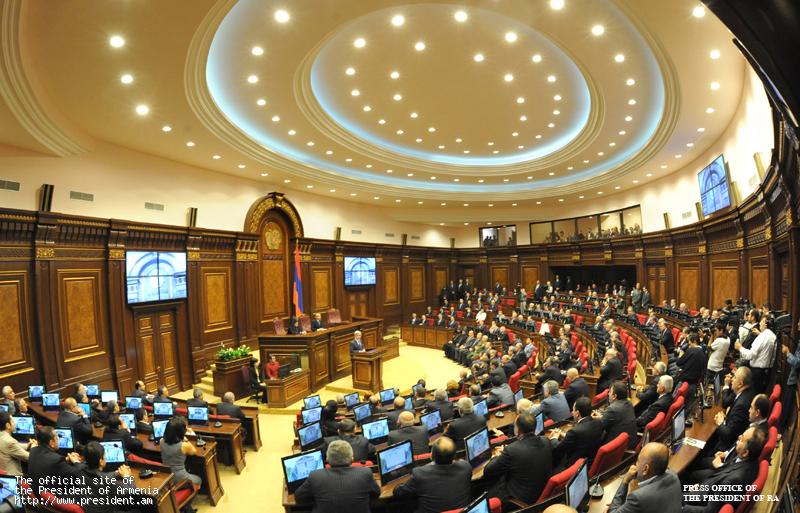 Armenia's domestic political landscape looks set to undergo a significant rearrangement that could have profound implications for the next national elections due in 2012 and 2013. President Serzh Sargsyan has all but warded off another challenge to his rule from the country's largest opposition force with a number of concessions that will hardly threaten his hold on power. The two rival camps are embarking on an unprecedented dialogue amid signs of a deepening rift between Sargsyan and his predecessor and longtime partner, Robert Kocharian.
These developments result, in large measure, from a fresh campaign of anti-government demonstrations launched by the main opposition Armenian National Congress (HAK) alliance in February 2011. The HAK and its leader, Levon Ter-Petrosian, in particular were clearly inspired by the success of the popular uprisings in Tunisia and Egypt. Many opposition supporters who took to the streets of Yerevan in significantly larger numbers were similarly inspired by the Arab spring. Speaking at the first two rallies held on February 18 and March 1, Ter-Petrosian warned the Armenian authorities to call fresh presidential and parliamentary elections or face the kind of protests that brought down the longtime rulers of the two Arab nations. He also issued them with over a dozen other political and socioeconomic demands.
Government representatives rejected this ultimatum before Ter-Petrosian downsized it to just three demands at the next HAK rally held on March 17 and attended by the author. These included the release of all Ter-Petrosian loyalists remaining in prison, a government pledge to conduct a more objective inquiry into the March 2008 post-election crisis in Yerevan, and permanent opposition access to the city's Liberty Square. The HAK leadership gave the Sargsyan administration until April 28 to meet these demands and start negotiations with the opposition bloc or face a nationwide "campaign of civil disobedience."
The authorities started responding positively to these preconditions just days before the opposition deadline. Meeting with Armenia's top security officials and judges on April 20, Sargsyan ordered law-enforcement authorities to investigate "once again and more meticulously" the March 1-2, 2008 clashes between the security forces and Ter-Petrosian supporters demanding the rerun of a disputed presidential election. He said they should specifically try to identify and punish those directly responsible for the deaths of eight protesters and two security personnel in what was the worst street violence in the country's history (Statement by the Armenian presidential press office, April 20).
Four days later, Yerevan's municipal administration formally allowed the HAK to rally supporters in Liberty Square (the epicenter of Ter-Petrosian's 2008 post-election protests) for the first time in over three years. Sargsyan implied that such permission will be the norm from now on as he spoke to journalists on April 27. He pointed to "positive trends" in the HAK's activities. More importantly, Sargsyan signaled the impending release of the six opposition members who were arrested following the 2008 unrest and remain behind bars (www.armenialiberty.org). One of those oppositionists was paroled by an Armenian court on May 2.
Consequently, Ter-Petrosian declared that Sargsyan has essentially met the main opposition demands. Addressing thousands of supporters in Liberty Square on April 28, he expressed confidence that all political prisoners will be set free before the next HAK rally scheduled for May 31. He made no mention of fresh elections and instead spoke out against another "physical confrontation" with the authorities. Speaking to Radio Free Europe on May 5, Ter-Petrosian, who served as Armenia's first president from 1991-1998, stated that his bloc is already engaged in an "open dialogue" with the authorities (Radio Free Europe, May 5).
Although Ter-Petrosian associates insist that the HAK remains committed to forcing snap elections, this a clear indication that even after the Arab revolts Ter-Petrosian remains reluctant to make the kind of aggressive push for power that almost succeeded in 2008. Local experts and especially opposition figures at loggerheads with the HAK consider that Ter-Petrosian's key goal now is not to effect regime change but to clinch government assurances that his political force will have solid representation in Armenia's next parliament to be elected next year. To that end, they suggest he may even be ready not to challenge Sargsyan in the next presidential election due in 2013.
Whatever the truth, it is evident that Sargsyan has given Ter-Petrosian a face-saving excuse not to act on his "revolution" threats. In return for his concessions that are unlikely to weaken his position, the current Armenian president is securing a potentially serious opposition boost to his shaky domestic legitimacy. This political dividend is coming in useful now that Sargsyan seems increasingly at odds with Kocharian, whom he succeeded as president in April 2008. In an interview on May 10, Kocharian launched his most open (and scathing) attack yet on Sargsyan. He said that the unfolding government-opposition dialogue might in fact be a "collusion behind the voters' back" promising nothing good to the country. Kocharian also claimed that the economic situation has worsened significantly under Sargsyan and that Armenians are starting to "make comparisons" between himself and his successor (Mediamax, May 10).
Kocharian, who has been the HAK's number one hate figure, was more cautious in commenting on the renewed unrest probe ordered by Sargsyan. In that context, he again defended the bloody suppression of the 2008 protests and said he ordered it after "consulting" with Sargsyan, who was prime minister at the time. This was construed by some commentators as a warning against possible government attempts to blame him for the bloodshed.
Kocharian's comments also reinforced the dominant view that he would like to return to government in some capacity. However, the former president's ability to stage a comeback has weakened considerably since Sargsyan forced the Prosperous Armenia Party, the country's second most important governing party led by a Kocharian-linked businessman, last February to pledge to support him in the 2013 presidential election. With Ter-Petrosian's participation in the ballot also in question, Sargsyan should be well placed to secure another term in office.