Armenian Opposition Leader Exercises Caution
Publication: Eurasia Daily Monitor Volume: 6 Issue: 188
By: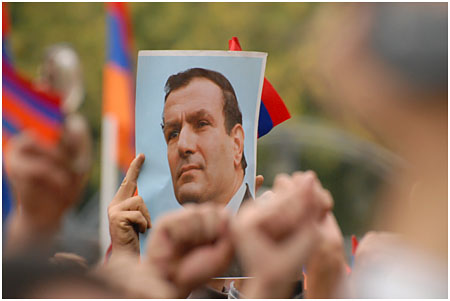 Despite promises of renewed "decisive" action, Armenia's largest opposition alliance led by former President Levon Ter-Petrosian remains reluctant to make a new push for power and is instead seeking to form a more broad-based anti-government coalition. Ter-Petrosian has publicly admitted that he and his Armenian National Congress (HAK) are unable to unseat President Serzh Sargsyan without the backing of other opposition groups. His effort to win them over has proven unsuccessful, putting Sargsyan in a stronger position to press ahead with far-reaching compromise agreements with Azerbaijan and Turkey.
Those agreements and the ongoing Turkish-Armenian rapprochement in particular have received strong criticism from not only the opposition, but also some pro-government political forces in Armenia. The negative reaction has the potential to pose a serious threat to Sargsyan, who is still reeling from his hotly disputed victory in the February 2008 presidential election which sparked the worst street violence in the country's history. Throughout the summer the HAK seemed ready to exploit the issue to galvanize the kind of popular support that had nearly brought Ter-Petrosian back to power in the wake of the controversial ballot. Some of its top figures said this fall will witness a "new wave" of anti-government actions.
The promised campaign failed to materialize, however, with Ter-Petrosian sticking to the cautious tactics he has maintained since the post-election government crackdown on his opposition movement. Addressing thousands of supporters during a September 18 rally in Yerevan witnessed by Jamestown, he said that only a "powerful and sustained wave of popular indignation" can bring down the Sargsyan administration. "The Armenian National Congress is unable to solve that issue single-handedly, no matter how unpleasant that may sound," he said, appealing to "other Armenian political forces" to team up with the HAK. In a bid to win over those forces, Ter-Petrosian offered not to run for president should Sargsyan resign and call a snap election.
The appeal was specifically addressed to two opposition parties. One of them, the Armenian Revolutionary Federation (ARF, also known as the Dashnak Party), quit Sargsyan's coalition government in April in protest against his Western-backed "soccer diplomacy" with Turkey. The nationalist party, which is particularly influential within the worldwide Armenian Diaspora, has a long history of bitter feuding with Ter-Petrosian dating back to his 1990-1998 rule. It was controversially banned and had some of its leaders imprisoned in 1994-1995.
The HAK reached out to the ARF in the wake of the May 31 municipal elections in Yerevan marked by a worse-than-expected opposition performance. Both then and now the ARF rejected Ter-Petrosian's extraordinary overtures. One of its leaders, Vahan Hovhannisyan, saw ulterior motives behind them, saying that the ex-president does not fundamentally disagree with Sargsyan's conciliatory line on Turkey and is only keen to again become "the nation's papa" (Radio Free Europe Armenia Report, September 22). Hovhannisyan and other ARF leaders also argue that unlike the HAK, their party is not seeking regime change in the country.
Nor is Sargsyan's resignation the top priority of the other major opposition party, Heritage. Its rapport with Ter-Petrosian, which was very cordial during the 2008 presidential race, has deteriorated over the past year. It hit a new low in early September when a bitter dispute broke out within the leadership of the party founded and unofficially headed by Raffi Hovhannisyan, a former U.S. citizen who had served as Armenia's first foreign minister in 1991-1992. Three senior figures were consequently expelled from the party after accusing a rival faction dominating Heritage's governing board of secretly collaborating with the authorities. The board's majority believes that Ter-Petrosian played a role in the embarrassing row (168 Zham, September 10-12).
Not surprisingly, Heritage responded coolly to the HAK leader's cooperation offer and decided instead to join forces with the ARF in seeking to prevent the implementation of the fence-mending agreements that were signed by the Armenian and Turkish governments on October 10. Stepan Safarian, Heritage's parliamentary leader, said on September 28 that the two parties will soon take "joint actions" both "inside and outside parliament" (Hayots Ashkhar, September 29). Levon Zurabian, a leading member of the HAK and close Ter-Petrosian associate, scoffed at the announcement the next day, challenging them to resign their parliamentary seats and thereby prove their opposition credentials (Haykakan Zhamanak, September 30).
The ARF and Heritage share a hard line on Turkish-Armenian relations and the Karabakh conflict. By contrast, Ter-Petrosian and his associates have traditionally adopted a more conciliatory position on both sensitive subjects. Significantly, while criticizing Sargsyan's Turkish policy in general terms, the HAK has given a mostly positive assessment of the Turkish-Armenian agreements first made public on August 31. Also, Ter-Petrosian clearly agrees with the basic concept behind the international mediators' existing plan to resolve the Karabakh conflict and on September 18 he criticized only some minor details of the proposed deal allegedly accepted by Sargsyan.
All this raises the question of whether Ter-Petrosian really thought that he can secure support from the ARF in taking on the ruling regime. His calls for opposition consolidation might simply be a new excuse for avoiding an all-out offensive against the government demanded by his most ardent (and impatient) supporters. The charismatic leader claimed that a Karabakh settlement is imminent and cited the need to stave off greater Armenian concessions to Azerbaijan when he suspended his periodical rallies in Yerevan in October 2008. When those rallies resumed in March 2009, he stated that the HAK would not seek to stage an anti-government "revolution."
Ter-Petrosian's current stance was construed by the pro-presidential daily Hayots Ashkhar on September 29 as an indication that he "will not take decisive obstructive steps at least on the question of Armenian-Turkish relations." "Ter-Petrosian has visibly adopted a wait-and-see approach and will wait for a [government] slip-up for the time being," the newspaper suggested.