Armenian President Casts Doubt On Ongoing Negotiating Processes
Publication: Eurasia Daily Monitor Volume: 8 Issue: 148
By: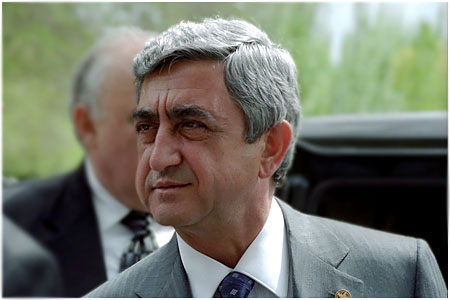 Armenian President, Serzh Sarksyan, has hinted at historic territorial claims against Turkey, and implied that he regarded the seizure of Azerbaijani territory as final. Addressing an audience of students from Armenia and the diaspora on July 23, Sarksyan was asked whether the country could regain "Western Armenia" [the irredentist name for the eastern part of Turkey] in the future. Sarksyan gave a two-part answer. In the first part, he responded that Armenia's present generation has successfully resolved the matter of Karabakh, "a part of our homeland," and the next generation now growing up, he said, has its own responsibility to fulfill with honor. In the second part of this convoluted answer, Sarksyan said that a country's standing did not necessarily depend on its territory, but required hard work in any case (Armenpress, PANArmenianNet, July 27; RFE/RL, July 28).
That statement's second half seemed partly intended to provide plausible deniability for the first half. Nevertheless, Sarksyan's statement was received as intolerably offensive in Ankara, and as entirely predictable in Baku. In Yerevan, the foreign ministry characterized Sarksyan's statement as "measured," and Ankara's reaction as "hysterical" (Armenpress, July 28). When delivering those remarks, Sarksyan could not have been unaware that Turkish Prime Minister, Recep Tayyip Erdogan, was about to visit Azerbaijan on July 28 (see EDM, July 29). Unwittingly, Sarksyan caused Turkey and Azerbaijan to close ranks more tightly together.
In Baku, Erdogan described Armenia's seizure of Azerbaijani territories as "occupation," and a common "bleeding wound" of Azerbaijan and Turkey. Chastising Sarksyan publicly for (in Ankara's view) incitement of Armenian youth to a conflict with Turkey over territory, Erdogan demanded an apology from the Armenian president. Erdogan remarked that Azerbaijan was negotiating constructively while Sarksyan showed "no statesmanship, no diplomacy, and no interest in working for peace." As a corollary, Erdogan told Yerevan from Baku: "First resolve the [Karabakh] problem with Azerbaijan, and then we will open the borders" (www.news.az, Khazar TV July 28; Hurriyet, Zaman, July 29).
Erdogan's corollary tells Washington that it should not expect Turkey to open its border with Armenia unconditionally, i.e., as long as Yerevan blocks a stage-by-stage resolution of the Armenia-Azerbaijan conflict. Turkey had closed its border with Armenia in 1993, after Armenian forces seized the second district (Kelbajar) of seven Azerbaijani districts they continue to occupy deep inside Azerbaijan, beyond the Armenian-inhabited Upper Karabakh. The Obama administration encourages Turkey to open its border with Armenia as part of a possible rapprochement of the two countries. A bilateral rapprochement in this form, however, would sideline Azerbaijan and undercut its negotiating position ("Yerevan Thwarts The US-Backed Armenia-Turkey Rapprochement," EDM, August 2).
From a Turkish perspective, Sarksyan's statement does not amount to a "smoking gun" that would evidence Armenian irredentist claims. Rather, it maintains the degree of ambiguity that persists in Armenia and the diaspora with regard to borders and territories. Given the disproportion in strength between the two countries, Turkey does not feel threatened in any practical sense. However (as Erdogan and, concurrently, the foreign ministry in Ankara indicated), statements such as Sarksyan's damage the prospects for reconciliation at the societal level. Moreover, Turkey can hardly be expected to open that border (in a gesture amounting to a unilateral concession to Yerevan) if the Armenian side is less than fully clear about recognizing that same border.
From the perspective of mediators in the Armenia-Azerbaijan conflict (the United States, Russia, other "Minsk Group" members, OSCE writ large), Sarksyan's statement has cast a stark doubt on the meaning of the negotiating process. Although this international process is supposed to determine Karabakh's status, Sarksyan now suggests that Karabakh is already a part of Armenia, and that this situation is final. If so, it follows that Yerevan is negotiating only pro forma. This implication notwithstanding, the mediators remain silent.
As seen from Baku, the Sarksyan statement and the mediators' silence seem to confirm what Azerbaijan has been saying all along: that the negotiating process is ineffective, and the mediators are either passively tolerating the deadlock or are biased in Yerevan's favor. Azerbaijan's priority in the negotiating process is to regain its six districts occupied by Armenian troops, outside the Armenian-inhabited Upper Karabakh.
At the joint press conference with Erdogan in Baku, President Ilham Aliyev declared that Azerbaijan would regain those districts and return the expellees to their homes, "either peacefully or militarily." Meanwhile, Yerevan would remain "isolated from all regional projects" unless it demonstrates interest in a peaceful return of those districts, and peaceful resolution overall. The presidential analytical department's head, Elnur Aslanov, commented that the opening of borders should contribute to peace and stability, not reward their opposite (Trend, news.az, July 28). Azerbaijan and Turkey jointly take the position that both countries would open their borders with Armenia, and include that country in regional projects, if Armenia withdraws its troops from Azerbaijani districts outside Upper Karabakh, within a stage-by-stage resolution of the conflict.