Armenian President Seen as Getting Cold Shoulder from Putin
Publication: Eurasia Daily Monitor Volume: 9 Issue: 100
By: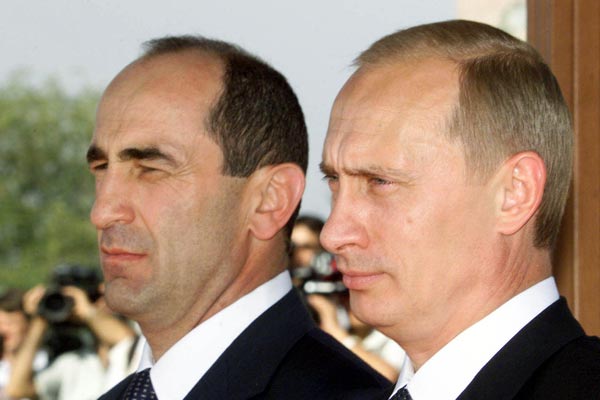 During his four-year rule, Armenia's President Serzh Sargsyan has had little contact with Vladimir Putin, and the Armenian head of state's most recent trip to Moscow only reinforced a growing sense in Yerevan that he is distrusted and possibly disliked by Russia's most powerful man. Armenian pundits increasingly suggest that the newly reinstalled Russian President is far more sympathetic to Robert Kocharian, Sargsyan's predecessor and erstwhile comrade-in-arms who is believed to be plotting a political comeback.
Armenian media speculation about possible Russian support for Kocharian intensified after Putin pointedly avoided holding separate talks with Sargsyan on the sidelines of the May 15 summit in Moscow of the Collective Security Treaty Organization (CSTO), a Russian-led military alliance of seven former Soviet republics including Armenia. The summit was followed by an informal gathering of presidents from the broader Commonwealth of Independent States. Putin met instead with his CSTO counterparts from Kazakhstan, Kyrgyzstan, Tajikistan and Uzbekistan. He did not have a face-to-face encounter with President Alyaksandr Lukashenka of Belarus, the remaining CSTO member state, but will have a chance to talk to the Belarusian leader during a visit to Minsk scheduled for May 31 (www.kremlin.ru, May 16).
Sargsyan had to satisfy himself with a meeting with Dmitry Medvedev, Russia's newly appointed and less influential Prime Minister – a fact that only underscored Putin's apparent cold shoulder. So far this year, the two men have spoken one-on-one only by phone. Sargsyan telephoned Putin on March 7 to congratulate him on his victory in the Russian presidential elections (Statement by the Armenian presidential press office, March 7).
Sargsyan's office reported a low-key late-night meeting between Putin and Sargsyan during the latter's October 2011 state visit to Russia. Some Armenian sources familiar with the details of the trip, however, claim that no such encounter actually took place. "The Armenian public, long accustomed to warm relations with Moscow, has immediately noticed Moscow's tepidness and started closely monitoring further developments," the Yerevan daily Yerkir noted on May 19 in reference to the CSTO summit.
Kocharian, by contrast, reportedly met with Putin as recently as March 15. His office declined to give any details of what it described as "yet another meeting" between the two men (www.armenialiberty.org, March 19). But the ex-president, who governed Armenia from 1998-2008, did note his "particular mutual understanding" and "continuous relations" with Putin when he was interviewed by the Mediamax news agency three days before Armenia's May 6 parliamentary elections. In that interview, Kocharian again criticized the Sargsyan administration (mainly its economic policies) and signaled his desire to return to government (Mediamax, May 3).
Official results of the May 6 parliamentary elections, which gave a landslide victory to Sargsyan's Republican Party of Armenia (HHK), complicated such a comeback. The Kocharian-linked Prosperous Armenia Party (BHK), the second largest force in the country's outgoing governing coalition, finished a distant second in the polls. In a sign that Kocharian has no intention to leave the game, the BHK announced on May 24 that it will not join a new government due to be formed by Sargsyan (www.news.am). The decision also suggests that the BHK will continue to avoid, at least for now, pledging support for Sargsyan's candidacy in the next Armenian presidential election due in February 2013.
An unconfirmed report in the Zhoghovurd daily claimed on May 23 that Kocharian has flown to Moscow to again meet Putin before deciding whether the BHK should leave the government. "It looks as though Armenia's new parliament is not to Russia's liking," another paper, Zhamanak, said in a May 16 editorial.
The BHK's populist leader, Gagik Tsarukian, is a wealthy businessman and, therefore, vulnerable to government pressure. Tsarukian has already faced such pressure in recent months because of his reluctance to endorse the incumbent president's reelection bid. Russian support for Kocharian would almost certainly force the Armenian leadership to exercise greater caution in its further dealings with the tycoon. But can Moscow have a decisive impact on the unfolding Armenian presidential race? The May 6 parliamentary elections demonstrated that Sargsyan is increasingly successful in ensuring desired election results with not necessarily democratic methods and securing high marks for election conduct from Western governments (see EDM, May 11). It is yet to be seen what effect more direct and deliberate Russian pressure against Sargsyan might have on the Armenian President's political future, however.
Just why Putin might be unhappy with the current Armenian president is not quite clear. Armenia's national security strategy, anchored in close military and political ties with Russia, has not undergone fundamental changes under Sargsyan. Still, Yerevan has clearly stepped up its long-running efforts to complement those ties with closer cooperation with the West. In particular, it has negotiated a more ambitious "individual partnership action plan" with NATO and deployed almost 130 Armenian troops to Afghanistan. The Russians are also hardly pleased with Armenia's pursuit of an "association agreement" with the European Union and its refusal to join the Customs Union of Russia, Kazakhstan and Belarus, which Putin hopes will form the basis of a future "Eurasian Union" of ex-Soviet states. In addition, Sargsyan has won accolades in the United States and the EU for Armenia's unprecedented 2008-2009 rapprochement with Turkey.
On the other hand, it was Sargsyan who initiated the signing in August 2010 of a new Russian-Armenian defense pact that prolonged the presence of Russian troops in Armenia until 2044 and upgraded their security mission. "Further development of the strategic partnership and allied interaction with Russia is the most important priority of Armenia's foreign policy," Sargsyan assured Putin in a March 7 letter (www.president.am).
Finally, some knowledgeable Armenian pundits, including those familiar with Kocharian's thinking, have suggested to this author a more prosaic reason for Putin's alleged dislike of Sargsyan. The Russian strongman, they say, still cannot forgive Sargsyan for giving Georgian President Mikheil Saakashvili, the Kremlin's mortal enemy, an Armenian Medal of Honor in June 2009, less than a year after the Russian-Georgian war in South Ossetia. Sargsyan received a similar Georgian state award when he visited Tbilisi in September 2008. Saakashvili thanked him at the time for "expressing support for Georgia's territorial integrity" during the conflict. Ultimately, if – for whatever reason – Putin is truly snubbing Sargsyan in favor of Kocharian, the Armenian President may face added difficulties in holding on to power, especially with his Kremlin-backed rival seemingly entering the opposition.