Armenia's 44-Day War: A Self-Inflicted Trauma (Part Two)
Publication: Eurasia Daily Monitor Volume: 18 Issue: 4
By: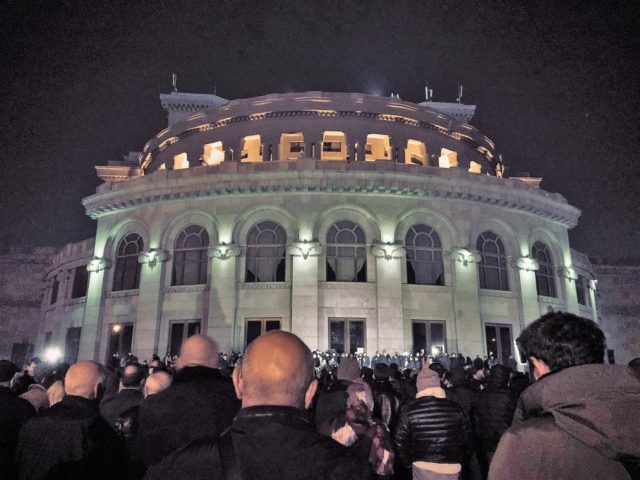 The Armenian government has yet to unveil the number of military casualties sustained during the Second Karabakh War (September 27–November 9, 2020). Almost two months after the ceasefire, the search for bodies is still ongoing across the theater; while in parallel, Azerbaijan is repatriating prisoners of war and the remains of fallen soldiers to Armenia. Nikol Pashinian's government in Yerevan seems reluctant for political reasons to disclose the real numbers of soldiers killed and handicapped in this war.
Nor has any systematic or credible opinion polling been attempted in the two months since the ceasefire. Impressionistic estimates in circulation suggest that Pashinian's current popularity rating is down to about half of the erstwhile 70 percent level. Mitigating the fallout on the government, however, is public skepticism about the opposition parties.
A wide array of opposition groups from both the current and the former political establishment are calling for the resignation of Pashinian's government and for new parliamentary elections. President Armen Sarkisian, both parliamentary opposition parties, an alliance of extra-parliamentary parties, as well as former presidents Levon Ter-Petrosian, Robert Kocharian and Serge Sarkisian, and both Catholicoses (of Etchmiadzin and of Cilicia) have all urged Pashinian to make way for an interim government of experts and pre-term parliamentary elections to be held within some months (NewsAm, Arminfo, Armenpress, November–December 2020, passim).
Parliamentary opposition leaders Gagik Tsarukian ("oligarchic" Prosperous Armenia party, associated with the old establishment) and Edmond Marukian (Enlightened Armenia party, opposing both Pashinian and the old establishment) advocate for those changes to be implemented in an orderly manner through parliamentary processes. Marukian, hitherto a pro-Western liberal, has switched to strident pro-Russia positions, as a political lesson of the lost war.
Seventeen extra-parliamentary parties have formed a Fatherland Salvation Movement, pressing to remove Pashinian's government and trigger new parliamentary elections. Its main components are the Republican Party (nationalist-conservative, former "party of power" during Kocharian's and Serge Sarkisian's presidencies) and the Armenian Revolutionary Federation–Dashnaktsutyun (ARF—ultranationalist, formerly in Republican-led coalition governments). Both parties lost their parliamentary representation in the 2018 Pashinian-led landslide. Kocharian and Serge Sarkisian are believed to support this protest movement. The ARF Supreme Body's representative in Armenia, Ishkhan Saghatelian, is the salvation movement's official coordinator. Vazgen Manukian is the movement's chairman and its common candidate for prime minister.
Manukian, age 75, was a founding leader of the Karabakh Committee (1988) pressing for Upper ("Nagorno") Karabakh's transfer from Soviet Azerbaijan to Soviet Armenia. He was Armenia's first prime minister (1990–1991) and first defense minister (1992–1993), when Armenian forces won the decisive battles in the first Karabakh war. An unsuccessful presidential candidate in 1996, Manukian's political career went through an eclipse until now.
The salvation movement operates through daily peaceful rallies in Yerevan and acts of civil disobedience. Initially the extra-parliamentary faction called for the rejection of the November 10 armistice but gave up that stance after Russia made clear that it insists on compliance with the armistice it had brokered. The protest movement has therefore turned Pashinian into the main scapegoat, calling for his removal in inflammatory terms. Protest leaders have also issued calls for strikes in the country, for the army and police to "join the people," and for residents of certain border areas to form armed detachments. At least two television channels, associated with Tsarukian (see above) and Serge Sarkisian, respectively, actively publicize these protests (NewsAm, Armenpress, Arminfo, December 20–31, 2020; HETQ, January 4, 2021).
The protest movement has not generated mass support thus far. The public seems apathetic in general and skeptical of the old regime's politicians in particular. Pashinian's camp depicts the protest leaders as the revanche-bent old elite trying to overturn the people's power that Pashinian's "revolution" supposedly achieved. This is the type of language that helped Pashinian achieve his 2018 landslide.
The embattled Armenian prime minister is clinging firmly to power. The governing bloc, My Step Alliance (comprised of Pashinian's Civil Contract party and minor allies), holds a two-thirds parliamentary majority with 88 seats, versus Tsarukian's Prosperous Armenia and Marukian's Enlightened Armenia, with 26 seats and 18 seats, respectively. Civil Contract equally firmly controls Yerevan's city hall.
In his appeals to the public, Pashinian admits to his share of responsibility for the country's crisis, from which admission he extrapolates that he must remain responsible for overcoming the crisis as head of government (Arminfo, Armenpress, December 29, 2020). Within days of the armistice, Pashinian presented a 15-point anti-crisis plan (NewsAm, November 18, 2020) to be fulfilled until June 2021, at which point his own government (not an interim government) would organize pre-term parliamentary elections. No progress report on the anti-crisis plan exists as yet.
Kocharian and Serge Sarkisian must be hoping to capitalize on their long-standing Kremlin connections to regain a measure of political influence in Yerevan. In mid-December, Kocharian and Edmond Marukian (see above) visited Moscow simultaneously; whether this was a joint visit remains unclear. Russian President Vladimir Putin cabled Christmas/New Year personal greetings to Kocharian. For the time being, at least, any Armenian opposition politician seeking Moscow's favor must not contest the terms of the armistice outright; at the most, he may propose tinkering with matters that the armistice does not directly regulate, such as the demarcation of certain border sectors. Moscow has elucidated that it wants compliance with the armistice terms; and it will work with those Armenian politicians who deliver both compliance and stability. Nationalist politicians in the ARF's or Vazgen Manukian's mold do not fit that bill and are unusable to Russia.
Pashinian seems to have understood this situation well and is currently delivering that compliance. The protest movement, insofar as it jeopardizes compliant stability, can only increase Pashinian's utility value to Russia, at least for the time being.