Armenia's Regional Energy and Transport Cooperation Squeezed by Russia
Publication: Eurasia Daily Monitor Volume: 12 Issue: 156
By: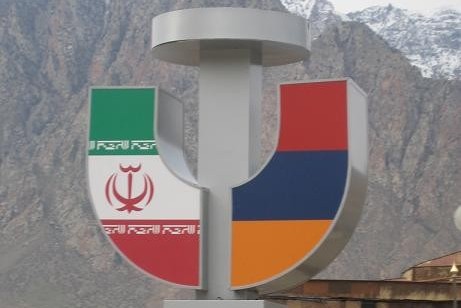 Shortly after the deal on Iran's nuclear program, Iranian ambassador to Armenia, Mohammad Reyisi, gave several interviews to Armenian newspapers and news agencies concerning perspectives for future bilateral cooperation. Ambassador Reyisi noted that the joint construction of a hydroelectric plant on the river Arax could be resumed as soon as the international sanctions against Iran are lifted. He added that two other important projects—a railroad link and a high-voltage transmission line—would also be on the agenda (168.am, July 22). Furthermore, Reyisi stated that a route from Iran via Armenia to Georgia would provide a useful cargo transit connection between the Persian Gulf and the Black Sea (168.am, July 24). He also mentioned that Iranian President Hassan Rouhani's visit to Armenia could be expected before the end of the year (Tert.am, July 23).
Iran has consistently expressed interest in energy and transport cooperation with Armenia, including the production and transmission of electricity, natural gas supply, and railroad construction. However, under Russian pressure, Armenia rejected previous Iranian offers to build a gas transit pipeline or to buy Iranian gas for a lower price than offered by Russia. Instead, Yerevan's actions strengthened the monopoly of Russia's Gazprom and its subsidiary Gazprom Armenia (formerly ArmRosgazprom)—the operator of Armenian gas distribution networks (see EDM, February 2).
And now, a deal signed with Russia in December 2013, which provided that Gazprom would have a monopoly in Armenia for 30 years in exchange for a five-year gas price discount, has been supplemented by additional protocols approved by the Armenian government on August 19. The additional protocols provide even more benefits for the Russian side. While Gazprom will supply Armenia with natural gas at a price discount of 13 percent, the only beneficiary will be the Russian gas giant's own local subsidiary—Gazprom Armenia, in which Gazprom owns 100 percent of shares. Neither Armenian households nor industrial consumers can expect any analogous price drop. Moreover, under last month's deal, Gazprom Armenia also received the right to operate the high-voltage transmission lines that are under construction now and will be used to export electricity to Iran and Georgia (Lragir.am, August 20).
A new gas compressor station has just been launched in northern Iran, and its location will allow the Islamic Republic to increase its daily gas export from 24 million to 56 million cubic meters as soon as new pipeline connections with Armenia, Azerbaijan or Turkey become available (News.am, August 26). It is quite obvious that if the sanctions against Iran are lifted, Moscow will not be able to prevent Tehran from securing a contract for gas export to the European Union, as Iran may be able to utilize a new pipeline route via Turkey, for instance. Russia can, however, continue its traditional policy of isolating Armenia. So, it is likely that the Armenian government will again yield to Russian pressure and miss the opportunity to participate in an international project that would facilitate Armenia's economic development. The conspicuous absence of a meaningful domestic discussion about such cooperation with Iran offer perhaps indicates that Yerevan has agreed to any demands set by Moscow.
Meanwhile, with Gazprom's share of the European gas market in decline, as well as the discontinuation of two major Gazprom projects—Turkish Stream and the Power of Siberia pipelines—another potentially important international transportation project circumventing Russia has started, though without Armenia's participation. On August 3, the first cargo train from China reached a station near Baku, Azerbaijan, after traveling about 3,500 kilometers across Kazakhstan and the Caspian Sea. A representative of Kazakhstan's railway company noted that operation of the new route will expand when the railroad link between Akhalkalaki, Georgia, and the Turkish city of Kars is ready (Tengri News, August 3). That future China-Turkey transit corridor—particularly when connected further with EU members Bulgaria and Greece—will allow for a faster westward delivery of Chinese cargo to Europe than the current overland connection via Russia.
The diversification of energy supply and transport communication is vitally important for Armenia, and the country's participation in a gas transit project connecting Iran with the Black Sea shore and potentially with Europe could also be profitable for the Armenian side. The importance of the latter factor in the long run should not be underestimated, as the socio-economic conditions in Armenia have been constantly deteriorating since late 2014, when a sharp devaluation of the Russian ruble occurred and a serious decline of the Russian economy began (see EDM, January 5). As a result, Armenian exports to Russia and the amount of remittances from Russia plummeted. Moreover, due to the Russian financial crisis, the Armenian dram—which lost 15 percent of its value in the recent 12 months—has been included by Bloomberg's experts in the list of the world's ten most vulnerable currencies expected to face a strong devaluation in the next few months (1in.am, August 21).
Armenia remains excluded from regional cooperation projects not only because of the Karabakh conflict, which resulted in closed borders with Azerbaijan and Turkey, but also because of Moscow's self-interest-driven attitude as well as Yerevan's submissiveness. Commentary in the Armenian media leave the impression that Armenia's political class will do anything to avoid discussing the country's mounting economic hardship—which arguably cannot be dealt with without reducing Armenia's dependence on Russia as well as achieving greater international cooperation.