Armistice in Ukraine Leaves Part of Donbas Under Russian Control (Part One)
Publication: Eurasia Daily Monitor Volume: 11 Issue: 158
By: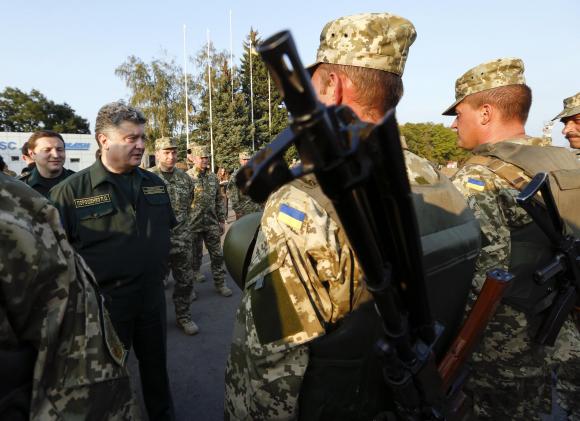 Ukraine has been "coerced to peace" by Russia after five months of hostilities, as Georgia was in 2008 after five days. Russia's hybrid war methods, rehearsed already against Georgia and deployed fully against Ukraine, proved indecisive, until Russia escalated to the level of conventional war operations. Ukraine has been defeated by superior forces in battle, and leaves the field all but exhausted economically (see EDM, September 4).
The armistice has resulted in static frontlines that effectively partition Ukraine's Donetsk and Luhansk provinces. Approximately one third of these provinces' combined area, and approximately one half of their population, has fallen under Russia's and its proxies' control, for an indeterminate period of time.
Signed during consultations in Minsk on September 5, the armistice document looks strange in a number of ways. The document seems to exist in the Russian language only. Some translation into English must have been done unofficially; but the Organization for Security and Cooperation in Europe (OSCE—the only international party to these consultations) has decided to release and confer validity on the Russian text only (osce.org, accessed September 8, 9).
The document's signatories are: Ambassador Heidi Tagliavini for the OSCE's Swiss chairmanship, former president Leonid Kuchma for Ukraine, Ambassador Mikhail Zurabov for Russia, as well as the Donetsk and Luhansk secessionist leaders Aleksandr Zakharchenko and Igor Plotnitski. These two are signing without specification of their status or titles, but nevertheless on par with the other signatories. Related to their participation, the document's points 3 and 9 directly contravene Ukraine's constitution (see below).
The document's status, per its title, is a "protocol of consultations." Its immediate result is the "cessation of the use of weapons" (terminology peculiar to the Russian language). Although widely referenced as an armistice agreement, these words do not occur in the document.
Presidents Vladimir Putin of Russia and Petro Poroshenko of Ukraine had, each, publicized armistice plans in the run-up to the September 5 "consultations." Putin's plan included seven points, Poroshenko's five (see EDM, September 4). The Minsk protocol, however, incorporates very little from either president's plan. This is an indication that high-level negotiations are yet to follow.
The protocol's subtitle, "Implementing [President] Poroshenko's peace plan and [President] Putin's initiatives," therefore does not correspond with the protocol's content. Invoking the presidents can perhaps lend some authority to a seemingly improvised document. The protocol's 12 points follow in random order (specific issues being treated in non-consecutive points, back-and-forth), yet the meaning of the key points seems fairly clear.
Points 1 and 2 stipulate the "bilateral non-use of weapons." "Bilateral" is not explicitly defined; but the context makes clear that this means Ukraine versus Donetsk-Luhansk. This exempts Russia from responsibility as conflict participant and indeed initiator. Under point 2, the OSCE would monitor and verify compliance with the ceasefire (see also point 4).
Under Points 3 and 9, Ukraine should effectively consent to partitioning the Donetsk and Luhansk provinces. Thus, Kyiv should "adopt a Law 'On the temporary order [poryadok] of local self-government in certain districts of the Donetsk and Luhansk provinces' (the Law on special status)." Ukraine should then "ensure the holding of pre-term local elections, under a Law 'On the temporary order [poryadok] of local self-government in certain districts of the Donetsk and Luhansk provinces' (the Law on special status)."
These "certain" districts are those controlled by Russian and proxy forces. The demand for "special status" (vaguely defined and seemingly negotiable) is Russia's usual starting position in negotiations to legalize territorial secessions in the "frozen conflicts." The "special status" demand is now upon Ukraine's territory. It can start a negotiating process without an end in sight, even as the territory becomes separated de facto.
The September 5 protocol mentions holding elections pre-term, i.e. almost immediately, in that territory, separately from Ukraine's elections. Separate elections, however, could not be free in those "certain districts," but would only serve to legalize the secessionist authorities under Russia's protection.
Moscow would like Ukraine itself to legitimize such a process by adopting this special legislation. This would require changing Ukraine's constitution by a majority of two thirds in parliament. Such proposals for the sake of accommodating a Russian protectorate, however, are unlikely to pass or even to be proposed in that form. For its part, the Ukrainian government proposes administrative and budgetary de-centralization for Ukraine's 25 provinces on a country-wide basis, within the existing constitution.
Point 4 envisages creating a "security zone" on either side of the Russia-Ukraine border, to be monitored by both sides, under verification by the OSCE. Although the document does not state the purpose of such activity, the proposal obviously seeks to calm Ukraine's concerns about trans-border flows of Russian arms and fighters to Donetsk and Luhansk.
This proposal comes far too late to change the game. The secessionist territories are already saturated with arms and fighters from Russia, including a growing proportion from regular Russian forces. This has predetermined the war's outcome in Russia's favor. Moreover, it has happened on the OSCE's ineffective watch. The OSCE maintains since May a semblance of monitoring activity on the Russian side of the Russia-Ukraine border. Russia has used its veto power to reduce the number and equipment of OSCE border monitors to irrelevance. Any mandate of a new and enlarged observer mission will have to be negotiated again with Russia inside the OSCE, subject to Russia's veto in every technical detail.