As Belarusian Election Nears, Domestic Political Situation Heats Up
Publication: Eurasia Daily Monitor Volume: 12 Issue: 168
By: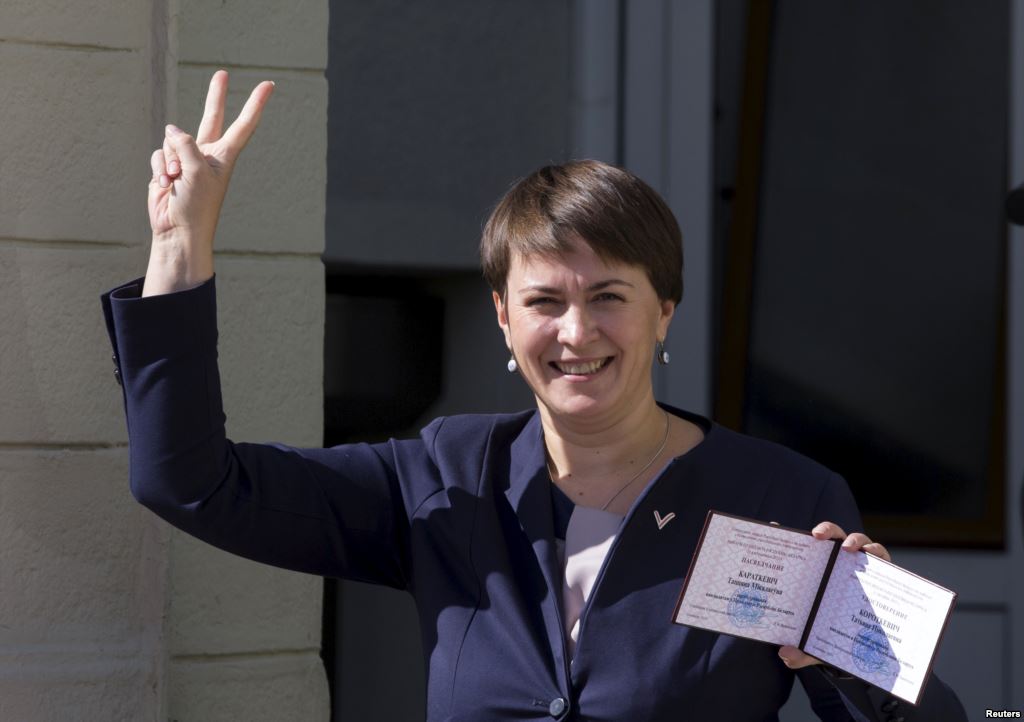 On September 10, four presidential candidates were registered by the Central Electoral Commission (CEC) of Belarus. Aside from the incumbent, President Alyaksandr Lukashenka, these are: Tatyana Korotkevich, from the Speak the Truth campaign; Sergei Gaidukevich, who heads the Liberal Democratic Party; and Nikolay Ulakhovich, a leader of a little-known group speaking on behalf of Belarusian Cossacks. From now on, the candidates can officially meet with voters and conduct TV debates. Whereas the outcome of the upcoming presidential elections, scheduled for October 11, is not in doubt—Lukashenka will certainly win—the officially announced percentage of votes cast for him will be a major point of electoral intrigue, as will be the degree of its closeness to reality. Independent pollsters had determined that in both 2006 and 2010, Lukashenka did not need falsifications in order to win, and yet a certain number of votes may have been added to those cast for him anyway—allegedly to demonstrate his commanding lead. The other major piece of political intrigue will be the electoral result of Tatyana Korotkevich, the only presidential hopeful with Westernizing nationalist credentials.
While the major Belarusian opposition leaders are hostile to Korotkevich and to the director of her campaign (see EDM, September 4), the attitude of the broader society is unclear. According to independent pollsters, opposition-minded voters in Belarus have persistently made up close to one quarter of the total electorate. Will she be able to capture this entire segment? Two opinions about Korotkevich clashed during the most recent episode of the popular talk show "Prague Accent" aired on the Belarusian Service of Radio Liberty (BSRL). According to Valer Bulgakau, a student of Belarusian nationalism and the editor of one of its most well-known mouthpieces, Arche, the phenomenon of Korotkevich results from a paradigm shift in the opposition movement and from the geopolitically conditioned attitude change of the West toward Minsk. The domestic paradigm shift, according to Bulgakau, boils down to opposition candidates abandoning the desire to defeat Lukashenka and to install democracy "here and now." The very fact that Korotkevich's campaign has had enough resources to collect the requisite 100,000 signatures needed to register with the CEC, Bulgakau believes, derives from the readiness of Western sponsors to condone Lukashenka. Indeed, Korotkevich is not "rooted" in the opposition community and her promotion smacks of political engineering. She does not represent all those who have fought with the "regime," were jailed, had to flee abroad, etc., Bulgakau argued on the air (Svaboda.org, September 5).
Stas Karpau, a journalist, disagreed with Bulgakau: Since all those seasoned opposition politicians have failed to impress the broader society, which has actually grown tired of them, "we," nationalists ought to calm down and cease to annoy ordinary people. Ordinary Belarusians, Karpau alleged, continue to harbor a self-consciousness that is essentially pre-national, i.e., that of "tuteishiya" (locals)—the moniker used by many Belarusians for self-introduction up until roughly the 1930s. Only by putting aside its discordant attitudes, can the opposition hope to become "rooted" in society, he argued. Karpau pledged to enthusiastically vote for Korotkevich.
In her own interview with BSRL, Korotkevich rejected the idea to withdraw from running—the recommendation voiced by such presidential hopefuls as Anatoly Lebedko, who failed to collect his required 100,000 signatures. She said she expects to win from 20 to 30 percent of the vote and hinted that during the night following the election, she will probably not be protesting "on the square" Belarusian society is not currently in a protest mood, she stated (Svaboda.org, September 9).
Other news of the electoral campaign includes a somewhat bizarre chain of events related to Victor Tereshchenko, an economist who participated in earlier presidential campaigns and, this summer, submitted more than 100,000 signatures to the CEC for verification. The CEC determined that only 6,699 of the signatures collected on his behalf were real (Naviny.by, September 1). Soon thereafter, Tereshchenko became hospitalized with food poisoning after drinking a cup of carrot juice in a Minsk café. Tereshchenko is little known to Belarusians, so even conspiracy theories regarding his poisoning did not really arouse much of a public reaction.
Meanwhile, the issue of a Russian airbase in Belarus continues to be vigorously discussed. According to reports referencing remarks by Russian Prime Minister Dmitry Medvedev, the signing of the respective agreement will occur "at a time convenient for Minsk" (Naviny.by, September 9). This vague formula suggests that the time is apparently hardly convenient at the moment; and most analysts agree that Lukashenka will resist and procrastinate as long as he possibly can. However, there is a risk that Russia may retaliate against such foot dragging by instigating a political crisis in Belarus. This is the opinion of Arsenii Sivitski, who chairs the Minsk-based Center for Strategic Studies. According to the Russian liberal political commentator Dmitry Oreshkin, however, it is unlikely that Russian President Vladimir Putin will use brute force against Belarus, as he has already lost a fight for Ukraine and for the breakaway Moldovan territory of Transnistria. Moreover, a diehard pragmatist, Lukashenka senses that Putin is a losing proposition and will be progressively distancing himself from the Russian leader. Oreshkin believes that even Belarusian democrats are supporting Lukashenka's efforts to consolidate Belarusians in the face of a threat from the east (Svaboda.org, September 9). Indeed, during his recent visit to Brest Oblast, Lukashenka opined that Belarus should live in peace with both Russia and Europe, but must avoid at all costs again becoming a region of some other country (BelaPan, August 28). Moreover, Lukashenka's deputy chief of staff, Igor Buzovsky, called the Belarusian language, culture and literature the custodians of Belarusian statehood (Svaboda.org, September 6)—the type of pronouncement that rarely emanates from the presidential administration.
The return of Ales Mikhalevich has sprinkled still more spice on the ongoing presidential campaign in Belarus. A 2010 presidential hopeful, Mikhalevich fled to the West, in February 2010, after being released from a detention center on bail and after sharing information about the Belarusian KGB's attempt to recruit him. Upon returning to Minsk, on September 8, 2015, Mikhalevich was apprehended for being on a search list, but he was promptly released. It is unlikely Minsk would want to have one more political prisoner on its hands at this point.
In summary, as the election nears, things are becoming more interesting, and further surprises cannot be ruled out.