As Putin's Popularity Wanes In Russia, His Regional Initiatives Might Lose Traction
Publication: Eurasia Daily Monitor Volume: 8 Issue: 229
By: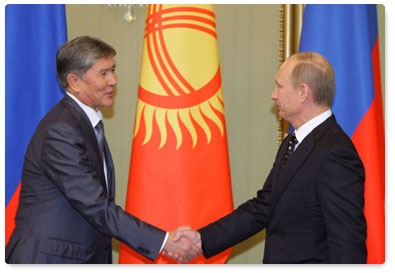 Central Asian leaders rushed to recognize Russia's December 4 parliamentary elections in spite of international criticism of mass falsifications in favor of the ruling United Russia party. Developments in Russia are closely watched in Central Asia both by the regime holders and ordinary citizens. To date, however, none of the regional leaders reacted to the protests in Russian cities.
The growing uncertainty about Russia's March 2012 presidential elections can potentially be interpreted by Central Asian leaders as a sign of weakness of Prime Minister Putin's power and inability of Russia to remain a serious player in the region at least for the months to come. Putin's two major regional initiatives – the Customs Union and Eurasia Union – will lose their momentum should the leader's grip on power at home continue to decline.
Uzbekistan's President Islam Karimov has recently indirectly criticized the Russia-Belarus-Kazakhstan Customs Union. He said that "regional formations" intended to integrate post-Soviet economies can easily become politicized and "negatively impact already existing ties" (www.regnum.ru, December 13). Karimov said that he sees how some regional forces are trying to venerate the Soviet past, forgetting the shortcomings of that system. The Uzbek president was critical of the Russian-led initiative before, but his latest criticism comes at a time when Kyrgyzstan and Tajikistan are being pressured by the Russian leadership to join the Customs Union.
In the meantime, Kyrgyzstan's recently elected President Almazbek Atambayev prides himself on friendly relations with the Kremlin and has been relying on Putin's support for steady gas supplies and economic investments. He promised to lead Kyrgyzstan into the Customs Union next year, a decision by all measures more motivated by political reasons than economic calculations. He, however, faces opposition at home, which argues that Kyrgyzstan's small and medium businesses will suffer from opening the borders to Russia and Kazakhstan. Experts in Kyrgyzstan assert that ongoing political uncertainty in Russia might help Atambayev postpone the joining of the union until Putin or other political powers refocus from domestic issues back to regional.
Tajikistan has seen its relations deteriorate with Russia especially after the recent pilot scandal and deportation of Tajik labor migrants. Tajikistan's President Emomali Rakhmon has since tried to ameliorate ties with Russia by praising the December elections, but similar to Kyrgyzstan, the Kremlin's preoccupation with domestic politics can help Dushanbe postpone joining Putin's regional initiatives (www.newsru.com, June 18).
More importantly, however, the growing protests in Russia remind the Central Asian regimes how rigged elections may become a source of instability in the society and result in a political crisis for the ruling party. There are no signs of breeding protests in Central Asia in the foreseeable future. Yet, the Russian civil society's use of the Internet and other communication means to mobilize protests provides a template for activists throughout the region. On December 8, Uzbekistan's Constitution Day, leaflets calling to protest against authorities reportedly were distributed in some parts of the country (ozodi.org, December 12).
Particularly interesting will be Kazakhstan's parliamentary elections scheduled on January 15. Similar to Russia, Kazakhstan's growing middle class is connected to the Internet and receives news from alternatives to state-controlled media. The ruling party, Nur Otan, is expected to win in a landslide victory, but the activists and users of online social media can employ some of the techniques of observing irregularities on the day of the elections, earlier used in Russia and Kyrgyzstan. Among them is a special online crowdsourcing map collecting reports on falsifications from across the country (www.fergana.ru, December 5). Similar to Putin, whose overall rating is higher than that of United Russia, Kazakhstan President Nursultan Nazarbayev enjoys greater support than his party.
Overall, mass media in Kazakhstan and Tajikistan covered the Russian elections predominantly in a positive light, mostly repeating the Kremlin's official interpretation. This included citing Putin's argument that people in Russia do not want color revolutions like in Kyrgyzstan and Ukraine. Media outlets in Turkmenistan and Uzbekistan did not cover protests in Russia at all.
Russian opposition movements are planning a second wave of protests on December 24. Opposition activist have pledged to generate a clearer message about their view of Putin's leadership. Russia's December revolution will have a far greater impact on Central Asia than the Arab Spring.