As Rival Factions Gain Traction, Xi Seeks to Secure Support from the Military
Publication: China Brief Volume: 22 Issue: 2
By: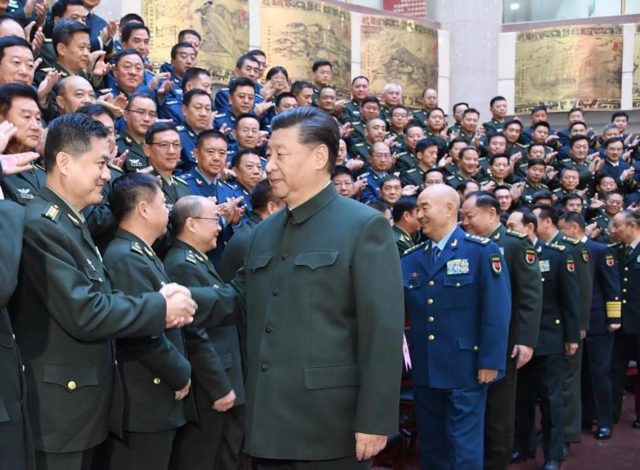 Factional rivalry and internecine bickering within the 95 million-strong Chinese Communist Party (CCP) has become so apparent that usually circumspect propaganda outlets are no longer shy about airing dirty laundry in public. An article in the December 2021 issue of the official China Discipline and Supervision Journal entitled "The Party has Become Stronger Through Revolutionary Training," candidly testifies to the high levels of antagonism among the disparate CCP cliques. "There are self-righteous cadres… who openly express views contrary to the dangzhongyang [central party authorities]," the Journal said, using a term that is synonymous with President Xi Jinping. "Some cadres refuse to obey orders," the article continued. "They brush off and distort the decisions and policies of the dangzhongyang… Others even harbor inordinate ambitions and act contrary to the dangzhongyang either openly or surreptitiously" (Gmw.cn, November 26; CCDI.gov.cn, November 25, 2021). Over the past few months, other official media pieces have decried disloyal and "two-faced officials" and even alluded to groups that are openly sabotaging Xi's authority (CCDI.com, January 18; China Youth Daily, January 10).
Factional Turmoil
In spite of Xi's oft-repeated determination to "improve governance systems" and promote "intra-party democracy," there are many signs that the supreme leader is personally involved in the recriminations and back-stabbing among CCP camarillas. The competing cliques include the Shanghai Faction led by ex-president Jiang Zemin and former vice-president Zeng Qinghong; the Communist Youth League Faction led by ex-president Hu Jintao; and other princelings (offspring of the founders of the People's Republic of China [PRC]) who do not think highly of Xi – and oppose his bid for one or two additional terms in office at the 20th Party Congress scheduled for this autumn.
In their tussles with one another, Xi and his foes employ the same weapon – the "anti-corruption card." As a result, cadres are often penalized for graft and dereliction of duty due to factional alignments. In his first five-year term, Xi mainly relied on the Central Commission for Discipline Inspection (CCDI), then headed by his confidante, Politburo Standing Committee (PBSC) member and fellow princeling Wang Qishan, to eliminate or rein in members of rival cliques by charging them with economic crimes and other illegal activities. However, possibly due to Xi's jealousy over Wang's influence, the two erstwhile cronies fell out with each other soon after Wang stepped down from the PBSC in 2017, whereupon he was given the honorary title of Vice President.
The current head of the CCDI, Zhao Leji, however, is much closer to the Shanghai Faction and anti-Xi party elders such as Jiang Zemin and Zeng Qinghong. Earlier this month, Li Zhanshu, a PBSC member and Chairman of the National People's Congress (NPC) Standing Committee who became Xi's confidante in the early 1980s, disappeared from the official media for two weeks. As it turns out, former Guizhou vice-party secretary Wang Fuyu (王富玉) a key aide to Li when the latter was party secretary of Guizhou from 2010 to 2012, was detained by the CCDI and given a suspended life sentence for pocketing ill-gotten gains of more than 400 million yuan (approximately $63 million) (Radio French International, January 18; New Beijing Post, January 16). No evidence indicates that Li was involved with Wang's corrupt practices, but the latter's downfall has become a big embarrassment for President Xi due to his close relationship with Li.
Other members of the Xi Jinping Faction – which consists mostly of Xi's associates and underlings from the period that the 68-year-old princeling served in Fujian and Zhejiang provinces from 1985 to 2007 – have also fallen on hard times. Perhaps the most notable example is the former party secretary of Zhejiang's provincial capital Hangzhou, Zhou Jiangyong (周江勇) who was placed under investigation last August (Xinhua, August 21) A native of the coastal province and a well-known Xi protégé, Zhou (born 1967) rose to become party boss of the prosperous city of Wenzhou in 2017. One year later, he was promoted to Party Secretary of Hangzhou and became a member of the Standing Committee of the Zhejiang Party Committee. Xi, who served as the top official in Zhejiang from 2002 to 2007, has a reputation of looking after rising stars from the province where he made a name for himself. Apart from accepting huge bribes, Zhou was being investigated for "collusion" with a handful of private entrepreneurs in the province.
Another discredited Xi crony from Zhejiang is Xu Liyi (徐立毅) who was penalized for his poor handling of severe flooding in Zhengzhou, capital of Henan province, last August (Guancha, January 21). Xu was reprimanded for inadequate measures to prepare and respond to the disaster, which resulted in the death and disappearance of around 390 people. Punishment has yet to be announced, but it seems certain that the career of Xu (born 1964) has been dealt a frontal blow. Xu spent most of his career in Zhejiang province, and like Zhou Jianghua, held top positions in Wenzhou and Hangzhou (Radio French International, January 21; Radio Free Asia, July 27, 2021).
Targeted Purges
Xi's most bitter power struggle with his rivals is evidenced by his drawn-out purge of the zhengfa (political and legal) apparatus, which is headed by the Central Political-Legal Commission (CPLC or zhengfa wei). The CPLC is a policy-making committee at the apex of the CCP Central Committee, which controls the Ministry of Public Security (MPS, or police), the Ministry of State Security (often known as China's KGB), the People's Armed Police (PAP), the procuratorates and the courts. This month, a series of educational dramas on CCTV have exposed graft and other wrongdoing by a host of senior zhengfa officers including former MPS vice-ministers Sun Lijun (孙立军) and Fu Zhenghua (傅政华), as well as the provincial and municipal police chiefs of Jiangsu, Chongqing, Shanghai and Shanxi: Wang Like (王立科), Deng Huilin (邓恢林), Gong Dao'an (龚道安), and Liu Xinyun (刘新云) (South China Morning Post, January 13; Radio French International, October 10, 2020). Two semi-official media outlets even speculated that Sun, Wang, Deng and their cronies were involved in a failed attempt to "do damage" to Xi when the latter was on a provincial tour (China Brief, September 23, 2021).
On the surface, Xi seemed to have clinched a victory earlier this month when he installed his long-term underling, former Fujian police officer Wang Xiaohong (王小洪) as the Party Secretary and an Executive-Vice Minister of the MPS. However, the MPS Minister remains Zhao Kezhi (赵克志), who is hardly a favorite of Xi. Furthermore, a number of middle and upper-echelon officials in the labyrinth zhengfa apparatus remain loyal to Minister Zhao, Secretary of the CPLC and Politburo member Guo Shengkun (郭声琨), as well as Guo's predecessor, retired Politburo member Meng Jianzhu (孟建柱). Zhao, Guo and Meng are considered important members of the Shanghai Faction and are associated with its top leaders such as Zeng Qinghong (Timednews.com, January 21; Radio Free Asia, December 16, 2021). At the January 15 national meeting on zhengfa issues, only four of the CPLC's 10 top cadres showed up, which is a clear indication of disrespect among Chinese officialdom, and indicates that Xi's hold over the political-legal hierarchy is less than secure (Gov.cn, January 15).
Xi's Army?
At the same time that he targets his opponents in the party and state, Xi, who is also Chairman of the party's Central Military Commission (CMC) and commander-in-chief, has sought to consolidate his control over the top brass by promoting seven senior PLA lieutenant generals and one equally ranked PAP officer to full generals this month. The officers promoted to general are the Political Commissar of the Northern Theater Command Liu Qingsong (刘青松), Commander of the Central Theater Command (CTC) Wu Ya'nan (吴亚男), CTC Political Commissar Xu Deqing (徐德清), Political Commissar of the PLA Ground Forces Qin Shutong (秦树桐), Political Commissar of the PLA Navy Yuan Huazhi (袁华智), Commander of the PLA Rocket Force Li Yuchao (李玉超), and PAP Political Commissar Zhang Hongbing (张红兵) (Xinhua, January 22; 81.cn, January 22). The elevation of officers is a traditional way for a commander-in-chief to gain the loyalty of rising stars in the defense establishment. Xi has broken the PLA record for promotions by elevating 38 officers to the rank of full generals since 2019.
Xi's rapid promotion of so many generals is extraordinary in that it breaches long-standing military convention. In the past, the CMC chairman has normally presided over only one round of promotion of full generals a year – and this usually happened around Army Day on August 1. However, in late January, Xi undertook his third series of promotion of full generals in barely half a year. Moreover, it is a well-observed rule that lieutenant generals can qualify for elevation to full generals only after serving in their positions for at least 24 months. Several of the seven newly minted generals had not yet been lieutenant-generals for two years. Moreover, it is also a respected tradition that the head of a theater command (previously- military region) usually serves for at least two years. No reason was given for why Lieutenant General Lin Xiangyang (林向阳), who was named CTC Commander in September 2020 was pulled from that post after only 16 months, in contravention of this personnel rule. A major responsibility of the CTC, which has changed commanders four times in the past year, is to ensure the safety of party and government headquarters in the capital. The Western Theater Command (WTC), which overseas Tibet and Xinjiang, has also had four commanders in the past 12 months. PLA analysts have ascribed these unusual organizational movements to Xi's efforts to boost the number of full generals and to place only totally loyal officers in key posts (Deutsche Welle Chinese September 9, 2021; Radio Free Asia, September 8, 2021; HK01.com September 6, 2021).
Conclusion
Xi, who allegedly began his reform of party conventions and procedures since coming to power at the 18th Party Congress in 2012, has mainly relied on ziwogeming ("self-revolution") or intra-party reform rather than turning to more liberal means such as boosting the supervisory powers of the press and the civil society to rectify errors made by the party and government. In his recent speech to a CCDI national conference, Xi repeated his mantra ziwogeming numerous times. He said that while the CCP respected popular opinion, it has for the past century mainly "relied on self-revolution to uphold truth and rectify mistakes." "We are brave in turning the knife inwards, cutting through bones to get rid of the poison so as to guarantee the longevity and ceaseless strengthening of the party," Xi said (MOJ.gov.cn, January 20; Gov.cn, January 18). Due to the absence of checks and balances within major political institutions in China, the power struggle at the top echelons of the CCP is tipped to go on for the foreseeable future.
Dr. Willy Wo-Lap Lam is a Senior Fellow at The Jamestown Foundation and a regular contributor to China Brief. He is an Adjunct Professor in the History Department and Master's Program in Global Political Economy at the Chinese University of Hong Kong. He is the author of six books on China, including Chinese Politics in the Era of Xi Jinping (2015). His latest book, The Fight for China's Future, was released by Routledge Publishing in 2020.