As Ties With Moscow Deteriorate, Kazakhstan Seeks Allies and Export Routes Elsewhere
Publication: Eurasia Daily Monitor Volume: 19 Issue: 96
By: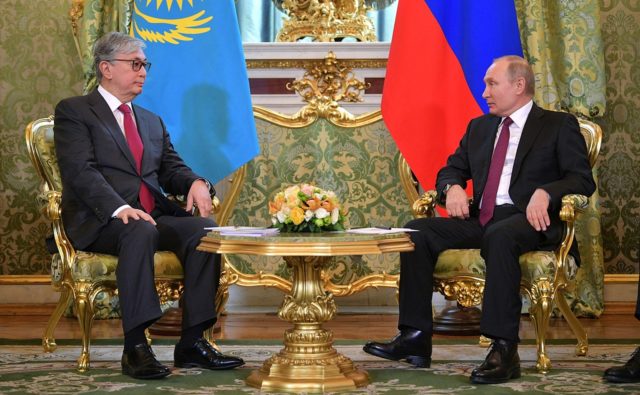 Relations between Moscow and Nur-Sultan have been deteriorating since the beginning of Russian President Vladimir Putin's 2022 re-invasion of Ukraine (see EDM, April 5, May 12). In response to unfriendly commentaries and actions by Russia, Kazakhstani President Kassym-Jomart Tokayev has sought to distance himself from Moscow concerning the war. Relatedly, he has been pursuing both closer ties with China, Turkey, Iran and the West as well as looking for alternative routes for the export of Kazakhstani oil that would bypass Russia. Since mid-June, tensions between the two countries came to a head after Tokayev told Putin directly that Kazakhstan does not support Moscow's moves concerning the breakaway statelets in Ukraine's Donbas region. But lest the situation spiral out of control, both the Tokayev and Putin regimes have sought to downplay the conflict, even if some in their respective countries continue to see the relationship deteriorating further, possibly to the point of a Russian military intervention in Kazakhstan.
Tokayev was the only foreign head of state to take part in the 25th St. Petersburg International Economic Forum in June 2022, something Putin welcomed; but Tokayev's remarks about Ukraine were presumably not what the Kremlin leader wanted to hear. During a discussion between Tokayev and Putin moderated by RT's Margarita Simonyan, the visiting head of state said that Kazakhstan does not recognize the Donetsk and Luhansk "people's republics," which Moscow has declared to be independent countries. The Kazakhstani leader said that the right of nations to self-determination must not be taken too far, otherwise, "instead of the 193 countries that are now members of the UN [United Nations], there would be more than 500–600 countries." He added that this is why Kazakhstan does not "recognize Taiwan, Kosovo, South Ossetia or Abkhazia" The last two on this list, were notably also recognized as independent countries by the Kremlin in previous years. Moreover, Tokayev indicated that he does not accept Putin's expansive claims of a right to intervene across the post-Soviet space (Radio Azattyk, June 23, June 25).
Tokayev later declared that his relationship with Putin was close and bilateral relations between their countries would continue to develop, a line the Russian foreign ministry echoed (RIA Novosti, June 21; Sputnik.kz, June 22). Yet many Russians, including Simonyan and her media outlet, Russian State Duma members, Moscow-based commentators as well as Chechnya's Ramzan Kadyrov, were outraged by what they saw as an act of lèse-majesté. Some even declared that such remarks, along with what they described as Kazakh repressions of ethnic Russians and Russian-language speakers in Kazakhstan, open the door to the possibility that Russia will have to intervene militarily to defend its people and national interests there (Govoritmoskva.ru, June 18; IA REX, June 20; Current Time, June 20; Kavkaz.Realii [1] [2], June 21; Kavkazsky Uzel, June 22; Radio Azattyk, June 27).
Not surprisingly, this exchange has attracted a great deal of attention. Some analysts have suggested it was all arranged in advance by the two parties or simply reflected Tokayev's need to reassure his own citizens that he would not take any action that would put the territorial integrity of Kazakhstan at risk (Radio Azattyk, June 23). Whatever the case may be, and the latter interpretation seems far more probable, the Kazakhstani leader's words in St. Petersburg come at a time when both Tokayev's government and Moscow are taking actions primarily designed to give Nur-Sultan greater autonomy and help the Kremlin prevent any further loss of influence in Kazakhstan.
Beyond indicating that Kazakhstan will support Western sanctions against Russia by not serving as a means for Moscow to circumvent them, Tokayev has also visited Turkey and Iran in pursuit of new allies and improved transit routes for the export of oil; on at least two occasions in recent months, Kazakhstan experienced stoppages on the Russian portions of the pipelines crucial to Kazakhstani trade (Radio Azattyk, June 27). And Kazakhstan's leader has hosted the Chinese foreign minister in discussing closer ties with Beijing as well as an expanded role for China in Central Asia's economic and security architecture (IA REX, June 20). All these meetings are consistent with plans, which Tokayev outlined earlier this year in a National Interest article, to prevent what is happening in Ukraine from undermining stability in Central Asia (National Interest, April 4)
The Russian government has responded not only with criticism of many of Kazakhstan's moves but also with actions of its own, including the pipeline stoppages, hosting former Kazakhstani leader and Putin friend Nursultan Nazarbayev, and a scheduled visit by Putin to Tajikistan and Turkmenistan but not Kazakhstan in the last week of June 2022 (Moskovsky Komsomolets, June 15). These moves send a clear signal that Kazakhstan under Tokayev, the country Moscow has routinely described as Russia's closest ally in the region, no longer enjoys that status. Evidently, the Russian authorities, reflecting Putin's own increasingly assertive position, are no longer happy with Kazakhstan's efforts to reassure Moscow of its good intentions.
Russia is almost certainly too occupied with and tied down by its war against Ukraine to take any concerted military action against Kazakhstan at the moment. Indeed, this may explain Tokayev's confidence in acting and speaking as he has. But the Kazakhstani leader's moves show that Moscow's influence in Nur-Sultan has fallen to an all-time low, and Russians are angry that Kazakhstan feels it can move away from Russia and build closer ties with other countries, yet another result of Putin's war in Ukraine. Consequently, the war of words is likely to continue and possibly even intensify; but it is unlikely to escalate into a conventional war anytime soon.