Assad's Hurricane: A Profile of the Paramilitary Wing of the Syrian Social Nationalist Party
Publication: Terrorism Monitor Volume: 12 Issue: 6
By: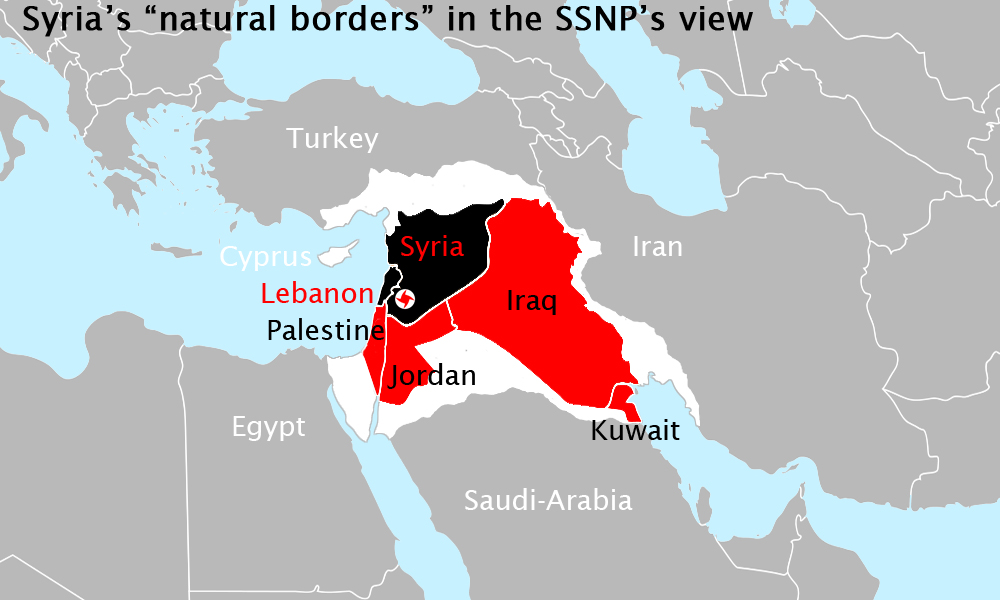 The presence of numerous auxiliary forces fighting alongside the regular Syrian military and security services against the armed opposition to Ba'athist rule is without question. Acting as ancillaries for the Ba'athist regime's defense are a similar number of paramilitaries, including the Popular Committees, their successor, the National Defense Force (NDF), the irregular shabiha (ghosts) militias, Lebanon's Hezbollah movement and fighters of the Syrian Social Nationalist Party (SSNP), the latter being distinguished by the party's zawba'a (hurricane) logo on their uniforms and flags.
The activities of the SSNP's paramilitary and militant wings are most associated with high profile operations executed in Lebanon by its Lebanon-based contingent. SSNP armed cadres in Syria are reported to have mobilized under Popular Committee and NDF auspices as well as independently. There are indications, however, that the SSNP has intensified its activities on the Syrian battlefield and under its own banner (al-Akhbar [Beirut], February 3; Rozana Radio [Paris], January 28). The SSNP has taken to social media to publicize its armed campaign through its network of official websites and online messaging platforms. [1] The SSNP has also begun to deliver public eulogies for its fallen fighters. The death of Muhammad Ali Awad, a Lebanese hailing from the town of Aalmat in Lebanon's north central Jbeil District in Mount Lebanon Governorate, in fighting in Homs Province in western Syria in late December 2013, represented the first among a growing list of fallen SSNP fighters being lionized as martyrs and heroes (SSNP.info, December 27, 2013). The SSNP's notable profile in Lebanon makes its role in Syria's civil war even more salient for gauging developments in Lebanon.
Founded in 1932 by Antoun Saadeh, a Greek Orthodox Christian from just outside of Beirut, the SSNP's ideology promulgates a vision of a "Greater Syria" that encompasses an amalgam of the histories, cultures and civilizations of the ancient Fertile Crescent and Mesopotamia. In today's geographic terms, this includes all of modern Syria, Lebanon, Jordan, Israel and Palestine, Iraq, Kuwait and Cyprus, as well as swaths of southern Turkey, Egypt's Sinai Peninsula and western Iran. Thoroughly secular in principle, the SSNP's concept of "Greater Syria" transcends religion and ethnicity for an idealized pan-Syrian nation that is very much suggestive of European-style nationalism. The SSNP also invokes a narrative of resistance and anti-imperialism. Its detractors often accuse it of harboring a far-right and even fascist agenda. The SSNP's ideology has put it at odds with the pan-Arabism promoted by Ba'athism and Islamism. Nevertheless, the SSNP has frequently set aside its principles in pursuit of broader objectives. While its secular philosophy made it attractive to religious minorities, especially Christians, the SSNP has always boasted a diverse base that has included adherents of all faiths. In the context of the conflict in Syria, however, the SSNP, along with the regular Syrian Army and NDF, is seen as a mechanism for organizing Christians to take up arms against a radical Islamist-dominated opposition (Al-Monitor [Washington], March 10).
Even with its relatively modest membership and resources, the armed wing of the SSNP based in Lebanon has earned a reputation for executing bold and daring missions. While suicide bombings in the Middle East have generally been associated with Islamist militancy, it was the SSNP (and other secular factions) that pioneered their widespread tactical use against Israeli and Israeli-allied forces in southern Lebanon during Israel's occupation. The SSNP was implicated in the 1982 assassination of Lebanese president-elect Bashir Gamayel only days before he was to assume his post. Notably, the SSNP fought alongside Hezbollah and other factions to expel Israeli forces from Lebanon. Today, fallen SSNP fighters are extolled alongside Hezbollah's fallen cadres throughout south Lebanon and other parts of the country. The SSNP mobilized alongside Hezbollah following Israel's 2006 invasion of Lebanon. The extent of the SSNP's coordination with Hezbollah was illustrated in May 2008, when Hezbollah and allied paramilitary factions associated with the March 8 coalition, including the SSNP's armed wing, defeated militias attached to the rival March 14 political bloc headed by former Lebanese prime minister Saad al-Hariri's Future Movement in street fighting in Beirut (al-Akhbar, October 12, 2012). The SSNP's role in the hostilities elicited retaliation by supporters of the Future Movement against the SSNP's headquarters in Halba in the northern Akkar region. Future Movement loyalists killed and mutilated the bodies of 11 SSNP members in what has come to be referred to as the "Halba Massacre" (Daily Star [Beirut], May 10, 2012; al-Jazeera [Doha], May 10, 2008).
The SSNP's growing involvement in the conflict in Syria has aggravated tensions in Lebanon. Hardline Salafists that are sympathetic toward the Syrian opposition in Lebanon's flashpoint northern city of Tripoli clashed with SSNP loyalists and other factions in May 2012 and again in June 2013 (al-Arabiya [Dubai], June 16, 2013; al-Jazeera, May 14, 2012). Most of the SSNP's fighters are reported to be operating in the Syrian governorates of Homs and Damascus and include Lebanese and Syrians. More importantly, the SSNP appears to be joining the combat in some of the most contentious fronts, including at Zara, Talkalakh, Qusair and Wadi al-Nasara in Homs Governorate and the Damascus suburbs of Jaramana and Ghouta. The SSNP is also reported to be operating in the governorates of Tartous, Sweida and Dera'a (al-Akhbar, February 3; February 5).
The SSNP's political orientation towards the Ba'athist regime in Syria is convoluted. The SSNP has been riven by internal cleavages over its relationship with Damascus. One faction of the SSNP joined the Ba'athist-led National Progressive Front coalition in 2005 while the other led by Ali Haidar remained on the outside as a self-proclaimed opposition movement (Dam Press [Damascus], March 12, 2012). [2] Despite this, SSNP head Ali Haider was appointed in 2011 as Syria's minister for national reconciliation affairs. Together with the National Committee for the Unity of Syrian Communists, Ali Haidar and the SSNP established the Popular Front for Change and Liberation to contest Syria's May 2012 parliamentary elections (al-Jazeera, May 25, 2012). It later joined the Coalition for Peaceful Change Forces, which, together with the National Coordinating Committee for Democratic Change, represents what is commonly referred to as the "loyal" or "patriotic" opposition that seeks a political resolution to the conflict while rejecting foreign intervention in Syria (Al-Monitor, January 14; al-Safir [Beirut], September 26, 2012; Syrian Arab News Agency, May 12, 2012). Opponents of Ba'athist rule consider the creation of these entities as a regime strategy to divide the opposition and demonstrate that it is committed to political reform. Nevertheless, the divergent currents within the wider SSNP milieu likely have a negligible impact on the SSNP rank-and-file when it comes to taking up arms in Syria. Much like its ally Hezbollah, the SSNP has come to view the conflict in existential terms. And while the SSNP's performance on the frontlines in Syria warrants consideration, its potential to raise the barometer of tensions in Lebanon may prove to be more important to shaping events in the Levant in the weeks and months ahead.
Chris Zambelis is a Senior Analyst specializing in Middle East affairs for Helios Global, Inc., a risk management group based in the Washington, D.C. area.
Notes
1. The Syrian Social Nationalist Party and its affiliate associations operate a number of official websites and related social media platforms. These venues are replete with photographs of alleged SSNP fighters and activists operating in Syria and accounts from the battlefield. An official website representing the SSNP is available at: http://www.ssnp.net/; an official information section managed by the SSNP is available at: http://www.ssnp.info/; the official SSNP discussion forum is available at: http://www.ssnp.com/; an official SSNP Facebook page is available at: https://www.facebook.com/SSNPFanPage; the SSNP also operate a number Twitter accounts, including: https://twitter.com/SSNPSY; https://twitter.com/ssnpmediateam; https://twitter.com/SSNPYouth; https://twitter.com/BeirutStudents; and https://twitter.com/SSNPDesigns. In addition, the SSNP also publishes al-Binaa newspaper, available at: http://al-binaa.com/.
2. The official website of Ali Haidar's SSNP faction is available at: http://www.alqawmi.info/.