Assaulting Ukraine, Putin Dares the West to Respond
Publication: Eurasia Daily Monitor Volume: 11 Issue: 153
By: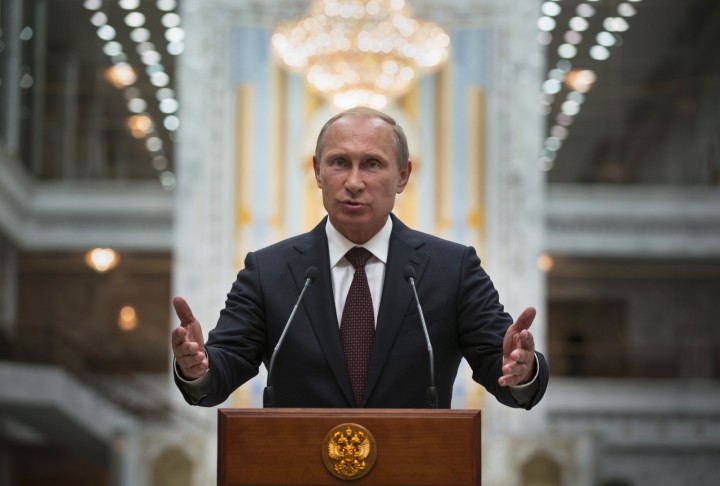 The summit of the North Atlantic Treaty Organization (NATO) that opens in the Welsh Celtic Manor resort tomorrow (September 4) will feature the Ukraine crisis as an agenda item of top priority and extreme urgency. Only a week ago, this crisis appeared manageable as Russian President Vladimir Putin shook hands with his Ukrainian counterpart, President Petro Poroshenko, in Minsk under the watchful eye of Catherine Ashton, the European Union's High Representative for Foreign Affairs and Security Policy. The next day, however, Russian tanks rolled into the border city of Novoazovsk, catching the Ukrainian forces in the rear and altering the course of hostilities in eastern Ukraine (Kommersant, August 28). For weeks prior to that direct intervention, the rebel forces had been in retreat toward the strongholds in Donetsk and Luhansk, but the arrival of reinforcements from Russia set off a counter-offensive, in the course of which several Ukrainian battalions were surrounded (Polit.ru, August 29).
The pro-Russia forces have not made any further advances so far, not even toward the strategically significant but defenseless Mariupol. Thus, the Russian intervention has stopped just short of a full-blown invasion for the time being, although some 10,000 troops are standing ready along the border with Ukraine (Novaya Gazeta, August 28). Putin has thus delivered a hard blow that is supposed to prove his point: Kyiv cannot win the war against the separatist forces in Donbas. At the same time, however, he has not committed himself to an overt war with Ukraine, which is far from popular in Russian public opinion (Slon.ru, August 28). Apparently, no one in the Kremlin realizes that this strong move has hamstrung the Ukrainian leadership from being able to pursue any kind of political compromise, because doing so would amount to Kyiv capitulating to external aggression. Consequently, the road-maps discussed in Minsk have been effectively canceled (Vedomosti, August 28). Poroshenko presented his case at the EU summit in Brussels, on August 30, explaining that the "anti-terrorist operation" (never an accurate term) has been transformed into a desperate defense against Russian intervention—as a result, he secured an increase in aid as well as a decision to enforce new sanctions (Gazeta.ru, August 31).
The main responsibility for countering this deliberate escalation of armed violence lies, ultimately, with NATO. While the Alliance cannot send troops into the war zone, it can provide effective support to Ukraine for regaining the initiative. Putin's experiments with the use of force have achieved a lot in re-forging Transatlantic unity, and now the Allies are preparing a range of measures to build rapid-response capabilities and deploy their vanguard in the Baltic States (Ezhenedelny Zhurnal, August 29). Anticipating these proactive measures, Putin was on the phone with German Chancellor Angela Merkel and several other European leaders, but obtained only a demarche against new sanctions from Slovakia (Newsru.com, August 31). A few mainstream experts, however, did argue for a "who-cares-about-Ukraine" compromise aimed at appeasing Putin, who allegedly invested so much political capital in manipulating the crisis that accepting defeat was not an option for him (Kommersant, August 26). Nevertheless, Russia's limited though blatant intervention compels the North Atlantic Alliance to adopt a forceful stance in order to dissuade Moscow from taking another step up the ladder of escalation.
Ukraine, meanwhile, has declared its firm intention to proceed on the road to joining NATO and to cancel its self-imposed non-allied status (RIA Novosti, August 29). This is a prospect that Putin has defined as resolutely unacceptable, so he hit back with the statement that peace could be restored only through negotiations on "statehood" of southeastern Ukraine and by addressing the militia of "Novorossiya" ("New Russia"—collectively, the separatist Donetsk and Luhansk "people's republics") (Nezavisimaya Gazeta, September 1). Most European leaders, including Merkel, would be content to freeze the conflict in Donbas, and they previously have pressured Poroshenko toward this end. But Putin's ambitions have apparently gone too far—and Europeans are left to agonize over the issue of containing war-making Russia (Forbes.ru, August 26). Little enthusiasm exists for new sanctions and even less for increasing defense expenditures, but neither option is in doubt as the EU and NATO are adopting their strategic guidelines to the reality of inescapable confrontation (RBC Daily, September 1).
Putin evidently finds it necessary to teach the West a lesson, making sure that the "partners" understand they should not mess with Russia (kremlin.ru, August 29). In order to get this message across, he must first establish that the sanctions do not work, so the Russian government is preparing new counter-sanctions on the West, despite the fact that the ban on food imports from the EU has already inflicted significant damage to Russian agriculture (Moscow Echo, September 1). At the same time, the general economic situation continues to show a worsening combination of stagnation and inflation with no prospect of finding a bottom (Polit.ru, 1 September). Putin may not care too much about the weakness of the ruble, which reaches new lows against the dollar and the euro (Vedomosti, September 1). But what he definitely cares about is the impact of sanctions on the decline of Russia's oil and gas industries where joint projects with international companies are being undercut by the blocked access to modern technologies and the growing pain of a credit squeeze (RBC Daily, August 29). Russia's reluctant agreement to grant China a share in the Vankor oil field in northwestern Siberia is a clear sign of deep troubles that the state-owned oil giant Rosneft is experiencing (Gazeta.ru, Slon.ru, September 1).
This economic vulnerability leaves Russia in a precarious position where every attempt to exhibit strength transpires as a bluff. NATO is the key addressee of this bluff, and it has to call it by taking it seriously. Poroshenko, meanwhile has had to sort out the complex combination of war and diplomacy. Paradoxical as it may seem, the Russian intervention has been a consequence of the Ukrainian president's success, and in a way, it makes his task easier. Ukraine no longer has to fight "eastern Ukrainian rebels" while trying to win the hearts and minds of civilians. The Russian army is a formidable enemy, but it can only deploy so many "green men" and unmarked tanks. Putin may boast that he can take Kyiv in two weeks, but he likely knows that he has no chance of prevailing in this confrontation. So the real question is for how long he will be able to hold Moscow.