Asset or Victims: A Portrait of Women Within al-Shabaab
Publication: Terrorism Monitor Volume: 17 Issue: 6
By: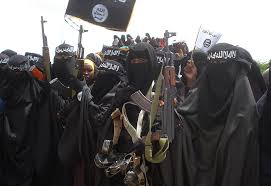 Al-Shabaaab, the Somalia-based terror group, has been largely portrayed as a male organization in its more-than-decade-long operational history, but it's now emerging that women are also at the center of one of Africa's deadliest insurgencies.
The group, al-Qaeda's terror network affiliate in East Africa, is waging its war from bases in southern Somalia, with the aim of overthrowing the UN-backed government and replacing it with one governed through Sharia (Islamic) law. Its violent actions have also been felt in neighboring Kenya, Ethiopia, and Uganda.
Since 2006, the militant group has been the subject of African Union Mission in Somalia (AMISOM) troops' military operations, but the force has remained resilient despite the onslaught by the better armed African militaries.
In al-Shabaab's campaign of terror, there are women who play key roles. They are not mere victims, but active players who the group heavily relies on for non-combative roles. These are indirect roles and are viewed as more important for the survival of the group than the female actors moving to the frontlines as combatants (The East African, January 31, 2018).
The profile of women within al-Shabaab and their role has appeared to rise over the years. Many of them are victims of multiple rapes and brutal treatment by the militants.  Some of the women have escaped from the battleground to tell their own story and the stories of those still remaining in al-Shabaab camps.
Female jihadists within al-Shabaab were not considered a key factor in al-Shabaab until the emergence of British national Samantha Lewthwaite, also known as the "White Widow," or Sherafiyah Lewthwaite. After the Nairobi Westgate Mall shopping terror attack in September 2013, Lewthwaite became one of most wanted terror suspects for her role in masterminding the assault which killed more than 60 people (Nairobi News, March 25, 2016).
A member of al-Shabaab, Lewthwaite is also believed to have directed other car and suicide bomb attacks in Somalia and Kenya, including the Garissa University College attack during which 148 people—mainly Christian students—were killed (Standard Media, Jan 5, 2016).
Lewthwaite, the widow of Germaine Lindsay, the 7/7 London terrorist bomber, is wanted in Kenya for being in possession of explosives and conspiracy to commit a crime. She has been accused of planning and executing grenade attacks on churches. A grenade attack that hit fans watching football in a bar in Mombasa during the Euro 2012 soccer championship was believed to part of her work. The female jihadist's whereabouts remain unknown to date, but there is speculation that she is hiding somewhere in Yemen under the protection of al-Shabaab fighters (Brits in Kenya, December 31, 2018).
Her reputation as an intelligent female jihadist is believed to have inspired more young women to join al-Shabaab. Initially, it was the less educated women, but it is now emerging that university students enrolled in prestigious degrees such as medicine and pharmacy are targets. These are young, intelligent, beautiful, and deadly women, and join the militant group as al-Shabaab brides (AWC, August 1, 2015; Garowe Online, January 20).
Over the years, al-Shabaab's affinity for women recruits has been on the rise. Kenyan security services highlighted the development after the DusitD2 shopping complex attack in Nairobi on January 15. Security agents had also arrested girls and women travelling to join the group in Somalia in the recent past.
In the DusitD2 attack, two al-Shabaab women are believed to have worked alongside the mastermind Ali Salim Gichuge and Amniyat, al-Shabaab's intelligence wing, to plan and executive the deadly assault. One of the women, Khadija alias Violet Kemunto was described as Gichuge's wife. On her Whatsapp profile, the woman described herself as an al-Shabaab bride (Daily Nation, January 17). Days before the attack, she put household properties up for sale, indicating that they were moving. Part of the properties included shoes, a 49-inch TV set, a  sofa, a rice cooker, and a refrigerator (The Star, January 18; Pulse Live, January 17). By the time the police sought to arrest and question her about her role in the attack, Khadija was already on the run with reports speculating that she crossed into Somalia and was probably plotting a further escape (Kenyans, January 24).
Another woman named Mariam Abdi is believed to have trafficked the weapons used in the DusitD2 attack from Somalia. Abdi, like the Gichuge, was in Somalia between 2012 and 2016. Security agencies said she was a link between the attackers and Amniyat. The woman, who hails from Mombasa, is also said to be on the run (Standard Digital, January 19).
About four years ago, Kenyan security agencies arrested Khadija Abu-Bakr, then a 19-year-old student who was studying pharmacy at Mount Kenya University. The young woman had attempted to sneak into Somalia to join al-Shabaab with other students. Ummul-Kheir studied medicine at the International University of Africa in Khartoum, while Maryam Said Aboud studied Commerce at Kenyatta University in Nairobi (Daily Nation, March 3).
Still, the scope of women's involvement in al-Shabaab remains unknown, but security experts have advanced various reasons why they joined the militant group.
Some embarked on the risky journey to join their husbands who moved to Somalia after being recruited and left their families behind. With no means of livelihood, the women have taken the risky option of travelling to the battlefront.
Among several key driving factors, the search for revenge against Kenyan authorities for ill-treatment of their relatives has been seen as one of the reasons why the women join the militant group. Recently, extrajudicial killings blamed on the police have occurred in Kenya's coastal region. Also, the police have allegedly been very brutal when dealing with suspects. Some of the suspects and innocent civilians have disappeared. These factors, among others, have conspired to push the women into the jungles of southern Somalia (The East African, January 3, 2018).
Analysts say a number have travelled on their own, believing that joining the terror group is a form of empowerment, liberation and a chance to live in a region where the belief system is similar to their own. In most cases, this has proved to be contrary, as many have been turned into sex slaves or forced to marry multiple lovers (Daily Nation, January 20).
Kidnapping, deception, blackmailing, and violent force are other methods that have been used to increase the number of women in al-Shabaab. Like their male counterparts, they have been lured with the promise of a better paying job, before being tricked into travelling to Somalia, where they have ended up in the hands of the militants (The Standard Digital, December 23, 2017).
According to analysts, many of the women who find themselves in Somalia are trained as suicide bombers or become intelligence gatherers and spies for al-Shabaab's intelligence wing, the Amniyat. The roles as spies are preferred, since in most incidents, women do not easily raise suspicion (The East African, January 3, 2018).
In the battlefront, women support the fighters by providing shelter and hiding the terrorists or family members involved in the group. Also, they are known to provide medical care for injured fighters, while the majority of others are cooks and provide cleaning services in the camps (Daily Nation, March 3, 2018).
Those who are recruited but fail to travel to Somalia are known to act as local recruitment agents for the militant group. Four years ago, the police arrested Hussein Sarah Hassan and five youth she had recruited. Hassan had allegedly travelled to Somalia several times (Tuko News, 2011, Accessed on March 19).
Some help in planning local attacks, help form terror cells and channel finances to the terror organization. They are known to take food to family members in police custody over terror charges. Others facilitate financial transactions to fund the operations of the group.
Conclusion
It is now emerging that women are starting to play a key role within al-Shabaab. While they are not known to be on the frontline, they are supporting the war through other actions such as intelligence and information gathering, cooking for the fighters and offering medical care, among other roles.
These core roles are essential to al-Shabaab's survival. Therefore, forces trying to end the insurgency should pay more attention to women's recruitment both within and outside Somalia, with a view to ending it. One way that Kenya can help end the recruitment of women is to offer support to those who have been left behind and rehabilitate those who are returning after years living in southern Somalia.