At National People's Congress, Strong Emphasis on Stability Militates Against Reform
Publication: China Brief Volume: 22 Issue: 5
By: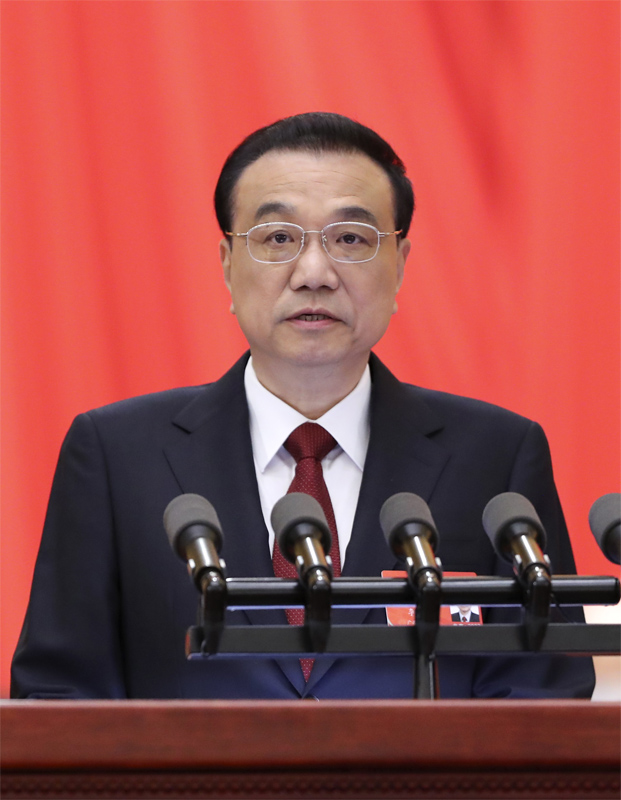 The slogan "seeking progress in the midst of stability" sums up Premier Li Keqiang's annual Government Work Report (henceforward- the Report) to the National People's Congress (NPC), which opened in Beijing on Saturday, March 5. The major thrust of the Report centers on maintaining a growth rate of around 5.5 percent in 2022, while keeping the urban unemployment rate – which does not include migrant workers or village laborers –within 5.5 percent (Xinhua, March 5; China Daily, March 5). Although Li has stuck to the Chinese Communist Party's (CCP) longstanding emphasis on playing up the positive, his worries about weak links in China's economy are palpable. Li is clearly number two in the CCP's hierarchy, but the disparities between the top two cadres' approach to the economy in key areas such as the treatment of private enterprises are obvious. While Li heaped eulogies on President Xi Jinping, referring to him 13 times as the "core of the party leadership," he only made three references to formulating policies under the "guidance of Xi Jinping Thought on socialism with Chinese characteristics for a new era." For example, "common prosperity," one of Xi's most frequently cited dictums, appears only once, and very briefly, in the Report. Li's stress on the imperative of stability and low unemployment, however, tallies with Xi's anxiety to maintain a steady pace of growth in the run-up to the key 20th Party Congress this autumn, during which the so-called "lifelong core leader" is expected to seek one to two more five-year terms (China Brief, November 12, 2021).
With Ukraine in the Background, Defense Spending Ticks Up
Perhaps because Premier Li's portfolio does not include foreign or military affairs, he has steered clear of elaborating on China's reaction to the Ukrainian crisis. Li, who is also Head of the State Council, or cabinet, has merely reiterated that the Chinese government would "together with the international community, make greater contributions to implement world peace and stability." In his NPC press conference on March 7, Foreign Minister Wang Yi stressed China's respect for the "sovereignty and territorial integrity" of all countries. He also vowed to play an active role to solve the humanitarian crisis in Ukraine. Instead of blaming Russia, however, Wang repeated the standard line that the U.S. was involved in a "zero-sum game" of building "anti-China coalitions" that resembled an "Indo-Pacific NATO" (CCTV.com, March 7; HK01.com, March 7).
In his Report, Li unveils a 7.1 percent budget increase for the People's Liberation Army (PLA), which is just 0.3 percent higher than last year's increase. The official Global Times noted that the slight uptick was mainly due to inflation and that the outlay was determined before the recent events in Ukraine (Global Times, March 5; India Times, March 5). However, Li says in his report that the armed forces must "comprehensively deepen training and preparation for war," which is consistent with the messages delivered in the past few years by President Xi, who is also the Chairman of the party's Central Military Commission. The speeches made at the NPC by senior cadre such as Wang Yi leave strongly portend even closer military cooperation with Russia.
Emphasis on Economic Stability
The most important theme of the NPC – and the accompanying plenary session of the advisory Chinese People's Political Consultative Conference (CPPCC) – is that the central government will pull out all the stops to uphold economic, and by extension, political stability. The intensity of the measures introduced at this NPC reflects big cracks in the country's economic foundation. While it has been customary for the government to indicate that it will stick to a "prudent monetary policy," the figures this year show that Beijing is proactively injecting liquidity into the economy so as to prop up sagging economic sectors as well as the huge numbers of insolvent regional – including provincial and county-level – administrations. The country's total social debt – particularly borrowings by local governments, state-owned enterprises (SOEs) and gigantic private conglomerates such as the Evergrande Group – accounts for more than 300 percent of GDP. China's aggregate foreign-exchange debt was $2.7 trillion by September 2021. Debt sustained by local administrations is estimated at more than 50 trillion yuan (about $7.9 trillion) (SAFE.gov.cn, December 31, 2021; Radio Free Asia, November 23, 2021; Radio French International, September 29, 2021).
In theory, the Premier says Beijing will continue to pursue a "stable and healthy monetary policy which should be flexible and appropriate", but this is likely a euphemism for a significant loosening of credit. Li discloses in the Report that spending by central coffers would be up by 3.9 percent, and that transfer payments to localities would increase by 18 percent to a record 1.5 trillion yuan ($240 billion). Such enormous expenditures follow repeated reductions of the loan prime rates and the reserve requirement ratios mandated by China's central bank, the People's Bank of China (PBOC). In January alone, official banks (not including those in the sprawling shadow banking system) issued 3.98 trillion yuan of new loans, representing a year-on-year increase of 11.5 percent. Parts of these loans will be used to finance 102 major infrastructure projects in the next few years. For example, China's network of high-speed railways, which is already the most extensive in the world, will be increased by 32 percent to 50,000 kilometers by 2025 (South China Morning Post, February 18; China Daily, February 11). At the same time, Li says the government will continue to postpone a host of taxes, including property taxes. He revealed that last year, central coffers took in over 1 trillion yuan ($160 billion) less in revenue due to tax reductions for enterprises. The major beneficiaries of these tax concessions appear to be property companies. After all, the real-estate sector alone accounts for some 30 percent of GDP (Voxeu.org., September 21, 2021).
However, it is doubtful whether the extra spending will help local administrations and business conglomerates weather these difficult times. Independent Western economists agree that the bulk of regional governments – as well as huge property conglomerates such as Evergrande, Shimao and Fantasia – are borrowing money just to make interest payments on accumulated debt. A large number of provincial- and county-level governments as well as huge public and private firms appear to be on the point of default or bankruptcy (Sohu.com, January 6; Fangchan.com, December 29, 2021; News.com.au, December 7, 2021).
The CCP administration is therefore merely repeating the old formula that was responsible for the so-called Chinese economic miracle, which practically ended when Xi and Li entered the all-powerful Politburo Standing Committee (PBSC) in November 2012. China has always relied on three drivers to generate high economic output: trade; government-originated and other investments in infrastructure and the real-estate sector; and, consumer spending. For the past ten years, the CCP leadership has put increased emphasis on high-tech manufacturing and consumption as the major locomotives of growth. This effort to reorient the economy has gained urgency due to the negative impact of trade disputes with the U.S. – one of China's largest markets – as well as the wholesale migration of China-based foreign factories to lower-cost competitors in Asia and even Africa. Consumer spending has been depressed as debt accumulated by middle-class households to pay mortgage charges and other expenses has risen to an astounding 60 percent of GDP (South China Morning Post, August 7, 2021).
Li's actions to bolster the competitiveness of Chinese industry include consolidating the tech sector, particularly the self-sufficiency of essential components many of which have been denied to the PRC due to the perceived "supply chain decoupling" engineered by the U.S.-led Western coalition. "The primary status of boosting the innovation of enterprises must be strengthened," Li says, adding that breakthroughs in critical technologies must be realized in addition to speeding up the application of tech results to the market. While Li does not repeat his famous slogan of "Made in China 2025" – meaning that the technological gap with the U.S. and other advanced nations should be closed in three years' time – R&D spending is set to soon advance to more than 2.5 percent of GDP (Ta Kung Pao, March 6; Legal Daily, March 5). Li also emphasizes lowering  taxation and other levies on private small-and-medium sized enterprises (SMEs). For example, technology-oriented SMEs will have their overall taxes curtailed by 100 percent compared to just 75 percent last year. And total R&D outlay as a percentage of GDP – which was $2.44 trillion last year – will substantially increase during the 14th Five-Year Plan period of 2021 to 2025. Last year, non-state firms' investment in a number of technology sectors already increased by a stunning 15.5 percent (Ming Pao, March 6; People's Daily, March 5; Stats.gov.cn, January 26).
Political and Ideological Constraints
As is the case with the trajectory of the economy over the past decade or so, growth in selected sectors could be adversely affected by political and ideological imperatives. The recent crackdowns on industries ranging from tech and IT companies to private tutoring companies and taxi-hailing apps, which began with Beijing's sudden decision to stop the IPO of Alibaba's Ant Group in Hong Kong in October 2020, reflects President Xi's priority to ensure tighter party-state control over giant private conglomerates. There is also widespread talk that Xi is targeting firms including Alibaba/Ant Group, the HNA Group and Fantasia Holdings whose patrons include a slew of his political foes (China Brief, September 23, 2021). It is therefore not surprising that in his Report, Li has given no assurance that the economy will be run mostly in accordance with market forces and not political considerations. The same logic is behind misgivings that the party-state apparatus might continue to at least indirectly favor the public over the private sector. In recent months, several companies including Ant Corporation have been nationalized to a significant degree. A major contributor to the closing of some 4.37 million small private firms last year is that the nations' biggest commercial banks – all of which are state-owned – prefer lending to public rather than non-state-owned firms (Liberty Times, December 31, 2021; Gov.cn, September 25, 2021).
Yet another area where political requirements – particularly the maintenance of stability – may trump economic logic is Beijing's apparent failure to tighten control over the finances of localities. Although many districts and counties are on the verge of bankruptcy due to profligate spending coupled with excessive dependence on land sales, the Finance Ministry announced late last year that the "quota" for loans incurred by local government units in 2022 had been extended by 1.78 trillion yuan ($280 billion). Yet the bulk of these new loans have already been earmarked for infrastructure and real-estate projects, which have for many years proven to be a formula for accruing losses and piling up debt (Ming Pao, February 28; Finance.sina.com, January 10).
Few observers in China doubt that the CCP administration can reach its goal of increasing national GDP by  5.5 percent. As Peking University senior economist Yu Miaojie (余淼傑) points out, "5.5 percent is a relatively steady target." "Beneficial factors for economic development include [Beijing's] encouragement of innovation, augmenting the magnitude of reform, and continuing to expand the open door policy," he added (Ta Kung Pao, March 6). Despite, this optimism, whether Li's blueprint can quicken the momentum of reform remains questionable, particularly given the Xi Jinping leadership's insistence on control of the economy and further "decoupling" of the Chinese and Western economies, an issue that is not addressed in detail in the Report (Deutsche Welle Chinese, March 1; South China Morning Post, February 18). Soon after becoming premier in early 2013, Li vowed that his administration would "cut off [the government's] arm" so as to free up market forces (People's Daily, April 5, 2013). Such expressions of pro-market sentiment, however, seem sourly missing these days as Li, whose two five-years' term as head of government is ending in 12 months, gave what will be his second-to-last Report to the NPC.
Dr. Willy Wo-Lap Lam is a Senior Fellow at The Jamestown Foundation and a regular contributor to China Brief. He is an Adjunct Professor in the History Department and Master's Program in Global Political Economy at the Chinese University of Hong Kong. He is the author of six books on China, including Chinese Politics in the Era of Xi Jinping (2015). His latest book, The Fight for China's Future, was released by Routledge Publishing in 2020.