August Anniversaries in Russia: A Litany of Bad Memories
Publication: Eurasia Daily Monitor Volume: 18 Issue: 130
By: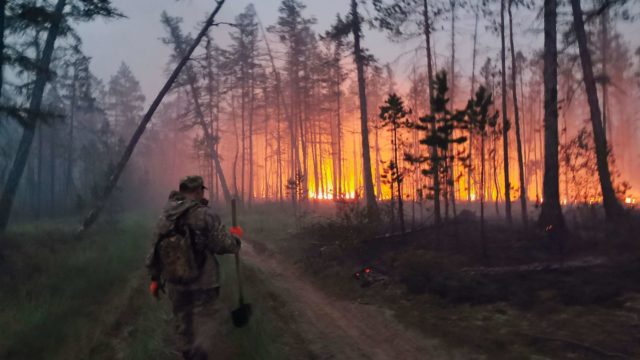 Each August witnesses some critical and usually unhappy events for Russia, and this year is particularly rich with round anniversaries. Sixty years ago, on August 13, 1961, the Soviet leadership ordered the construction of a wall to separate West Berlin from the Socialist East Germany, until that barrier finally came down in November 1989. Angela Merkel, the outgoing German chancellor, was a little East German girl back then; and 25 years later, she defended her PhD in quantum chemistry, as a low-level operative named Vladimir Putin arrived to serve at the Dresden station of the KGB. Merkel and Putin are scheduled to meet in Moscow later this week (August 20), but they will hardly engage in reminiscences, because she is committed to the hard task of facilitating new natural gas transit talks between Russia and Ukraine (Nezavisimaya Gazeta, August 12). Kyiv will be her next destination, and she is not exactly popular there, because of her stubborn promotion of the Nord Stream Two gas pipeline (Kommersant, August 12).
Merkel's visit will coincide with celebrations of the 30th anniversary of Ukrainian independence. While, in Russia, reflections on the August 1991 putsch, which prompted the swift collapse of the Soviet Union, are mixed and joyless (Moscow Echo, August 10). In the mainstream discourse, that shocking breakup of the empire is still lamented as a preventable disaster that created endless problems in Russia's relations with the newly born states, including Ukraine (Russiancouncil.ru, August 13). For most of those who dared to defy the tanks in Moscow's streets 30 years ago, the victory feels bitter, as the brief period of liberal hopes stands in contrast with the present-day repressions by a corrupt autocracy (Rosbalt, August 10). The veteran dissident Sergei Kovalev, one of the authors of the post-Soviet Russian constitution (crudely revised last year to suit Putin's agenda—see EDM, July 2, 8, 2020), was a symbol of that moment of truth; and Kovalev's departure last week was a loss for all holding onto the ideal of a free Russia, but it was ignored by the Kremlin (Ezhednevny Zhurnal, August 9).
In August 2001, Putin—still new in the presidential job—was worried about the risks to Central Asia emanating from Afghanistan and even tried to warn then–United States President George W. Bush, whom he had met two months prior and would meet again three months later, about the danger represented by the Taliban. The Kremlin leader certainly could not have foreseen the tragedy that has come to be known by the simple numerals 9/11; but he extended all possible support to the US operation in Afghanistan (Novaya Gazeta, August 12). Presently, Moscow is compelled yet again to assess the security risks for its allies in Central Asia, but the cautious diplomatic contacts with the Taliban cannot offer much confidence in the latter's promises that its militants will not execute any cross-border terrorist activities (Russiancouncil.ru, August 10). Russia has staged larger-than-usual military exercises in Tajikistan and Uzbekistan in recent weeks, but Moscow's capacity to deliver on the commitment to provide effective security guarantees remains limited (Nezavisimaya Gazeta, August 8; see EDM, July 13, 28)). Joint military exercises with China this month were designed primarily as a message to the US rather than as preparations for collective action against the imminent threat maturing in Afghanistan (Kommersant, August 10).
Ten years ago, in August 2011, Putin was finalizing the plan (announced with due fanfare the following month) to take presidential power back from the Kremlin's temporary caretaker, Dmitry Medvedev; but he could not imagine the depth of public disgust that would materialize in response to this restoration of autocratic rule. The eruption of public protests in Moscow was not as overwhelming as the mass manifestations that overtook Belarus in August of 2020; but Putin nonetheless internalized that urban middle classes invested in Russia's modernization are his "enemies" (Meduza, August 9). The first anniversary of the unfinished revolution in Belarus passed without new protests, yet tensions remain high. And President Alyaksandr Lukashenka apparently continues to view his grasp on power as contingent on escalating Belarus's confrontation with the West, which even mainstream Russian commentators see as going too far (Nezavisimaya Gazeta, August 12).
Many scars in the Russian August calendar connect present-day misfortunes to past calamities. Terrible bog-fires that covered Moscow in foul smog in August 2010 are recalled now as catastrophic forest fires in Siberia continue to make headlines (Novaya Gazeta, August 10). Firefighters can do little in these vast and hard-to-reach areas, while southern Siberian cities like Krasnoyarsk are affected by dense smoke for weeks on end (Izvestia, August 13). A minor incident that left the nuclear submarine Orel (Oscar II class, returning to Severomorsk after the naval parade in St. Petersburg) drifting for a few hours near the Danish coast also reminded many Russians of the tragic loss of its sister-submarine the Kursk in August 2000 (Fontanka, August 5).
One of the main August reflections is the long shadow of the 2008 war with Georgia, which continues to affect Russia's relations with this democracy-building neighbor-state (Nezavisimaya Gazeta, August 8). Moscow may pretend that the issue is closed, but the statement from US and six European states condemning the aggression and demanding that Moscow recall its recognition of "independence" (and de facto military occupation) of Abkhazia and South Ossetia reiterated that Moscow's acute breach of international law remains unresolved (Gazeta.ru, August 4). Russia's dominance over the South Caucasus was undermined last autumn by a new eruption of the old war between Armenia and Azerbaijan; and this August has already been marked by several spasms of hostilities along the ceasefire line in Karabakh, which is being monitored by a Russian "peacekeeping" battalion (Kommersant, August 12).
The track record of August tribulations contains further entries of many different kinds—from the financial meltdown in 1998 to the 2009 turbine failure at the Sayano-Shushenskaya dam with 75 lives lost. This August additionally leaves its black mark with record-high recorded mortality levels from the COVID-19 pandemic: the official data showed more than 800 deaths each day of last week (RBC, August 14). The Sputnik V vaccine was registered with great propaganda spin almost exactly a year ago, but only some 20 percent of the population to date is fully vaccinated because Russians remain reluctant to believe official instructions and reassurances (Rosbalt, August 12; see EDM, August 2).
What August 2021 has brought into sharp focus is the 30-year-long trajectory of Russian state-building regressing from initial hard-earned progress—a process accelerated by an ongoing series of human blunders and natural disasters. What began as stumbles in the uphill struggle for good governance are now slips on the slope of degradation. The Kremlin's authority is eroding, which makes its behavior impetuous rather than stable and erratic rather than predictable.