Autocratic Symbiosis Drags Belarus and Russia Down
Publication: Eurasia Daily Monitor Volume: 18 Issue: 126
By: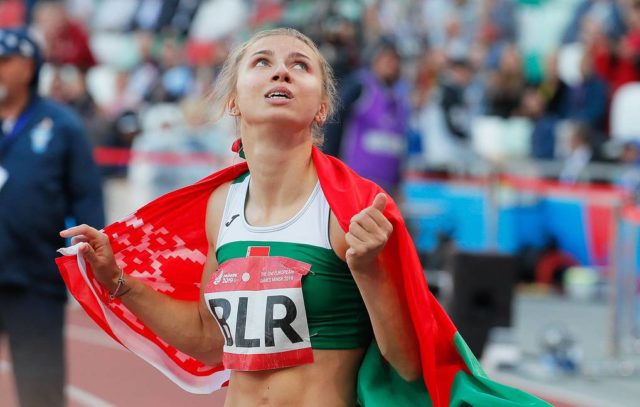 One of the most memorable stories from the 2020 Tokyo Olympics was the non-start of Belarusian athlete Kristina Timanovskaya, who dared to criticize her country's sport authorities and found herself escorted by coaches to the airport, where she managed to flee. Russian mainstream media provided extensive coverage of that scandal but did not try to exonerate the Belarusian Olympic Committee, led by Viktor Lukashenka, a son of the ruler of the country, Alyaksandr Lukashenka (Izvestia, August 2). This critical attention was supposed to contrast and illuminate the impeccable performance of the participating Russian athletes, seeking to overcome the long shadow of doping scandals (Republic.ru, August 4). Russia, indeed, made a strong show at the games, even without being allowed to showcase its national flag and anthem. The only blemish was the International Olympic Committee's sharp critique of the main Russian TV channels mocking LGBT matters (Ezhednevny Zhurnal, August 6).
This media coverage fits the pattern of Russian state propaganda, which regularly emphasizes that the situation in Russia is ostensibly different from Belarus, where the political climate has grown much harsher since the explosion of street protests against the crudely falsified elections in August 2020. Another element of this deliberate distancing is the implicit disapproval of Lukashenka's attempts to put pressure on Lithuania by allegedly organizing the cross-border trafficking of migrants from the Middle East (Kommersant, August 7). Some Moscow pundits argue that this manipulation of humanitarian tragedies— incidentally somewhat similar to Russia's own experiments with pushing migrants into Norway and Finland in 2016—hits a weak spot in the European Union's solidarity (Russiancouncil.ru, August 3). More sober voices point to the risks or escalation of border tensions and warn that the EU is set to enforce new sanctions on Belarus because of this irresponsible "hybrid" attack (Nezavisimaya Gazeta, August 5).
In fact, it is only the sustained support from Russia that makes it possible for Lukashenka to defy Western castigation and sanctions and to expand repressions domestically against every manifestation of discontent. Thousands of dissidents have been forced to emigrate, but the Belarusian special services, working closely with their Russian counterparts, continue to terrorize the opposition. Indeed, the suspicious death in Kyiv of Belarusian activist Vitaly Shishov is widely seen as a case of demonstrative punishment by Minsk (Kommersant, August 3). Lukashenka may care little about the consequences, confident as he appears in his ability to portray his extermination of all civil society activity as part of the struggle against Western "subversive actions" to the only audience that matters—Russian President Vladimir Putin (Meduza, August 5). The Russian leader, in turn, may frown at the extreme brutality of such repressions or the blunt harshness of the discourse employed by his ally, but Putin is firm set at preventing a "color revolution" in Russia's immediate neighborhood—and only Lukashenka can deliver on this mission (Grani.ru, August 5).
The Belarusian autocrat is perfectly aware of his centrality; and at every meeting with Putin (which happens nearly monthly), he gives a still-darker account of the Western strategies to undermine his regime, securing another portion of economic aid though giving little to Moscow in return (The Insider, August 2). One of his recent initiatives is the supposition that Russian troops could be deployed in Belarus if a need arises, which prompted a clarification from the Kremlin that there are presently no such plans (Rossiyskaya Gazeta, July 30). Putin is clearly reluctant to assume responsibility for the repressions in Belarus, even if Russia's top brass have long pushed for establishing an airbase in Belarus (Moskovsky Komsomlets, July 30). The Russian large-scale Zapad 2021 exercises will be centered on the scenario of a strategic deployment of a large grouping of forces into Belarus to counter an imminent threat from the West (RIA Novosti, August 5).
Plans for these war games now have to be revised, however, because Moscow has faced an urgent need to strengthen its military presence in Central Asia, which has grown threatened by the Taliban offensive in Afghanistan (Kommersant, August 5; see EDM, July 13, 28). Ad hoc joint military exercises with Uzbekistan and Tajikistan provide some reassurance of Russian support for these frontline states, but they need far more effective security guarantees (Izvestia, August 5). Russia is bound by the Collective Security Treaty Organization (CSTO) to provide such guarantees, but its capabilities are overstretched by the priority attention to the Belarus and Black Sea theaters as well as the extra burden of the continuing Syrian intervention (Nezavisimaya Gazeta, August 5).
Military preparations always feature prominently in Russian political thinking, yet the stability of Putin's regime depends crucially upon the capacity to suppress public discontent; and Lukashenka seeks to demonstrate that fear is the key means of boosting this capacity (Nezavisimaya Gazeta, August 4). The Kremlin worries that the bureaucratic machine controlling the elections could suddenly fail, as in Belarus a year ago, and so Russia's uncontrollable online social networks face growing restrictions (Znak.com, August 5). This extermination of the last remaining spaces for the free expression of critical opinions is creating a new wave of emigrants among the intellectual elites, quite similar to the observable exodus from Belarus (Novaya Gazeta, August 5). Business elites, except for the Kremlin-connected oligarchs, are also experiencing heavy pressure from Putin's empowered siloviki (security services personnel), and the guilty-as-charged verdict slammed on Michael Calvey, an investor from the United States who tried to build a legitimate business in Russia, rings like a last warning for them (Forbes.ru, August 6).
Russia enjoys far higher international status than Belarus, which is treated by the EU as a rogue state, and US President Joseph Biden recently added to this ostracism by granting Svetlana Tikhanovskaya, the exiled leader of the Belarusian opposition, a meeting at the White House (Rosbalt, August 2; see EDM, August 3). Putin presumes that Russia's might, and its nuclear arsenal in particular, grants him the privilege of being treated as a world leader; but Lukashenka pulls him along the track toward a vulgar dictatorship (Moscow Echo, August 6).
The brutal suppression of strongly expressed public will for political change is detrimental to Belarusian statehood, but support for these crimes is costly for Russia's economy, corrosive for its society, and damaging to its governance. Little love (or trust) may exist between Putin and Lukashenka, but they have clearly forged a symbiotic relationship, where each believes in advancing his own interests but both are trapped in the commitment to an unsustainable political order underpinned by an increasingly dangerous confrontation with the West. Belarus may still be able to grasp an opportunity for a better future; and though Russia can block it for a while, the cost of doing so will come at the expense of its own prospects.