Autumn Brings Fresh Persecutions in Russian-Occupied Crimea
Publication: Eurasia Daily Monitor Volume: 14 Issue: 138
By: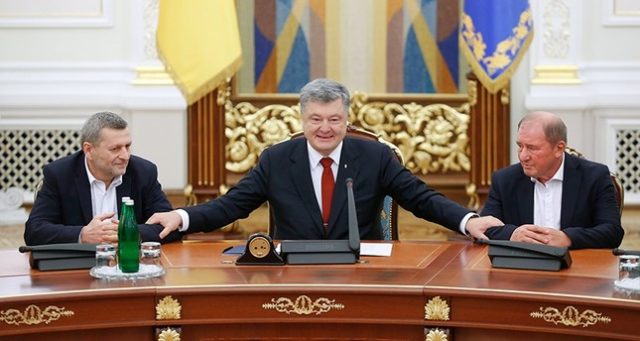 Despite Western diplomatic efforts and sanctions against Russia, Moscow continues to attack and put pressure on the last vestiges of organized political and social opposition in Crimea, which Russia illegally annexed from Ukraine in early 2014. Indeed, September and October brought renewed persecution on the peninsula.
The latest wave of harassment and intimidation began right after the opening of the Organization for Security and Cooperation in Europe's (OSCE) annual Office for Democratic Institutions and Human Rights (ODIHR) conference in Warsaw. On September 13, Crimean Tatar Renat Paralamov was kidnapped by unidentified Russian authorities and, he says, severely beaten. However, thanks to international pressure, he was released the next day and found at a bus stop in Simferopol (Krymr.com, September 14)—the first instance, since 2014, that a disappeared individual in Crimea was found within 24 hours of having gone missing.
International attention rarely focuses on Crimea, except when politicians and experts bring up the annexed peninsula as a historical turning point or to highlight its implication for international law and regional and global security. Nevertheless, during the 36th session of the United Nations Human Rights Council, in Geneva, delegates introduced a remarkable new report on the "Situation of human rights in the temporarily occupied Autonomous Republic of Crimea and the city of Sevastopol" (Ohchr.org, September 25). The document is a detailed overview of the human rights situation since the annexation of Crimea in 2014. Moreover, the massive deterioration of the situation in Crimea in recent weeks triggered condemnation from the European Union: the European Parliament issued a resolution "On the cases of Crimean Tatar leaders Akhtem Chiygoz, Ilmi Umerov and journalist Mykolay Semena" (Europa.eu, October 4). In fact, this public international pressure has been systematically boosted by advocacy from Crimean Tatars, Ukrainian and international human rights–focused non-governmental organizations (NGO), as well as engagement by the Mejlis, the quasi-governing assembly of the of the Crimean Tatar people (Qtmm.org, October 25).
In general, Russia has been targeting two main groups on the occupied peninsula: members of the Mejlis, as a single representative body of the indigenous people of Crimea, as well as followers and supporters of Hizb ut-Tahrir, a pan-Islamist group recognized in Russia as a terrorist organization since 2003 (Fsb.ru, accessed October 30). In Crimea, both of these categories are predominantly made up of Crimean Tatars.
Last month, the Russian government finally issued decisions regarding two politically motivated trials: against Mejlis deputy chairmen Ilmi Umerov and Akhtem Chiygoz. On September 11, Chiygoz, received eight years in prison (Qha.com, September 11). On September 27, Umerov was sentenced to two years at a settlement colony (koloniya-poseleniye) (Krymr.com, September 28). In issuing these two sentences, the occupying Russian authorities have essentially completed the process of entirely banning the Mejlis on the Crimean peninsula. Moscow legally terminated the Crimean Tatar self-governing body exactly a year ago, under the pretext that the Mejlis was acting as an extremist organization (Minjust.ru, September 29, 2016). Notwithstanding the ban itself, Moscow nevertheless chose to enforce it in a rather gradual manner. The strategy was to "behead" the Mejlis by banning its leaders based abroad from re-entering the region; isolate those potential leaders who stayed in Crimea (Umerov and Chiygoz) and, by this measure, to send a direct threatening message to other members of the Crimean Tatar community; and finally, to create an alternative to the Mejlis from the local pro-Russian Crimean Tatars. But because of strong unity among Crimean Tatars, all these measures have had particularly limited success.
Moscow clearly calculated that keeping Umerov and Chiygoz imprisoned failed to achieve its primary goals in Crimea. And indeed, thanks to negotiations at the highest level by the presidents of Ukraine, Russia and Turkey, the above-mentioned Crimean Tatar political prisoners were released, on October 25, and sent to Turkey via Anapa (Novayagazeta.ru, October 27). According to Crimean Tatar leader and former Soviet dissident Mustafa Dzhemilev, the agreement was achieved over the course of several meetings between Turkey's head of state, Recep Tayyip Erdoğan, and his Ukrainian counterpart, Petro Poroshenko, in New York and Kyiv, and following talks between Erdoğan and Russian President Vladimir Putin (Qha.com, September 28).
According to Ukrainian Foreign Minister Pavel Klimkin, the release of the two Mejlis activists was the result of 3.5 hours of private talks between Erdoğan and Poroshenko, on October 9, in Kyiv (15minut.org, October 25). For Poroshenko, it is a significant accomplishment to point to, particularly against the background of the recent mass protests led by former Georgian president and former Odesa governor Mikheil Saakashvili (Lb.ua, October 26). Meanwhile, Russia claims Putin pardoned the dissidents after a request from the Mufti of Crimea (Regnum, October 25).
The deal on releasing the two political prisoners in fact brought significant political gains for the presidents of Turkey and Russia. Erdoğan garnered praise from the millions of ethnic Crimean Tatars living in Turkey (Qha.com, September 28). While Putin, by freeing the "top political prisoners" in Crimea, was again able to demonstrate his "generosity," as he did in the case of captured Ukrainian pilot Nadia Savchenko (who was traded to Kyiv in a prisoner swap, in 2016). Through these actions, the Kremlin is able to deflect further criticism from human rights groups as well as assert that Russia is fighting terrorism rather than persecuting political opponents in Crimea (Ntv.ru October 11). Finally, the prisoner release was likely expected to help keep the situation in Crimea calm ahead of next year's presidential elections.
The occupying government's Crimea policies are designed to cement Moscow's rule over the annexed peninsula. Therefore, Russia's declarations that it is fighting terrorism by prosecuting Mejlis members and supporters of Hizb ut-Tahrir (Tvc.ru, October 11) are little more than a pretext to stifle the Crimean Tatars' ability to resist the annexation. However, recent one-person pickets across the peninsula by over 100 Crimean Tatars (49 were detained by police) are direct evidence that the current situation may in fact be growing more, rather than less tense (Khpg.org, October 14).