Belarus Demonstrates Resilience
Publication: Eurasia Daily Monitor Volume: 14 Issue: 138
By: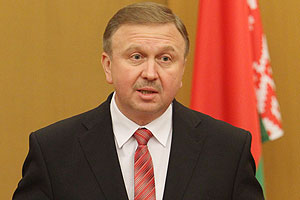 Newsworthy material from and about Belarus tends to either concentrate on Belarus's relations with Russia, relations with the European Union or on domestic issues, including the economy. When it comes to headlines, external drivers of Belarus's development often eclipse its domestic scene. Last week, however, was an exception, as multiple media outlets responded to Belarusian Prime Minister Andrei Kobiakov's October 25 interview in Forbes magazine.
Belorusskie Novosti singled out Kobiakov's examples of successful Western investments (VMG and Arvi from Lithuania; Kronospan, Velcom, Raiffeisen from Austria; Santa Bremor from Germany; and Stadler Rail from Switzerland); the extraordinary success of its information technology (IT) sector; and the attractiveness of its free economic zones, one of which contains the "Great Stone" Chinese-Belarusian industrial park (Naviny.by, October 26). In turn, Tut.by, Belarus's most popular non-state news portal, emphasized Kobiakov's confession that, in its economic strategy, Belarus is trying to repeat the successes of Poland and Israel (Tut.by, October 26). Yaroslav Romanchuk, a liberal economist and a 2010 presidential hopeful, criticized Kobiakov for taking credit for the individual achievements of high-tech firms, attempts to conduct structural reforms without resorting to layoffs, and for forgoing cheaper loans from the International Monetary Fund (IMF) only to obtain more expensive credit by allocating Eurobonds (Salidarnasts, October 26).
Incidentally, on October 10, Romanchuk was incorporated into President Alyaksandr Lukashenka's Entrepreneurial Activity Advisory Board. According to a Russian source, this became a "shock for everybody, from the opposition—as Romanchuk was its economic standard bearer—to governmental bureaucrats" (RT, October 27). The same source emphasizes two of Lukashenka's recent decrees (# 345 and 337), which radically improved the status and freedoms of small businesses by expanding the range of activities in which they can engage, limiting state control, and significantly lowering taxes for certain types of businesses. Soon, sweeping small-business reform is expected to unshackle the potential of Belarusians' entrepreneurial activity even more. Overall, Belarus is following in the footsteps of China, which retained rigid political control over its society but liberalized the economy. One breakthrough to be credited to Belarusian state-run business is the Polonez, a multiple-launch rocket system (MLRS) developed in Belarus that boasts good export potential. The first buyer of this system will be Azerbaijan. From 2002 to 2012, Belarus sold that country ammunition worth $500,000, but then a sharp decline followed. This downturn is now set to be reversed (Naviny.by, October 22).
In his October 23 interview to the Financial Times, Foreign Minister Vladimir Makei declared that five-day no-visa trips for foreigners coming to Belarus (as per the February 2017 ruling that allowed visa-free travel to foreign citizens of 80 states) could be extended to ten or even thirty days. And this extension, the Belarusian top diplomat noted, may contribute to even further improvement of the domestic business environment. Moreover, Makei promoted Belarus's commitment to reform gradualism. According to him, "it is impossible to fall asleep in the Soviet Union and wake up in an ideally democratic state" (Tut.by, October 24). Since late February to October 2017, 56,000 people from 68 countries have already taken advantage of five-day-long visa-free trips to Belarus. Most of those were citizens of Germany, Poland, Italy, the United States and the United Kingdom. The passenger turnover at Minsk National Airport, the only international entry port in Belarus established for visa-free travel, has grown 30 percent compared with the same period in 2016. From January to August, Belarusian tourist agencies earned $69 million or 34.1 percent more than one year ago (RT, October 26).
Meanwhile, expressions of public discontent, also a homegrown phenomenon, have been on the decline. Thus, whereas the February 17 "march of offended Belarusians" involved 3,000 people in the city of Minsk, the eponymous event on October 21 ended up being just a 200-person rally. According to opposition-minded commentators, passions are not as close to the boiling point as they were in February, when people were protesting the presidential decree on social parasites, which required all those unemployed to pay a $180 tax. Today, this decree is on hold and the situation is improving. Also, those prone to protest see that the available opposition leaders, notably Nikolai Statkevich, do not have a plan for the future (Svaboda.org, October 22).
One more factor of declining protest activity in Minsk was emphasized at the October 20–21 "Belarusian Human Rights Forum," which took place in Vilnius, Lithuania. According to Andrei Yegorov, the director of the European Transformation Center, the EU is now ready to tolerate human rights abuses in the name of international security and stability in the region. Five reasons have led to this situation, he argues: They include authoritarian revanche and the expiration of the third wave of democracy that began in 1989; a return of geopolitics; a crisis in democracy promotion; along with the advent of isolationism, whereby the US and Poland demonstrate a kind of inward-turning reaction to global problems—the opposite to that practiced by Germany, seen as a paragon of openness. Finally, the very concept of human rights has reached a peculiar "end of history," requiring reflection on the current situation (Belarusky Zhurnal, October 26).
To a significant extent, Yegorov's report was devoted to dispelling "myths" about Belarusian-European relations that are manufactured to obscure reality. One such "myth" is that Belarus requires European aid so as to avoid being absorbed by Russia. This idea, according to Yegorov, is "fully exploited" by the Minsk Dialogue discussion platform. In such a way, in accordance with the Belarusian opposition's most tenacious tradition, a less productive affiliation tries to discredit a more successful one, the one that has actually attracted Western funding and promoted dialogue with Europe. Nonetheless, in criticizing some fables, the author of the report promotes others. For example, the talk of a return of geopolitics makes little sense because geopolitics never left the international scene. What has actually changed is Europe's relative estimate of the Belarusian opposition versus Belarus's political regime. Such a reassessment is the result of the opposition's infighting on the one hand, and of tangible success of the Belarusian authorities in promoting security and economic growth on the other.