Azerbaijan Considers Georgia-Black Sea-Bulgaria Route for Compressed Natural Gas to Europe
Publication: Eurasia Daily Monitor Volume: 6 Issue: 211
By: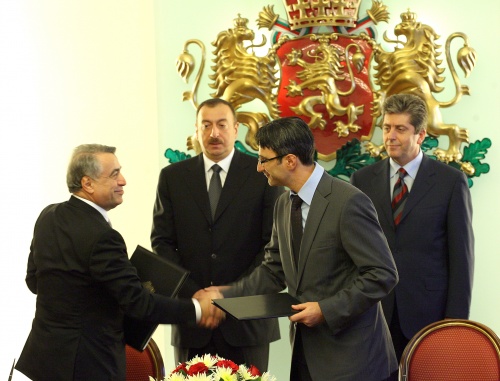 On November 13 in Sofia, Azerbaijan's President Ilham Aliyev and his Bulgarian counterpart Giorgi Purvanov witnessed the signing of agreements of intent on the transportation of Azerbaijani gas to Bulgaria and onward to Europe. The agreements' centerpiece concerns transportation of compressed natural gas (CNG) from Azerbaijan, via Georgia and the Black Sea, to Bulgaria and farther into European Union territory. This solution, if implemented, would avoid the existing impediments to transit via Turkey.
Azerbaijan's and Bulgaria's Energy Ministers, Natig Aliyev and Traicho Traikov, signed a memorandum of inter-ministerial cooperation on gas export and transportation; while Elshad Nassirov, vice-president of Azerbaijan's State Oil Company (SOCAR), signed with the Bulgartransgaz (state-owned transmission pipelines' operator) general manager Ivan Drenovchiki a memorandum of understanding toward those goals (BTA, November 13; Trend Capital, www.day.az, November 13-15).
At the signing event, Purvanov placed the CNG project within the broader context of the E.U.-planned Southern Corridor for gas transport to Europe. This envisages an integrated Caspian-Central Asian solution, with Azerbaijan as a transit country (as well as producer) for Turkmen gas to E.U. territory. For his part, President Aliyev noted that this project would "make us [Azerbaijan] a direct supplier to the European Union … advancing the E.U.-Azerbaijan strategic partnership on energy" (BTA, November 13).
CNG is an unprecedented and untested solution for transportation by tanker ships or any large-scale transportation in Eurasia. Compressed gas has only been used in small volumes for road transport thus far. According to officials from both sides at the signing, CNG transportation across the Black Sea necessitates specialized tankers that are more expensive to build, compared to liquefied-natural-gas (LNG) tankers. However, the CNG delivery mode does not require liquefaction of the natural gas and its re-gasification, obviating the need for those expensive installations and processes. The decompressed gas can be delivered directly into the recipient country's pipeline network, for national use or transmission to third countries. This cost advantage may well offset the investment costs of CNG tankers, according to the same officials.
Azerbaijan intends to conduct detailed research on CNG transportation on the proposed Georgia-Black Sea-Bulgaria route (Trend Capital, November 14). Azerbaijan and Bulgaria will jointly commission a feasibility study, to be drawn up in short order.
Subject to the feasibility study's conclusions, Azerbaijan envisages the possibility of delivering 7 to 8 billion cubic meters (bcm) of gas annually, some of it to Bulgaria, but most of it farther into E.U. territory. According to Azerbaijan's State Oil company president Rovnag Abdullayev, the company considers building a gas-pressurizing installation in the Georgian Black Sea port of Kulevi as a starting point for CNG transportation by tankers to Bulgaria and potentially also to Romania (Trend Capital, November 14).
Apart from CNG, Azerbaijan and Bulgaria confirmed on November 13 their intention to sign a contract for 1 bcm of Azerbaijani natural gas to be exported to Bulgaria from 2011 onward. This depends on continuing advance of the Turkey-Greece-Italy Interconnector (ITGI) and the completion of a 90 kilometer pipeline link from Greece to Bulgaria (www.day.az, November 16). The Interconnector has advanced as far as the Turkey-Greece link and should continue through Greek territory westward, for an undersea link to southern Italy and a projected capacity of some 12 bcm annually. The 1 bcm of Azerbaijani gas to Bulgaria is being envisaged separately from Bulgaria's quota of Nabucco gas; one would not prejudice the other.
Bulgaria's government under Boyko Borisov, in office since July, has suspended three major joint energy projects with Russia –including the South Stream gas pipeline project– pending a review of their terms. The new government is looking into possible corruption deals behind those projects and also questions their wisdom in terms of energy security for Bulgaria (EDM, August 10).
Azerbaijan's agreements of intent with Bulgaria form one aspect of Baku's recently initiated search for multiple gas export options (EDM, July 2, 17, October 15, 22). Baku's search is being prompted by slow movement on the Nabucco project and Ankara's refusal thus far to sign a transit agreement for Azerbaijani gas. Russia and Iran are two active options. The route via Georgia and the Black Sea to Bulgaria adds a further possible option.