Azerbaijan Opening Supply Route to Afghanistan
Publication: Eurasia Daily Monitor Volume: 6 Issue: 51
By: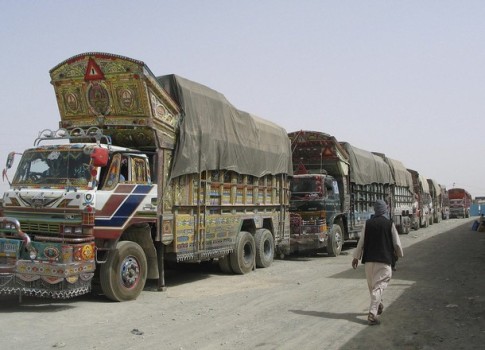 As the United States prepares to increase its military deployment in Afghanistan, attention is being devoted to the question of supply routes for these and other coalition forces. The U.S. European Command (EUCOM) held a conference in Baku on March 9 and 10 aimed at exploring ways to diversify the supply routes to include the South Caucasus. Government officials from Azerbaijan, Georgia, and Turkey attended, along with U.S military representatives from the Surface Deployment and Distribution Command, Transportation Command, Defense Logistics Agency, Department of Defense (DoD), and EUCOM, as well as private transport companies. With Taliban pressure on the supply route though Pakistan coupled with the Kyrgyz decision to close the U.S. airbase at Manas, EUCOM has tried to find solutions to the problem by involving private local companies in the South Caucasus and Turkey to assist in the transit of non-lethal cargo to Afghanistan.
According to the Caspian navigation bureau, the new route through the South Caucasus has already been successfully tested, with some containers going though Azerbaijan and shipped to Afghanistan. Should the route prove successful, it is planned to ship upward of 30,000 containers each month. More than 90 containers have already passed through the port of Aktau, Kazakhstan, en route to Afghanistan. Ilham Mammadov, the head of the foreign economic relations department of the Caspian navigation bureau, explained how this solution would make the use of military personnel in the transit of such goods unnecessary: "This is related to delivering food to troops serving in Afghanistan. The foodstuffs will be brought to Azerbaijan in containers and will then be shipped either to Kazakhstan's port of Aktau or to Turkmenistan's Turkmenbashy and will then be delivered to the U.S. military in Afghanistan" (ANS TV, March 10).
U.S. ambassador to Azerbaijan Anne Derse emphasized that Washington considered Azerbaijan a key security partner and that the transportation conference was another example of growing practical bilateral security cooperation. Baku has been keen to explore additional ways of participating in the war on terror since withdrawing its peacekeeping troops from Iraq in late 2008. Derse commented, "Cooperating with our partners, we see opportunities for investigating the potential to purchase commercial goods produced in those countries and keep cargoes in storage. Thus, both directions will benefit the local economy and will support Azerbaijan's efforts to develop as a regional transport center" (APA News Agency, March 10).
Terry Davidson, head of the public relations department of the U.S. embassy in Baku, pointed to the emerging role of Azerbaijan in Washington's search for alternatives to Manas and for diversifying supply routes for the coalition forces in Afghanistan:
We are searching for convenient ways. As a result, some agreements are already in place on purchasing and delivering some goods. Non-military issues—foodstuffs and everyday goods—were discussed in Baku. It is not just about turning Azerbaijan into a depot but also about the transport and storage of goods from all countries in the supply chain. This is cooperation. On the other hand, the U.S. military will be receiving services from various organizations and private companies (ANS TV, March 10).
Some Azeri analysts argue that such transit agreements could also pave the way for U.S. military basing within the country, should this become necessary, making use of the warehouses for humanitarian aid as arms depots. While such options remain plausible, it seems unlikely that Washington will press the military dimension too far within the South Caucasus, concentrating instead on using commercial companies to resolve the logistical needs of the coalition forces in Afghanistan (Azadliq, March 10).
On March 5 Armenian Defense Minister Seyran Ohanyan reportedly told Zalmay Aziz, Afghanistan's ambassador in Yerevan, that Armenia was ready to assist coalition forces in Afghanistan by opening its airspace for the transport of personnel. "Since the coalition forces launched an operation in Afghanistan, Armenia has been expressing its readiness to assist in transiting military cargo and to make its air space available for transporting personnel," Ohanyan said (Interfax, March 6).
Georgia has also confirmed its readiness to facilitate the formation of a new transit route. Moreover, it does not rule out hosting a U.S. airbase, should Washington pursue this possibility. "If the United States thinks it wants to establish a base, we would seriously consider it," Georgian Foreign Minister Grigol Vashadze told Japan's Nikkei newspaper on March 12 (AFP, March 12). Such military basing plans would undoubtedly prove highly controversial, given the tense relationship that persists between Moscow and Tbilisi following the war last August. The more urgent priority for U.S. and NATO military planners is to diversify the existing supply lines for the mission in Afghanistan
Through EUCOM's close cooperation with the U.S. Central Command, a new supply route is likely to emerge with the South Caucasus connecting to the overland route passing though Central Asia. Air transportation routes transiting the South Caucasus could either go from Turkey through Armenia or Georgia, Azerbaijan across the Caspian, and use Kazakh and Uzbek airspace; or a more direct route could go through Turkmen airspace. The South Caucasus overland supply routes could begin in Turkey or alternatively could use local purchases of goods in Azerbaijan before being shipped across the Caspian to Kazakhstan or Turkmenistan. A cheaper option would be to fly goods from Azerbaijan though Turkmen airspace into Afghanistan. Azerbaijan looks set to benefit from the closure of Manas, while Western planners refocus on expanding supply routes in a way that does not involve a scramble for alternative bases.