Azerbaijan Preoccupied by Regional Trends Ahead of Its Presidential Election
Publication: Eurasia Daily Monitor Volume: 10 Issue: 172
By: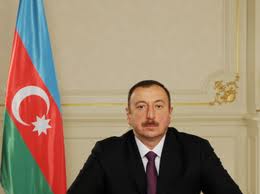 Negotiating a phased withdrawal of Armenian troops from Azerbaijan's territory is the top national security priority for Baku. Recent trends in the region pose additional challenges to Azerbaijan in the run-up to its presidential election. These include: Russia's growing clout, Armenia's decision to join the Russia-led Customs Union and Eurasian Union, and possible implications of Georgia's regime change.

Vladimir Putin's return to Russia's presidency since last year has deepened the freeze on negotiations in the Armenia-Azerbaijan conflict. Until 2012, the Barack Obama administration had practically delegated the mediator's role to Russia's then-president Dmitry Medvedev. This turned the international mediation into a one-sided Russian mediation between Armenia and Azerbaijan. The European Union had recused itself from that process all along.
From Baku's perspective, the situation looks even more intractable now. The negotiations (unpromising though they were) are suspended indefinitely in both formats: the multilateral and the Moscow-led trilateral process. Russia is now in a position to work in parallel with Baku and with Yerevan, respectively, in bilateral processes. This puts Azerbaijan at a disadvantage. Armenia, occupying seven Azeri districts beyond Karabakh, can be content with the deep freeze.
This situation with no end in sight generates pressures on Baku to explore the possibilities of an understanding with Moscow. Absent Western diplomatic involvement, Baku may well conclude that its only remaining option is a package-type understanding with Russia that would include tangible movement toward Armenian de-occupation of those districts. Trying and testing this option might provide a way out from stalemate, amid Western default.
Putin's recent visit to Azerbaijan offered some indications of this evolution in Baku's thinking. Azerbaijan is buying Russian arms on an impressive scale at commercial prices, counterbalancing Russian arms delivered to Armenia at discounted prices or gratis. During Putin's visit, President Ilham Aliyev declared that Russian arms sales to Azerbaijan total $4 billion in value thus far (presumably including completed sales and contracted ones). The Kremlin-controlled energy giant Rosneft proposes to acquire ownership stakes in Azerbaijani natural gas extraction projects, such as Absheron and even Shah Deniz (buying out one or two companies from that consortium). Putin and Aliyev's outward display of friendship during that visit had a chilling effect on Yerevan (see EDM, August 14–16).
Azerbaijan has for many years successfully immunized its decision-making processes from Russian influence while maintaining correct bilateral relations. President Aliyev's periodically repeated remark, that no one can force Azerbaijan to do something against its will or compromise its national interests (news.az, September 19), alludes primarily to Russia, and has been proven correct. From Baku's perspective, de-occupation of the Azerbaijani districts and the return of expellees (reversal of the ethnic cleansing) is an uppermost national interest.

It would be an oversimplification to expect Baku to go for a "deal" with Moscow—or for Moscow to "deliver" an Armenian de-occupation of some Azerbaijani districts as part of a "deal." More realistically, Baku could initiate an accommodation process in small steps, hoping to incentivize Russia over time to endorse a mutually acceptable resolution of the frozen conflict. Such an accommodation could take the form of limited tradeoffs between Russia and Azerbaijan, on matters unrelated or indirectly related to the Armenia-Azerbaijan conflict. Serial tradeoffs might, however, lead cumulatively to a higher degree of Russian influence in Azerbaijan, with region-wide ramifications. Baku might have to consider taking such calculated risks, if the United States and the European Union ultimately concede a Russian monopoly on arbitrating the Armenia-Azerbaijan conflict.

Armenia's recent decision to join the Russia-led Customs Union and Eurasian Union will further increase Moscow's capacity to influence Yerevan's policies. This development, in turn, raises the threshold for Azerbaijan to seek common ground with Russia toward a negotiated solution of the Armenia-Azerbaijan conflict. Prior to taking that step, Armenia had faced a choice between clinging to the occupied Azerbaijani districts or, alternatively, negotiating a phased withdrawal, to be rewarded with participation in regional economic cooperation alongside Azerbaijan and Turkey. More recently, the European Union offered Armenia the historic chance to sign association and free-trade agreements with the EU. Instead, Armenia is aligning its economy even more closely with Russia's, in hopes of ensuring irreversible Russian military protection (see EDM, September 5, 11).

Russia and, thus, the Customs Union lacks territorial contiguity with Armenia (see EDM, September 5). This situation may generate pressures on Georgia to provide some kind of territorial corridor between Armenia and Russia—e.g., by re-opening the Georgian railway's section in Russian-controlled Abkhazia. The Georgian prime minister, Bidzina Ivanishvili, has made several ambiguous statements about Georgia's possible interest in the Customs Union and the Eurasian Union (without, in his view, prejudicing Georgia's decision to sign the association and free-trade agreements with the EU) (Georgiaonline.ge, September 18; Civil Georgia, September 4). Such a move, if carried out, would undercut Baku's negotiating position vis-à-vis Yerevan and Moscow.
More broadly, Baku is watching political developments in Georgia with a degree of concern. Georgia provides Azerbaijan with its only lifeline to Turkey and energy export route to Europe. Prior to Georgia's regime change, Azerbaijan could count on the Georgian government's iron-clad Western orientation and capacity to govern the country effectively. At present, both assumptions seem less than the full certainties they were. Baku was recently drawing parallels between Ivanishvili's rise to power in Georgia and the emergence of a Moscow "club" of Azerbaijani tycoons who, like Ivanishvili, had earned their billions in Russia. Those Azerbaijani tycoons are, however, staying out of Azerbaijan's political processes thus far.
Baku feels reassured when US, Turkish, and Azerbaijani policies in the broader region are aligned. However, Azerbaijan's government is alert to resurfacing proposals to open the Turkey-Armenia border for trade, without conditioning such a move on Armenian troop withdrawal from some of the occupied Azerbaijani districts (Interfax, September 18; Hurriyet, September 21). Recent tensions between Turkey and Israel are another matter of discomfort for Baku. While valuing its special relationship with Turkey as an existential one, Azerbaijan intends to continue developing its close relations with Israel. Closer policy coordination between Baku and Washington is crucial on all these issues, and must not be derailed by predictable differences over the assessment of Azerbaijan's upcoming presidential election.