Azerbaijan Signs up Officially to EU's Southern Gas Corridor
Publication: Eurasia Daily Monitor Volume: 8 Issue: 13
By: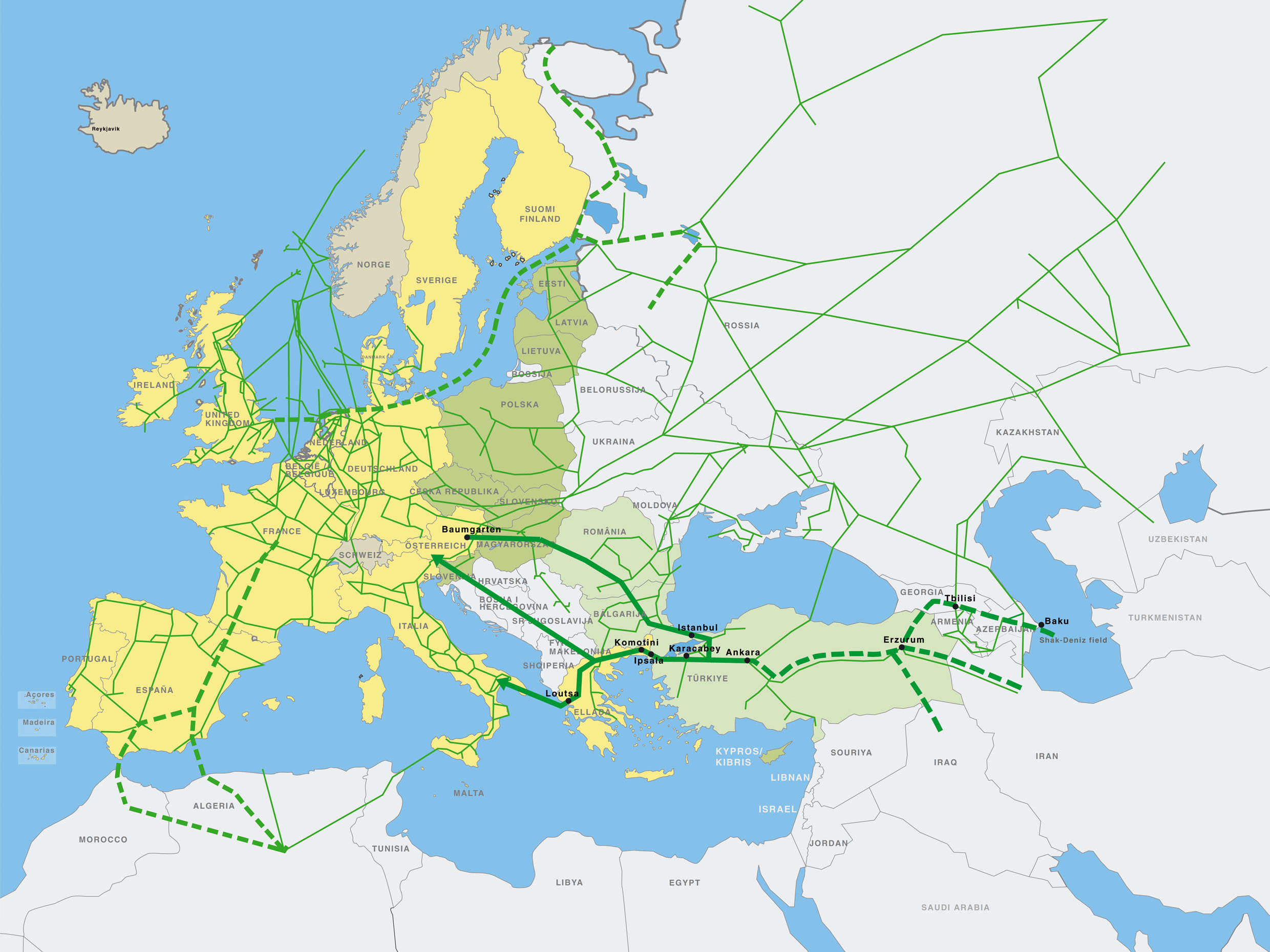 On January 13 in Baku, Azerbaijan's President Ilham Aliyev and European Commission President Jose Manuel Barroso signed a declaration on developing the Southern Gas Corridor to Europe. On January 14-15 in Ashgabat, Barroso and EU Energy Commissioner Guenther Oettinger conferred with President Gurbanguly Berdimuhamedov on Turkmen gas delivery to Europe via the Southern Corridor.
The unprecedented Barroso-Oettinger joint visit to both countries is a likely prologue to investment decisions for Phase Two of production at the Shah Deniz gas field in Azerbaijan, and for construction of the Nabucco pipeline within the Southern Corridor to Europe.
Under the Baku declaration, Azerbaijan and the EU affirm their "common objective to see the Southern Corridor established and operational as soon as possible, and Azerbaijan as a substantial contributor to — and enabler of – the Southern Gas Corridor to Europe … Creation of this route from the Caspian region to the European market also corresponds with the shared strategic objectives of the European Union and Azerbaijan to diversify gas delivery routes and establish direct energy and transport links." Accordingly, Brussels and Baku "urge a swift allocation process of available gas resources at the Shah Deniz Two project and other fields in Azerbaijan," with the Southern Corridor expected to absorb growing gas volumes, and "Caspian region gas suppliers being able to build on that confidence." The EU Commission is ready to assist in the creation of the legal, regulatory, and commercial framework for direct gas deliveries in the European Union (www.ec.europa.eu/energy, EurActiv, January 14).
Three consortiums of gas buyers and shippers –Nabucco, the Interconnector Turkey-Greece-Italy (ITGI), and Trans-Adriatic Pipeline (TAP, a continuation of the Turkey-Greece pipeline route into Italy)– compete against each other over Shah Deniz Phase Two gas, at this pre-investment juncture (EDM, January 12, 13, 14). The European Commission's public statements generally avoid taking sides between these projects. The Commission's own commentary on the Baku event mentioned all these projects even-handedly, abstaining from interference with companies' business decisions.
In practice, however, the EU clearly prioritizes Nabucco at this stage (before gas supplies from Turkmenistan and northern Iraq materialize). The Commission characterized the Nabucco project as strategic, emphasized its advantages as a dedicated pipeline, and mobilized investment funds for its construction. Barroso and Aliyev indicated the same preference during their joint press conference in Baku. They cited Nabucco with its parameters as the main project within the Southern Corridor, and reaffirmed political support for the Nabucco project. A joint committee is expected to be set up for drawing up the legal, regulatory, and commercial framework with EU Commission assistance (Trend, Day.az, January 14).
Concurrently, the European Commission announced that Brussels and Baku would open negotiations for an agreement on travel visa facilitation (EurActiv, January 14).
In Vienna, the Nabucco project management has welcomed the Baku event for boosting this project specifically, as the most advanced one within the planned Southern Corridor (www.nabucco-pipeline.com)
The producers' consortium at Shah Deniz is about to select a buyer and a transportation route for that field's second phase of production. This is planned at 16 to 17 billion cubic meters (bcm) of gas annually from 2017 onward. The ITGI (Italian Edison and Greek Depa) and TAP (Norway's Statoil, Swiss EGL, German Ruhrgas) are competing against Nabucco (Turkey's Botas, Bulgaria's Bulgargaz, Romanian Transgaz, Hungarian MOL, Austrian OMV, German RWE) over a 10 bcm portion from Shah Deniz Phase Two.
The Shah Deniz consortium includes the British BP and Norwegian Statoil with stakes of 25.5 percent each; Azerbaijan's State Oil Company, Total of France, Russian Lukoil, and the National Iranian Oil Company with 10 percent each; and Turkish Petroleum with 9 percent. The same companies own the South Caucasus Pipeline (SCP) from Baku to the Georgian-Turkish border, which should carry Shah Deniz gas into Turkish territory for onward transportation to Europe.
Within the Shah Deniz consortium, Statoil is the only company that also participates in a consortium bidding for Shah Deniz production (TAP in this case). Statoil has been chairing the Shah Deniz Phase Two commercial committee for several years, while also serving as commercial operator for the SCP pipeline. Simultaneous participation in the producers' consortium and in one of the buyers' consortiums raised questions about Statoil's impartiality in the bidding process for Shah Deniz gas. This may partly explain why the producers' consortium has mandated Azerbaijan's State Oil Company, rather than Statoil, to handle negotiations with the three consortiums that are bidding to buy and ship Shah Deniz gas.
The Shah Deniz producers had earlier agreed to sell Phase Two gas through a common policy to be agreed by all, rather than unilaterally. This agreement remains valid and should prevent subdividing that production among competing consortiums of buyers and shippers. Such fragmentation would compromise the value of Nabucco, the only strategic project among the three bidders.