Azerbaijan Wins Tender for Gas Pipelines in Greece
Publication: Eurasia Daily Monitor Volume: 10 Issue: 120
By: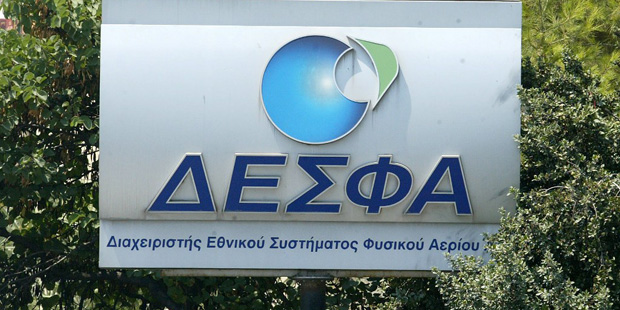 On June 21, Greece's State Assets Development Fund announced that Azerbaijan's State Oil Company (SOCAR) has won the tender to acquire control of Greek DESFA's (Public Gas Transmission System Operator) pipelines. The Asset Fund's board of directors expressed its unanimous satisfaction with the terms of SOCAR's offer to purchase 66 percent of DESFA's shares (Athens News Agency, June 21).
SOCAR is the ultimate winner over seventeen companies from twelve countries that had entered the contest. SOCAR's last remaining rival, Sintez from Russia, did not submit a binding offer in the June 10 final round, which saw SOCAR win DESFA by default. Sintez is seen as a possible Trojan horse for Gazprom and is not entirely out of the picture yet (see below).
DESFA operates Greece's gas transmission pipelines, distribution networks, and the Revithoussa liquefied natural gas terminal. DESFA is a fully owned subsidiary of DEPA (Public Gas Corporation), Greece's wholesale natural gas procurement company and dominant distributor. DEPA/DESFA has been a single public company until now, but its two entities have been tendered out separately. Either entity is 65 percent Greek state owned, with the remaining 35 percent held by Hellenic Petroleum, itself 35 percent state owned.
SOCAR has made a binding offer of €400 million ($525 million). It stands to acquire 31 percent of DESFA's shares from the Greek state, as well as the entire 35-percent package from Hellenic Petroleum, leaving 34 percent of DESFA shares in the state's ownership. Final approvals are pending from Hellenic Petroleum's board and from Greece's energy regulatory agency (www.naturalgaseurope.com, accessed June 24).
DEPA's tender failed in the final round on June 10 when Gazprom declined to submit a binding offer. Apparently, Gazprom has received some warnings that this acquisition might subsequently be invalidated under European Union energy market and competition laws. This dissuaded Gazprom at the last moment from proceeding. Instead, Sintez suddenly proposed to bid not only for DESFA, but for DEPA and DESFA as a package, for as much as €1.8 billion ($2.36 billion). That amount exceeded Sintez's own market capitalization many times over. It would have required Sintez to partner in some form with Gazprom, as Sintez had indeed been hinting (EurActiv, Kathimerini, June 19; see EDM, June 4, 20).
The Greek government, which had eagerly wooed Gazprom to acquire DEPA, turned down a package deal for DEPA and DESFA with Sintez. This left SOCAR as the only contestant to submit a final binding offer for DESFA. Although SOCAR is the winner, Sintez has twice informed Greece's State Assets Development Fund about Sintez's continuing interest in a package deal. The Asset Fund, however, has responded unambiguously that it has reached agreement with SOCAR (Kathimerini, June 21).
Greek comments from the government, the energy sector and media sound uniformly pleased and even elated with SOCAR's acquisition of DESFA pipelines. This is a decisive incentive for Azerbaijan to choose the Trans-Adriatic Pipeline (TAP) gas export route, across Greece to Italy, in preference to the Nabucco-West route into Central Europe. With this, for the first time, Greece draws within sight of its ambition to become an energy transit country. Gazprom's South Stream project, as well as DEPA's own joint projects with Italian Edison (Interconnector Turkey-Greece-Italy and Poseidon pipelines), failed to turn Greece into a transit country.
For Azerbaijan, controlling DESFA means entering the gas transmission and distribution business on European Union territory for the first time. With its natural gas exports, SOCAR holds predominant market share in Georgia, significant market share in Turkey, and will turn Turkey into a major transit country thanks to the Azerbaijani-led Trans-Anatolia Gas Pipeline (TANAP) project. According to SOCAR's President Rovnag Abdullayev, the company currently holds 17 percent market share in Greece, but cannot retail it to consumers directly as yet. With DESFA, Azerbaijani gas should enter retail markets in Greece and farther afield (Trend, June 17).
Shah Deniz Phase Two of gas production and the TANAP pipeline are expected to come on stream by 2018–2019. Prior to that, however, SOCAR might exercise the option of exporting some gas volumes via existing Turkish pipelines, feeding into the DESFA system in Greece. DESFA is a shareholder the Interconnector Greece-Bulgaria project, which is now expected to be completed by 2015 (after disappointing delays). Through that pipeline (rather than through Nabucco), Bulgaria would be able to receive Azerbaijani gas.
With the Revithoussa LNG terminal, SOCAR gains an asset currently used below capacity. This might, in the future, become a transit point for gas sourced from the Mediterranean basin to European countries via DESFA transmission pipelines.
SOCAR's acquisition of DESFA should conclusively settle the debate among Shah Deniz gas producers about selecting a continuation route from the planned Trans-Anatolia gas pipeline into European Union territory. Within the Shah Deniz consortium, the United Kingdom's BP and Norway's Statoil had favored the TAP route all along. SOCAR, however, had apparently leaned toward Nabucco-West for some time, and was still considering both options until now. At this point, however, an official announcement by the Shah Deniz consortium in favor of TAP seems imminent.