Azerbaijani Diplomacy and the Bridging of Security Alliances
Publication: Eurasia Daily Monitor Volume: 15 Issue: 70
By: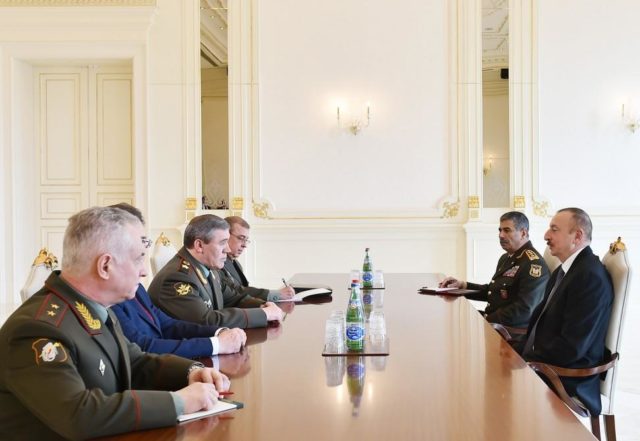 Valery Gerasimov, the chief of the General Staff of the Russian Armed Forces, and Curtis Scaparrotti, the North Atlantic Treaty Organization's (NATO) Supreme Allied Commander Europe (SACEUR), met in Baku on April 19 to discuss several issues related to military posture and exercises. The two pointedly agreed to keep their communication channels open following these talks (Nato.int, April 19). Taking place less than a week after the United States, the United Kingdom and France carried out coordinated missile strikes against targets linked to the Syrian regime's chemical weapons program, this was the second such meeting between Russian and NATO generals. The first encounter—between Russia's General Gerasimov and General Petr Pavel, the chairman of the NATO Military Committee—was also held in Baku, on September 7, 2017 (Nato.it, September 7, 2017).
It is no secret that such face-to-face meetings between NATO and Russian top brass have been rare since 2014. Relations remain fraught as a result of Russia's aggression against Ukraine, Moscow's military involvement in the Middle East and particularly in Syria, among other issues, including the recent Sergei Skripal poisoning case (see EDM, March 12, 15).
In this context, the international significance of Azerbaijan, a small South Caucasus state that regained its independence in 1991, has drastically increased of late. Despite its location in a turbulent region and ongoing embroilment in an armed conflict with neighboring Armenia (which occupies one fifth of Azerbaijan's internationally recognized territory), Azerbaijan has maintained a neutral stance vis-à-vis all major global powers.
Such neutrality was made possible by Baku's conscious decision to, for years, pursue an independent, balanced and proactive foreign policy to safeguard the country's national interest. Using a predictable, reliable, and pragmatic approach in its bilateral and multilateral relations, along with skillful energy diplomacy, Azerbaijan was able to gradually transform from an economically and militarily weak country in the early 1990s into a dynamically developing state. As President Ilham Aliyev recently boasted, Azerbaijan's economy has grown 3.2 times over the last 15 years and, he argued, the country has achieved economic independence (Trend, April 18).  On the other hand, Azerbaijan is not a member of any military-political bloc and is not involved in any regional political-economic integration projects, either with the European Union or the Moscow-led Eurasian Economic Union. In 2011, Azerbaijan became a full member of the Non-Aligned Movement (NAM) and will host the 18th summit and chair this organization during 2019–2022 (Azernews.az, March 30).
Also in 2011, Azerbaijan was elected a non-permanent member of the United Nations Security Council (UNSC) from the Eastern Europe group (Aztv.az, October 28, 2011). This was a turning point in this country's modern history, boosting Baku's ability to contribute to global affairs and, undoubtedly, increasing its international significance. During its term on the UNSC (2012–2013), Baku supported programs dealing with international peace and security, cross-cultural dialogue, humanitarian assistance as well as foreign aid. Azerbaijan also coordinated a high-level meeting, chaired by President Aliyev, on strengthening international cooperation against terrorism in May 2012, as well as the first ever meeting between the UNSC and the Organization of Islamic Cooperation (OIC) in October 2013 (Eureporter.co, January 9, 2014).
The promotion of international peace and security remains an important dimension of Baku's foreign policy, and Azerbaijan has actively offered to host meetings between high-ranking military officials from the United States/NATO and Russia amidst current tensions in their relationship. Incidentally, the first meeting between Russian General Gerasimov and the US's highest ranking military officer, Chairman of the Joint Chiefs of Staff Joseph Dunford, was also held in Baku, on February 16, 2017. There, according to the Russian defense ministry, the two military leaders exchanged views on the state of the bilateral relationship and shared their assessments of the international security situations in Europe, the Middle East, North Africa and other key regions of the world (Mil.ru, February 16, 2017).
At least three factors explain why Azerbaijan was chosen as a venue for such high-level meetings between East and West.
First of all, as argued by Aleksey Sinitsin, of the American-Azerbaijani Progress Promotion Fund, Azerbaijan is a member of the NAM, but it maintains respectful and tangible relations with both Moscow and Western capitals. In addition, he asserted, "The situation in Baku is always stable, benevolent, and any unexpected political excesses [sic] are practically excluded" (Trend, April 21).
Second, Azerbaijan is also interested in holding these meetings because they contribute to the growth of its overall image in the international arena as a neutral and safe place, where counterparts can meet and discuss issues of global significance.
Third, the organization of such meetings can also create excellent opportunities for the Azerbaijani leadership to meet in parallel with the representatives of both delegations and exchange views on bilateral, regional, and international issues. Illustratively, Aliyev received both delegations—that led by Scaparrotti and the one headed by Gerasimov—in Baku on April 19, 2018. During his meeting with General Scaparrotti, the two sides discussed the successful development of NATO-Azerbaijan cooperation. Scaparrotti expressed particular satisfaction with the Alliance's relationship with Baku, underscoring the strategically important transit role Azerbaijan plays in NATO's peacekeeping operations in Afghanistan (Trend, April 19). Whereas, during President Aliyev's talks with General Gerasimov, the two discussed bilateral cooperation in the military and military-technical spheres (Trend, April 19).
Both generals publicly thanked Aliyev for hosting the April 19 meeting. In turn, the Azerbaijani president assessed Baku's role as a sign of international confidence in his country. Aliyev also voiced the hope that the Scaparrotti-Gerasimov meeting would contribute to the strengthening of international security. Further such high-level meetings in Baku between rival powers are thus likely, as Azerbaijan continues to test its growing diplomatic muscles.