Russia Is Not Just 'Toxic,' But Deadly Poisonously Toxic
Publication: Eurasia Daily Monitor Volume: 15 Issue: 37
By: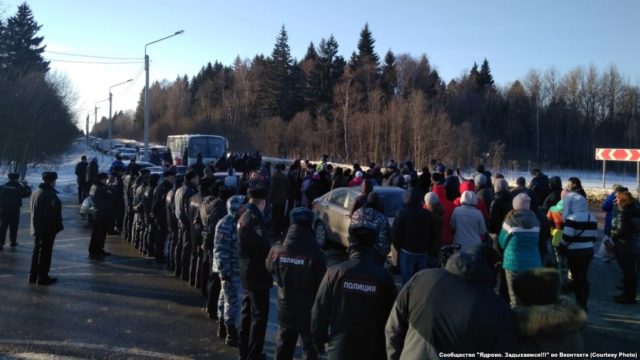 US Secretary of State Rex Tillerson happened to be in Addis Ababa, Ethiopia, the same day last week as Russia's Foreign Minister Sergei Lavrov, but opted not to have a meeting with his Russian counterpart as Moscow had suggested rather persistently. Tillerson's brief probably was not updated after President Vladimir Putin's bombastic speech about wonder-missiles and after ExxonMobil's decision to withdraw from joint projects with Rosneft (Kommersant, March 1). Or perhaps the few professionals still working at the decimated State Department warned him that the Russian connections were "toxic." As the investigation doggedly driven by Special Counsel Robert Mueller uncovers new evidence of Russian interference in the US elections, every unscripted tête-à-tête indeed turns into a compromising liaison (Lenta.ru, March 8). The real issue about Russia, however, is that it has recently produced an astounding amount of problems that are literarily toxic.
At the top of the list is the attempted murder of Sergei Skripal and his daughter Yulia in Salisbury, the United Kingdom, on March 4. The only reason for this crime, involving the use of nerve toxin as a murder weapon, could be Skripal's past as a double agent. The retired GRU (military intelligence) colonel was convicted, in 2006, for espionage on behalf of the UK secret services and exchanged, in 2010, for the "sleeper agents" exposed in the United States (New Times, March 7). Moscow engaged in the usual vehement denials, despite the statement of British Prime Minister Theresa May that "either the Russian state was directly responsible for the poisoning or it had allowed the poison, which belonged to the Novichok group of nerve agents, to get into the hands of others" (Meduza.io, March 8; The Moscow Times, March 12). The professional execution of the "special operation," which was both highly sophisticated and entirely unconcerned about possible innocent victims, in itself points to a Russian connection (Moscow Echo, March 9). The country that stands firmly by the Syria's authoritarian leader, Bashar al-Assad, despite his track record of using chemical weapons against civilians, would not hesitate to administer a dose of deadly substance to settle scores with an old traitor.
Additional breaking news of a shockingly poisonous nature was President Vladimir Putin's presentation during his recent address to the parliament of a new super-long-range cruise missile propelled by hot air emerging from a micro-nuclear reactor (Meduza.io, March 4). Official confirmation of the testing of such a missile at the old Soviet nuclear test site on Novaya Zemlya was brusque and supplied no detail (RIA Novosti, March 4). However, the experts who were at ease to comment expressed much astonishment because such propellant would spread a great deal of radiation along the way, while testing would inevitably involve crashing the nuclear reactors on home territory (Novye Izvestia, March 3). There is no strategic need for such an unstable and catastrophically dirty weapons system, but the Russian commander-in-chief radiated pride while showing the low-quality animation of the nuclear-powered missile's flight (Novaya Gazeta, March 3).
This fanciful missile and its sister-weapon, a nuclear-propelled torpedo, may never come into existence, but what certainly exists at a shameful scale is the doping system in Russian sport. Officials continue to deny that such a scheme occurred, and Moscow organized an "Alternative Games" for dozens of Russian athletes, who had been banned from the PyeongChang Winter Olympics (Sports.ru, March 6). The International Olympic Committee restored Russia's membership after the end of the 2018 Winter Games, and Putin declared a readiness to "turn the page" (Kremlin.ru, February 28). This means that no measures to exterminate this abuse are seen as necessary, so new doping scandals will keep coming. Russian track-and-field athletes, for that matter, are still allowed to partake in international competitions on a case-by-case basis (Kommersant, March 6). Even Russian chess grandmasters now have to answer questions about doping (Sport-express, March 5).
A bizarre story that adds another feature to Russia's toxic image is the investigation of cocaine smuggling from the Russian embassy in Argentina to Moscow with the use of diplomatic mail (Kommersant, March 2). The Russian foreign ministry attempted to cover up this scandal with poorly prepared denials, disproved one after another in embarrassingly rich detail (Newsru.com, March 5). Replacing the ambassador would hardly help in repairing the reputational damage, and the gist of the story is that the diplomatic service, which eagerly engages in black propaganda offensives and other "hybrid" activities, can just as easily engage in narco-trafficking (Moscow echo, March 3). Drugs are a huge problem in Russia, but the National Guard, which is now in charge of dealing with it, prefers to focus on limiting the import of medications, producing an artificial shortage of painkillers (Lenta.ru, March 7).
Perhaps the most rotten of all toxic issues are the overflowing rubbish dumps around many urban centers that caused Moscow to experience several days of nauseating bad air last year (RBC, February 28). Putin ordered the closing of several landfills, but that only made the garbage crisis in other places worse (Moskovsky Komsomolets, February 18). The protests in Volokolamsk, Moscow region, against the dangerously foul smell from the nearby dump gained such force that Alexei Navalny, the leader of the anti-Putin opposition, brought it up as an example of a real public attitude toward the regime that could not care less (Navalny.com, March 4). The authorities responded with some emergency measures, but they are clearly not going to waste any money on the unprofitable waste management infrastructure (Vedomosti, March 7). Indeed, such state-owned energy giants as Rosneft show few qualms about dumping industrial waste around their production sites (RBC, March 7).
Presiding over this disgusting mix of rotting garbage, virtual radioactivity, diplomatic cocaine and doping scandals, Putin is no longer willing to present a polite face to the West or to attract Western investment. He rather wants to look too dangerous to mess with, prepared to take risks that his Western counterparts would consider unacceptable, and unconstrained by Russia's entirely manipulable public opinion. Certain advantages could indeed be found in the status of a "great toxic power," and Putin is not loath to borrow a page from Kim Jong-un's book on how to boost your profile by being resolutely unsociable. The Russians, however, are a rather different crowd from the severely terrorized and completely isolated North Koreans, and it is up to them to refuse to live next to rubbish piles or to say "No" to drugs and doping. One thing the West can do for its own sake and to promote this shift in Russian conscience is not to turn a blind eye to Moscow's special operations, whether involving propaganda venom or real poison, and to treat every corrupt Russian connection accordingly.