The Transformation of the Uzbek-Tajik Relationship
Publication: Eurasia Daily Monitor Volume: 15 Issue: 37
By: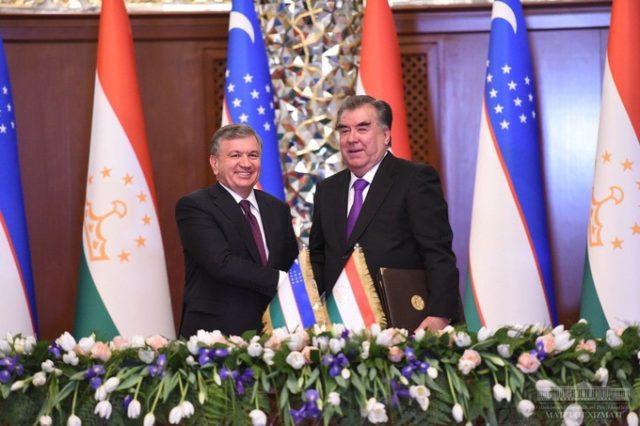 On March 9, Shavkat Mirziyoyev landed at Dushanbe airport, the first president of Uzbekistan to conduct a state visit to Tajikistan since 2000. Embraced by his local counterpart, President Emomali Rahmon, he rode through Tajikistan's capital city past thousands of flag-waving citizens (YouTube, March 10). After two days of official meetings, in which 27 agreements were signed worth $140 million in deals, the two presidents declared that "there are no unresolved issues" between the two countries (Gazeta.uz, March 9). The presidents signed a deal to establish a 30-day visa-free regime between the states, ending a 17-year visa regime that has severed connections between families on both sides of the border. Most significantly, Mirziyoyev not only backtracked from years of opposition to Tajikistan's construction of the Rogun dam, but also stated that the Uzbekistani government would consider providing support for the project's completion (Asia Plus, March 9).
Mirziyoyev's historic visit comes after 27 years of animosity between the governments of the neighboring Central Asian states. When civil war broke out in Tajikistan in 1992, the government of Uzbekistan sent troops to help Rahmon's government restore order. But ties rapidly deteriorated, with Tajikistan accusing Uzbekistan of supporting colonel Makhmud Khudoberdiyev, who invaded north Tajikistan in 1998 (Radio Azattyq, December 30, 2009). In turn, Uzbekistan's government accused Tajikistan of harboring the Islamic Movement of Uzbekistan, which attempted an armed incursion into Uzbekistan in 1999. On his last state visit to Tajikistan in 2000, Karimov described Tajikistan and Uzbekistan as "one people, speaking two languages" (CAA, March 9). But in reality, he took steps to divide the two Central Asian neighbors. In response to the IMU incursion, Uzbekistan mined the border in 1999 and introduced a visa regime in 2001.
While the two populations have close ties, with many ethnic Uzbeks and Tajiks living on both sides of the border, the two countries' presidents did not seem to feel this fraternity. Islam Karimov and Emomali Rahmon reportedly hated one another. President Rahmon told reporters in 2009 that he had altercations with Karimov on two occasions (Radio Azattyq, December 12, 2009). While personal animosity certainly did not help the situation, the main source of discord was Tajikistan's plans to build the Rogun hydroelectric plant. Construction on the proposed 335- meter-high dam began in 1976, but progressed slowly and halted during the civil war. For Tajikistan, Rogun offers an opportunity to become energy self-sufficient and export electricity to its neighbors. But Uzbekistan's government was vehemently opposed to the dam across the Vakhsh River, a tributary of Central Asia's largest river, the Amu Darya, 75 percent of which originates in Tajikistan. Uzbekistan, the world's sixth-largest cotton producer, relies on water from the Amu Darya for irrigation.
When Rahmon announced that construction would resume in 2008, the Uzbekistani government voiced its opposition (see EDM, September 17, 2012). Additionally, the government in Tashkent withdrew from the Soviet-era electricity grid through which Uzbekistan supplied Tajikistan with electricity from Turkmenistan (RFE/RL, December 1, 2009). Customs officials from Uzbekistan began preventing rail freight from passing into Tajikistan in December 2009. After what Uzbekistan described as a "terrorist" attack in November 2011, all traffic was halted. A report from Tajikistan's Ministry of Foreign Affairs published in April 2012 accused Uzbekistan of establishing a "blockade" (BBC, April 3, 2012).
Although signs of improving ties emerged in the last two years of Islam Karimov's presidency, it has been since his death that the relationship has transformed. Shortly after Shavkat Mirziyoyev took power as acting president of Uzbekistan in September 2016, a number of developments pointed to a shift in bilateral relations. President Rahmon was one of the only two Central Asian leaders to attend Karimov's funeral. Speaking at the United Nations General Assembly in New York shortly after Karimov's funeral, Uzbekistani Foreign Minister Abdulaziz Kamilov broke with the previous form and did not include any mention of Tajikistan's plans to build the Rogun hydropower plant (RFE/RL, October 4, 2016). In late September, he visited Dushanbe, signaling his government's desire to "reset" relations (Radio Ozodi, September 29, 2016). When Rahmon climbed into a bulldozer to officially restart Rogun's construction in October 2016, the Uzbekistani side was silent (The Diplomat, November 1, 2016). In July 2017, Kamilov stated that his government was no longer opposed to Rogun and Tajikistan should "go ahead and build it" (Ozodagon, July 6, 2017).
As opposition to Rogun has subsided, relations have significantly improved. Connections have been reestablished. Flights between Dushanbe and Tashkent resumed in April 2017, after 25 years of suspension. On March 1, ten border crossings, which had been closed since 2001, reopened (Asia Plus, March 1). In February, Tajikistan's state electricity company announced that it had reached an agreement with the Uzbekistani government to deliver electricity to Uzbekistan in the summer months (Asia Plus, February 28). Both sides are reportedly exploring the possibility of renewing Uzbekistani gas exports to Tajikistan (Asia Plus, January 28). During Mirziyoyev's meeting, the two presidents reopened the Galaba–Amuzang–Khushadi rail connection, closed since 2012 (Gazeta.uz, March 9). As a result of this improved connectivity, trade has increased from $70 million in 2016 to $240 million in 2017, with the presidents announcing their desire to boost overall trade to $1 billion over the coming years (Asia Plus, April 17, 2017; Trend, March 10).
Contrary to expectations, Mirziyoyev has taken many steps to restructure the political system in Uzbekistan and adopt a more proactive foreign policy, moving the country away from Karimov's isolationist "Uzbek" path. Arguably, his most significant achievement to date has been in re-engaging with his Central Asian neighbors, in particular, Tajikistan. The transformation of the relationship indicates the extent to which Karimov and Rahmon's personal animosity, along with entrenched foreign policy stances, dictated inter-state relations. Such animosity never filtered down to the people, who saw ties with family across the border severed. With visa-free travel and border crossings reopened, citizens of both countries have welcomed these steps as a "dream come true" and will ultimately become the primary beneficiaries of restored relations (Asia Plus, March 10).