Georgia's Much Celebrated Visa Liberalization With European Union Comes Under Threat
Publication: Eurasia Daily Monitor Volume: 15 Issue: 36
By: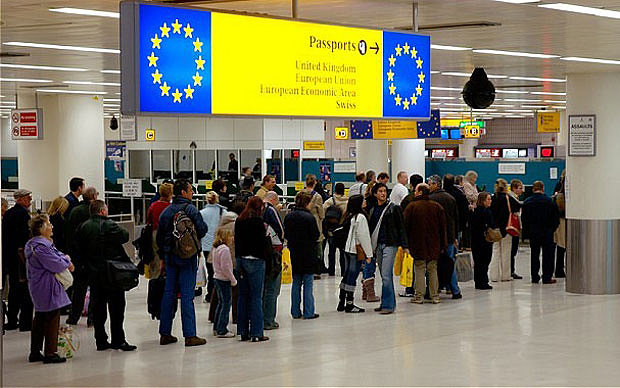 Exactly one year ago, in Mach 2017, Georgia celebrated the launch of the much-sought-after visa-free travel rules (so-called visa liberalization) with the European Union. The event was considered of such high political importance for Georgia that the country's prime minister, Giorgi Kvirikashvili, called it an "enormous achievement," symbolizing Georgia's return to the "European Family" (Twitter.com/KvirikashviliGi, March 27, 2017; Civil Georgia, March 28, 2018).
Nevertheless, a year later, the entire policy has begun to come under threat. Specifically, once Tbilisi finalized its visa-liberalization negotiations with the EU, some Georgians argued that the opportunity to travel to Europe without visa requirements would trigger a mass population exodus from the impoverished country (Newposts.ge, March 28, 2017). And although others dismissed such a possibility, it now appears the more dire predictions turned out not to be entirely baseless. After visa liberalization went into effect, the number of Georgians traveling to the continent reached 220,000 (Mfa.ge, February 19, 2018). More importantly, however, the number of political asylum seekers grew rapidly—in some countries, such as Norway and Switzerland, threefold (Civil Georgia, February 21). Along with it grew the number of refusals of entry and illegal overstays. Yet, most concerning has been the connected growth in crime, as Georgian organized criminal groups, led by mafia bosses (so-called "thieves-in-law"), vigorously extended their operations in Germany, France, Italy, Greece and Spain (Georgiatoday.ge, January 25).
Naturally, these developments have alarmed EU countries. European diplomats held a meeting in January to discuss the possibility of utilizing the visa-liberalization suspension mechanism (Georgiatoday.ge, January 25). Moreover, Germany, Sweden and Iceland (not an EU member, but a participant in the European Single Market) publicly voiced concerns about increased crime and the number of asylum seekers from Georgia, sparking fears in Tbilisi that the EU could temporarily cancel the visa-free regime (Imedi TV, February 10).
It bears mentioning that visa liberalization does allow for, via the suspension mechanism, delaying the visa-waiver deal for nine months if one or more of the following four situations occur: 1) a considerable increase in the number of those refused entry and irregular stays; 2) a significant increase in unsubstantiated asylum applications; 3) a decrease in cooperation on returns of migrants; or 4) an increase in risks or imminent threats to public safety and security due to the influx of third-country nationals (Civil Georgia, February 21). Georgia seems to be failing in at least three of these four categories.
Although Foreign Minister Mikheil Janelidze stated that there was no immediate threat of visa-free travel being suspended for Georgians (Imedi TV, February 10), there is certainly a realistic possibility that the EU could in fact put it on hold. On February 9, Prime Minister Kvirikashvili even held an emergency session, involving the ministers of justice, interior, and foreign affairs, as well as the attorney general. The prime minister vowed to tighten the rules for Georgian asylum seekers and to widen Georgia's cooperation with EU countries in combating crime. Moreover, the government agreed to carry out an extensive information campaign across Georgia about the legal and financial risks and damages stemming from violating the rules of visa-free travel (Gov.ge, February 9).
It is difficult to say at this juncture whether any of these measures will have their desirable effect. Georgia's mass migration problem is not new. Its root causes stem from the country's profound political instability, widespread nepotism and chronic economic crisis, which accelerated since the early 1990s, after the country gained independence. So far, no Georgian government has managed to address any of these problems. Hence, since independence, Georgia lost almost one-third of its population to the ongoing mass exodus (see EDM, May 12, 2015). Visa liberalization with the EU provided Georgians with a new opportunity to escape persistent unemployment and crushing poverty at home.
The question of rising crime is another complicated problem. Although Georgia successfully cracked down on organized crime at home since 2003, the Georgian mafia now largely operates in exile. Georgia's criminal enterprises have shown a remarkable ability to adjust to these new circumstances and carry out their illicit activities. Visa-free travel provides them with new, mobile recruits from their impoverished homeland, even if on a short-term basis.
The renewed talks about visa-liberalization have also given new ammunition to the Georgian opposition, trying to score easy political points. Irma Inashvili, the leader of the populist party Alliance of Patriots, actually attacked visa-free travel, stating that it encouraged Georgians to flee the country, which ultimately increased immigration from Middle Eastern countries to fill the void (Mythdetector.ge, March 1). Other opposition parties: United National Movement (UNM) and European Georgia (both formerly part of the once-ruling UNM party), criticized the government for failing to create jobs and improve the economy at home in order to reduce immigration—the task they themselves failed to accomplish when in power. To date, no political group in Georgia has provided any substantive policy solutions to address the problem.
Overall, after two months of talks, the scare that visa-free travel with the EU might be revoked has somewhat subsided. However, this does not mean that the danger of losing it has entirely disappeared. Visa liberalization with the EU was perhaps the greatest foreign policy accomplishment of Tbilisi in more than a decade. But the following months will show whether Georgia manages to maintain its hard-won victory.