Azerbaijan's Defense Minister Visits Israel, as Bilateral Ties Grow Stronger
Publication: Eurasia Daily Monitor Volume: 14 Issue: 117
By: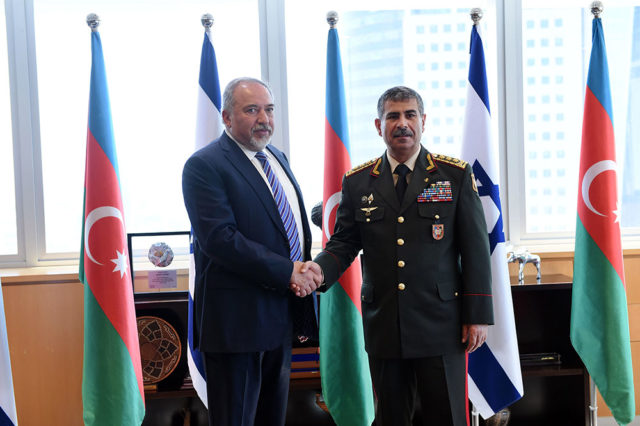 Azerbaijani Defense Minister Zakir Hasanov paid a visit to Israel, on September 11, to discuss cooperation in the military and military-technical spheres with the host country's leading defense industry enterprises. While there, he also toured the Command and Control Center (CCC) of the Israeli Armed Forces (Mod.gov.az, September 11, 13, 14).
The media coverage of Minister Hasanov's Israeli visit was largely protocol-based, without too many further details. It was supposed that the Azerbaijani defense minister would discuss the purchase of Israel's Iron Dome anti-missile defense systems and other weapons systems, but whether his visit was ultimately restricted to arms purchases is yet unknown. The acquisition of the Iron Dome, which is designed to intercept/destroy short-range rockets and artillery shells, was announced last year by Azerbaijan's Minister of Defense Industry Javer Jamalov (Apa.az, December 17, 2016), four months after Armenia demonstrated its Iskander short-range ballistic missiles obtained from Russia.
Hasanov's stopover at the Israeli CCC facility implies that Azerbaijan is interested in studying that Middle Eastern country's military command-and-control procedures. Moreover, his visit coincided with Israel's largest military exercise in years, with Israeli forces practicing a mock ten-day military campaign against Hezbollah (Haqqin.az, September 13; Timesofisrael.com; September 4). Although no information was provided as to the nature of Hasanov's attendance during the Israeli drills, the minister likely was at least able to become acquainted with the scenario of these exercises. This could be of benefit to Azerbaijan were its forces to undertake a liberation of the country's occupied territories in the course of a possible large-scale counteroffensive military operation.
The Azerbaijani defense minister's visit to Israel came in the wake of Armenia's attempts to diversify its own military ties, mainly with China, as well as Yerevan's statement that it was preparing to purchase arms from Israel (Panorama.am, July 27). Perhaps the most important factor behind Hasanov's trip, however, HaHwas was Israeli Aeronautics Defense Systems' (ADS) decision to temporarily block the Orbitier-K1 drone deal with Azerbaijan. ADS specifically froze the deal following reported allegations that the company's operators, under Baku's request, had tested new drones over Armenian targets in the Karabakh conflict zone. Those charges were denied by ADS (Newsru.co.il, August 29). The dynamically growing military cooperation between Azerbaijan and Israel has been a serious concern for Armenia. Yerevan harshly protested when Israel supplied advanced weapons (Spike missiles, ThunderB and Harop drones, in particular) to Azerbaijan, causing grave loses for Armenia during the April 2016 "four days war" (Panarmenian.net, April 11, 2016).
Azerbaijan has prioritized boosting defense relations with Israel since the 2000s. From 2008 to 2012, Baku signed extensive agreements worth $4.85 billion with Israeli defense industry companies Rafael, Soltam, Tadiran Communications, Israeli Military Industries, Israel Aerospace Industries (IAI), ADS, Elta Systems and Elbit Systems. Those purchases have included advanced anti-infantry weapons; howitzers; surface-to-air, anti-ship and anti-tank missile systems; radars; self-propelled reactive rocket launchers; artillery and recoiling mortar systems; machine guns; grenade launchers; ammunition; armored vehicles and drones for surveillance-reconnaissance-combat missions (some of them jointly manufactured); control/command posts; as well as military radio-communication devices and intelligence technologies. Moreover, Elbit has upgraded Azerbaijan's T-72 tanks. Azerbaijan is also among potential international buyers of the Hermes-900 drone. In 2009, Azerbaijan was in negotiations with Elta and IAI to produce an observation satellite system and to jointly build Namer armored personnel carriers (Eurasianet.org, August 16, 2009; Haaretz.com, September 26, 2008; Spacewar.com, Oct 7, 2011; Sldinfo.com, October 18, 2012; Israeldefense.co.il, April 24, 2016; Jpost.com, April 16, 2016; Newsru.co.il, August 23, 2017). Under the license of "Israel Shipyards," Azerbaijan has assembled border patrol boats armed with an automatic cannon, machine guns and Spike missiles. Negotiations are currently on-going for the purchase of Saar-4.5 missile boats (Istiglal.com, August 19, 2014; September 14, 2014).
Similar threat perceptions regarding extremism and terrorism have fostered the two countries' bilateral intelligence-security cooperation, including information exchange, routine briefings, data analysis and anti-terrorist operations. Israeli intelligence operatives have helped collect human intelligence about extremist groups and to counter foreign intelligence networks. Joint cooperation in this sphere has notably thwarted planned terrorist attacks on several strategic sites in Azerbaijan. Moreover, Israeli defense companies have previously provided support to Azerbaijan for training the country's security/military personnel and bodyguards for senior officials. Israel's defense industry sector also was involved in strengthening the security systems at Azerbaijani airports and in the country's energy infrastructure (Washingtoninstitute.org, March 30, 2005; Inss.org.il, January 2015; Icwa.in, January 4, 2017; Besacenter.org, October 2014). Israeli experience in cyber security may be additionally useful for Azerbaijan when it comes to energy-infrastructure protection (News.az, December 13, 2013).
The two countries' bilateral cooperation has come under attack from numerous disinformation campaigns, including fake news stories published this past summer and later deleted, about financial links between Israel and family members of Azerbaijani President Ilham Aliyev (Armenpress.am, July 30). Additionally, Baku's relations with Tehran were previously negatively mischaracterized in controversial articles alleging Azerbaijan had concluded an anti-Iranian alliance with Israel. Supposedly, these false articles claimed, Azerbaijan had granted Israel access to its airfields for possible air-strikes against Iran; those stories also alleged Azerbaijan had allowed Israeli Mossad agents to use its territory for communication interception and aerial reconnaissance to collect intelligence on Iran. Azerbaijan's defense ministry rejected those reports, saying Azerbaijan "will never permit any country to take advantage of its land" (FP, March 28, 2012; The Times, February 11, 2012; Sputnik News, April 17, 2016).
Several factors continue to drive Azerbaijan's efforts to reach out to Israel in order to diversify its sources of military technology and weapons purchases. Most of Azerbaijan's military imports are post-Soviet weapons. Moreover, the United States recently passed new sanctions that may target countries that buy Russian arms (Docs.house.gov, July 21). Finally, Azerbaijan is reacting to Russia's growing military support for Armenia. The current military cooperation with Israel, on the other hand, helps the Azerbaijani army maintain a high level of combat capability (Azernews.az, September 12). Israel also stood by Azerbaijan in opposition to the restrictions on financial/technical assistance to this post-Soviet country mandated by Section-907 of the US Freedom Support Act (adopted thanks to lobbying by the Armenian diaspora), which was later waived to provide assistance to Azerbaijan to counter international terrorism and help with its border security (Acarindex.com, 2009; State.gov, December 30, 2003). Since Azerbaijan's main military/defense needs today are left unmet by the US and other North Atlantic Treaty Organization (NATO) countries, Israel, with its flexible customer policy, is a perfect match for Azerbaijan to access high-quality advanced weapons systems (Azernews.az, February 23, 2011).