BADRI PATARKATSISHVILI DIES IN LONDON
Publication: Eurasia Daily Monitor Volume: 5 Issue: 28
By: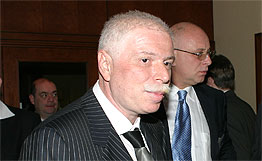 Georgian billionaire and frustrated business king of the country, Badri Patarkatsishvili, died today (February 13) in London of a reported heart attack. Patarkatsishvili had left Georgia on November 3, 2007, after bankrolling political protests against the government and instigating unrest through his fully owned Imedi Television. From London he publicly vowed to spend his "last penny" to overthrow the government of Georgia. Correctly calculating that he could outspend the Georgian state in that struggle, Patarkatsishvili had begun hiring top legal and lobbying guns in Europe and the United States.
Patarkatsishvili was an emblematic figure of the late Soviet and early post-Soviet shadow business in Georgia and Russia. He achieved success and great wealth by using connections with organized crime and state authorities in both countries at various stages of his career.
On the personal level, he became an anachronism in Russia when his close ally Boris Berezovsky fell out of the Kremlin's favor. On the level of political and business culture, Patarkatsishvili became an anachronism in his native Georgia when the government successfully pushed its agenda of reforms to the point of irreversibility. Yet he seemed to feel at least equal to the government in terms of financial power and the derivative political muscle. Patarkatsishvili's revolt against the government can be seen as a last-ditch attempt to halt Georgia's economic and political modernization, throwing the country back to the era of political disorder, shadow business, and corrupt clientelism, on which he had built and hoped to maintain his strength.
The oft-used designation of Patarkatsishvili as an "oligarch" was a misnomer in the Georgian context. Oligarchy involves a group, but Georgia never had such a group. Patarkatsishvili operated individually as the wealthiest businessman and, by 2007, claimant to the presidency.
Born in 1955 in Tbilisi, Patarkatsishvili was a minor Komsomol functionary and a participant in privatization deals during the final Soviet years in Georgia. In 1993 Berezovsky recruited Patarkatsishvili in Moscow for a top post in LogoVAZ, the automobile business at the core of Berezovsky's business empire.
Patarkatsishvili used his contacts with Georgian and Chechen organized crime groups as well as connections in the world of secret services to advance his business interests ("Russian Organized Crime," Global Organized Crime Project, CSIS, Washington, 1997; David Satter, Darkness at the Dawn: The Rise of the Russian Criminal State, Yale University Press, 2003). He was also the Russian Channel One Television (ORT)'s deputy director general, in charge of financial operations.
"Former" KGB and FSB officer Andrei Lugovoi, the suspected assassin of Alexander Litvinenko in London, was Patarkatsishvili's chief bodyguard and remained a close friend over the years.
Caught up in Berezovsky's unanticipated conflict with the new Kremlin leaders in 2000, Patarkatsishvili returned to Georgia that year. Then-president Eduard Shevardnadze characteristically made a deal with Patarkatsishvili. The businessman was personally richer than the Georgian state budget, did not display political ambitions initially, and craved honors for favors he dispensed in a traditional paternalistic style. In return for safe haven and state honors in Georgia, Patarkatsishvili invested in business ventures and funded charitable projects on a scale otherwise unimaginable in the deeply impoverished country. He became the head of the federation of Georgian businessmen, subsidized social programs and cultural activities, and on two occasions paid debt arrears for the gas and electricity consumed by Tbilisi residents. He also held court over ministers and other state officials and paid some of them.
Following the Rose Revolution, the new authorities saw no reason to challenge Patarkatsishvili's legitimate business and charitable activities. However, President Mikheil Saakashvili government's anti-corruption policies and the new business environment in the country severely curtailed Patarkatsishvili's scope for doing business in his accustomed ways. Moreover, his political influence and ability to sway the government had vanished. In 2006 Patarkatsishvili moved into moderate opposition to the government, accusing the government of violating democracy and human rights and casting himself as victim of persecution.
Meanwhile, Patarkatsishvili's relations with the Russian authorities had improved significantly. From early 2006 onward, Russia stopped requesting his extradition. Patarkatsishvili successfully mediated the sale-and-purchase of the Moscow-based Kommersant publishing enterprise between Berezovsky and Gazprom, a transaction that would not have been possible without Kremlin approval.
Patarkatsishvili launched his Imedi Television in 2003 in Georgia's meager advertising market, as a money-losing and heavily subsidized enterprise. That turned out to be a political investment to build political leverage in Georgia for possible future use. It came to that point by late 2006-early 2007, when Imedi TV moved from political neutrality toward systematically opposing the government.
Concurrently, Patarkatsishvili began financing activities by political opposition groups. He helped launch the "Georgia Without a President" campaign in October 2007, as informal leader and self-declared financier of an alliance of nine small opposition parties. Aware that it could not defeat President Mikheil Saakashvili through the normal process of elections, the alliance called for abolishing the presidential institution altogether and replace it with a monarchy (by a child under a regency). Patarkatsishvili also called for dividing the country into ten "federal" units — a prescription for chaos in Georgia. Saakashvili's November 2007 decision to call a snap election for January 5, 2008, and run for a second term of office, derailed those tactics.
As a presidential candidate, Patarkatsishvili promised to spend $1.5 billion of his own money to subsidize electricity and gas consumption for Georgia's population, pay out unemployment insurance, and finance other social programs, all within a period of 12-18 months after the election, if he were elected president. From his London base he also continued discussing alliances with other candidates and parties, consistent with his public vow to spend his entire fortune for regime change.
On December 17 through 23, Georgian authorities managed to video- and audio-record conversations in which Patarkatsishvili and his top representative in Georgia, Valeri Gelbakhiani, discussed plans for a post-election coup d'etat. On December 24 and 25, Georgian authorities broadcast those tapes for the country and the world. Once the presidential election was over, he lost legal immunity and was charged in absentia (along with Gelbakhiani) with conspiring to overthrow the government through violence. From that point on, most Georgian opposition groups distanced themselves publicly from Patarkatsishvili.
Most of Imedi TV's staff also abandoned that channel. The authorities had suspended Imedi's operations on November 7 for inciting unrest through inflammatory broadcasts. Imedi was allowed to reopen on December 12 after international intercession, but before the political misuse of the channel had been fully understood in the West. On December 26, the staff decided to suspend the channel's operations again, due to Patarkatsishvili's involvement in coup planning. In January, the authorities froze Patarkatsishvili's assets in Georgia, including Imedi TV, pending a full investigation and trial of their owner.
In his final days, Patarkatsishvili sponsored the formation of a self-styled Christian-Democrat movement to enter Georgia's parliamentary elections. At the movement's founding events in Georgia, its leaders cast themselves as champions of religious Orthodoxy as a platform from which to resist modernization. This message had also a been an integral part of Imedi TV's message. And it suggests that the anti-modernization agenda in Georgia will be carried on by others after Patarkatsishvili's death.