Bakiyev Will "Acquiesce" If Constitutional Court Calls for Early Elections
Publication: Eurasia Daily Monitor Volume: 6 Issue: 32
By: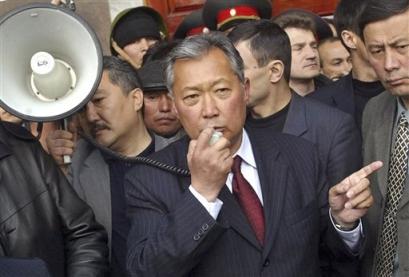 Despite low popularity ratings at home but with assured support from the Kremlin, Kyrgyz President Kurmanbek Bakiyev has declared his willingness to run for a second term. He added that he would not mind moving elections up to this year, since several political leaders have appealed to the Constitutional Court to hold the elections in 2009 instead of 2010.
The Constitutional Court was often used by former President Askar Akayev to preserve his hold on power. The court has always been under the heavy influence of the executive branch with former court chairman Cholpon Bayekova now serving as an MP from the pro-presidential Ak Zhol party. Bakiyev has continued this tradition, using the court to change the constitution and hold early parliamentary elections in 2007. Both the constitution and the elections helped Bakiyev install a loyal parliament and government, while marginalizing opposition forces.
Bakiyev's plan to run for a second term already this year is a sure confirmation of his intent to manipulate state institutions and remain president for another term. In a public address Bakiyev said that "as a guarantor of the constitution, I must abide by the main law…. If the Constitutional Court decides that elections must take place in 2009, I will submit to this [decision]" (www.24.kg, February 11).
After announcing in Moscow his decision to expel the U.S. military base from Kyrgyzstan, Bakiyev secured the Kremlin's fresh support. Bakiyev realizes, however, that Russia's support is conditional and may fluctuate. Russia will invest in the construction of the Kambarata-1 hydropower station from 2009 through 2013, a period that extends beyond Bakiyev's current presidential term. While the feasibility of the construction project remains unclear, Bakiyev will personally benefit from managing the investment flows. As several experts from Bishkek have told Jamestown, the Kambarata-1 project looks more like money laundering by the Kyrgyz leadership than a viable plan. As the project progresses, it will become clearer that the station requires more funding and better technical management. Furthermore, since Uzbek president Islam Karimov and his Russian counterpart Dmitry Medvedev agreed in January that upstream countries must construct hydropower plants in consultation with downstream countries, the realization of the Kambarata-1 plan might be stalled by Uzbekistan.
Like the snap parliamentary elections in December 2007, when Bakiyev formed his own political party within two months and manipulated election results to win the majority of seats, an early presidential vote will no doubt be rigged as well. The recipe for eliminating unwanted candidates is well known: candidates are legally prosecuted, their registration is denied, and their family members or subordinates are threatened with violence. The entire state apparatus works to support the incumbent president's reelection.
A number of politicians have expressed their intention to censor online sources that spread libel and spark racism (www.svobodanews.ru, February 12). Censorship of the internet would ostensibly be limited to ethical matters, but Kyrgyz experts are convinced that it will be a political tool to quiet opponents' voices (www.24.kg, February 10). At present, numerous blogs, online newspapers, and forums regularly criticize the government. These internet resources often contain astute information about political leaders.
In effect, Bakiyev has been repeating most of Akayev's efforts to retain power. Bakiyev is more persistent in reducing the risks of violent removal from power by controlling the security agencies, but he also faces a tougher economic situation today. Remittances from labor migrants will decline in 2009, and more jobs will be lost in Kyrgyzstan due to high taxes and the reverberations of the financial crisis in Kazakhstan. Bakiyev's government, in the meantime, has increased taxes for small businesses that undercut jobs in rural areas.
If Bakiyev waits until 2010, opposition forces could gain greater public support and he could become even less popular. Indeed, Bakiyev's public approval rating in Kyrgyzstan recovered slightly after he decided to expel the U.S. military presence.
Thanks to a fairly mild winter and low energy consumption this year, the public mood is less aggressive toward Bakiyev than was expected a few months ago. The chance of popular opposition leaders organizing the masses against Bakiyev, however, still remains. His intention to win a second term using blatantly corrupt methods might leave the opposing political forces no other option but to oust Bakiyev by force.