Baku Surprised by Berdimuhamedov's Inflammatory Statement
Publication: Eurasia Daily Monitor Volume: 6 Issue: 151
By: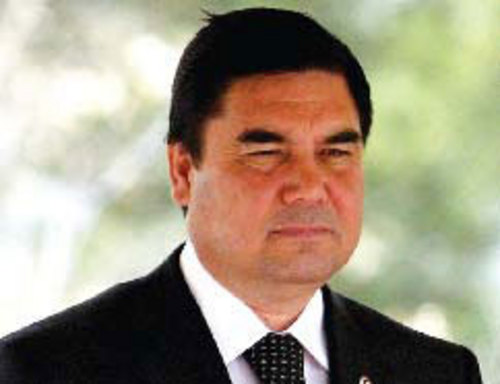 On July 24 Turkmenistan's President Gurbanguly Berdimuhamedov declared his country's intention to take Azerbaijan to the international court of arbitration (ICA) over disputed oil fields. This announcement has shocked the Azeri government. Berdimuhamedov, speaking at a cabinet meeting, blamed Azerbaijan for the unsettled legal status of the Caspian Sea and instructed his ministers to "gather all legal evidence and apply to the ICA." Berdimuhamedov also threatened transnational oil companies, working in the area, with demands for compensation, should the ICA decide in favor of Turkmenistan (Kommersant, July 24).
Political circles in Azerbaijan did not expect such a radical gesture from Ashgabat. The bilateral relationship between the two Caspian states has markedly improved in the past three years, since the death of former Turkmen President Saparmurat Niyazov (Turkmenbashi). Although Azerbaijan and Turkmenistan were at odds over the division of the Caspian Sea and the legal status of the oil fields located in the area, the "cold war" between them quickly eroded as the new Turkmen president sought to normalize relations with Baku.
Both countries have set up an inter-governmental commission to deal with economic issues. They have also agreed on the restructuring of a $44 million Azerbaijani debt and Turkmenistan has resumed the work of its embassy in Baku. Berdimuhamedov visited Baku in May 2008, which was the first such high level visit since 1996, and met with his Azerbaijani counterpart Ilham Aliyev. Both leaders have declared a "new stage" in their bilateral relations and vowed to increase mutually beneficial trade and economic projects (Radio Free Europe, May 21, 2008). As one of the first practical steps in this direction, an international oil and gas conference was held in Baku in September 2008, which focused on bilateral energy issues. President Aliyev visited Ashgabat together with the Turkish President Abdullah Gul in November (Trend News Agency, November 21, 2008).
The steadily warming relationship increased hopes in European circles and amongst investors that Turkmenistan would gradually start exporting its gas to European markets through Azerbaijan and thus enhance the chances for the U.S. and E.U.-backed Nabucco pipeline. Turkmenistan, with an estimated fifth largest gas reserves in the world, presents a valuable opportunity for Eastern European countries to reduce their energy dependence on Russia for the import of natural gas. On July 13 the prime ministers of Turkey, Romania, Bulgaria, Hungary and Austria finally agreed and signed an inter-governmental agreement on the construction of the $11.5 billion Nabucco pipeline (EDM, July 17).
However, the new and unexpected dispute emerging between Baku and Ashgabat, not only risks the future of Nabucco but might also impact negatively on other regional projects. The prospects for the resolution of the Caspian Sea's legal status would also be severely diminished should Turkmenistan take Azerbaijan to the ICA. Much needed foreign direct investment into Turkmenistan's gas sector might be affected as a result of the renewed uncertainty over the disputed fields.
Although Baku has avoided any over-reaction to the controversial statement made by Berdimuhamedov, several individuals closely associated with the government have already spoken out. Rustam Mammadov, a professor at Baku state university and the most prominent lawyer in the country in the field of international law, warned that "Turkmenistan will ruin the negotiations on the legal status of the Caspian Sea and will not gain anything from this appeal. There are no normative acts on this problem and the dispute should be resolved based on mutual agreement and trust" (www.day.az, July 25).
One Member of Parliament Vahid Ahmadov, an economist, suggested that any disagreement between the two countries should be resolved in working meetings. Nonetheless, the political scientist Rasim Musabeyov stated that "the court can make a legal decision, which might appease both sides" (www.day.az, July 25).
However, most experts in Azerbaijan believe that appealing to the court might finally put an end to this decade long dispute. There are also those who believe that Turkmenistan is acting on orders from Moscow, in order to disrupt the prospects for the Nabucco pipeline. However, relations between Russia and Turkmenistan have recently been strained and Ashgabat has openly expressed an interest in alternative ways to export its gas to E.U. markets. It is unclear in Baku as to whether Turkmenistan's president has made a calculated move, or spoken rashly. In any case, Azerbaijan seems determined to maintain normal relations with its Caspian neighbor for the time being.