Baku's Plan to Reach Nakhchivan via Iran Unsettling More Than South Caucasus
Publication: Eurasia Daily Monitor Volume: 20 Issue: 170
By: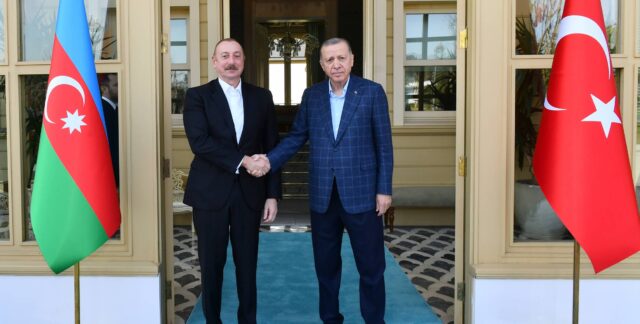 Baku and Ankara have dropped plans to establish a land corridor to Azerbaijan's Nakhchivan exclave via Armenian territory. Yerevan's reluctance to reopen the Zangezur Corridor and Western and Iranian opposition to any border changes in the South Caucasus largely motivated this pivot. The Azerbaijani government has announced that it will instead expand the existing land route to Nakhchivan via Iran. Baku has even declared that it is no longer interested in developing a corridor passing through Armenia (News.ru, October 25). The diplomatic maneuvering over the Iranian route is already unsettling the geopolitics of the immediate region and the broader international community (Forbes.ru, October 30).
The obstacles to such an extensive undertaking are enormous. Iran has often been at odds with Azerbaijan and Türkiye, and neither seem inclined to trust that Tehran will not block the land route. Iran, moreover, remains under Western sanctions, thus limiting the value of the route passing through Iranian territory that provides a link between Türkiye and Central Asia (see EDM, September 23, 2022). Supporters of Armenia recognize that Azerbaijan's new focus could leave Yerevan without a transformative peace treaty with Baku. These complications may render Azerbaijan's move in the Iranian direction as nothing more than another effort to pressure Yerevan to reach a broader peace agreement on Baku's terms.
Azerbaijan has long sought a land corridor between its mainland and Nakhchivan. The Azerbaijani population views the separation imposed by Joseph Stalin as an affront to its national dignity and a limitation on its ability to expand ties with Türkiye and become a hub for east-west transit. In the past, some even talked about a land swap between Azerbaijan and Armenia, with Baku giving up Karabakh and Yerevan ceding the corridor. Widespread international opposition to any border changes due to the fear of setting off more conflicts prevented any progress on that arrangement (see EDM, June 12, 2018, December 14, 2021). The tripartite agreement signed by Azerbaijan, Armenia, and Russia ending the Second Karabakh War in November 2020 provided for the restoration of Baku's full control over Karabakh. The Azerbaijani government initially assumed that it did not need to give up anything to establish a corridor between Azerbaijan proper and Nakhchivan after Yerevan agreed to reopen all transportation and communications links in the region (EDM, January 25, 2021).
Those hopes were dashed when Armenia began dragging its feet in reopening the Zangezur Corridor. Azerbaijani President Ilham Aliyev declared that, unless there was movement soon, Baku was ready to take all steps to enforce its will in opening the corridor (Turan, April 21, 2021; Nezavisimaya, December 8, 2021). Azerbaijan initially appeared to have Türkiye's full support in this endeavor (see EDM, April 21, 2021, August 20, 2021, November 4, 2021). Moscow and the West expressed their opposition to Baku against any military action. Tehran sent its troops north to indicate that it would respond forcefully if Azerbaijan took any steps in that direction (see EDM October 6, 2021, November 1, 2022, May 5, 2022). In the end, both Azerbaijan and Türkiye backed down.
The shift away from development of the Zangezur Corridor was formalized at the end of September when Aliyev and his Turkish counterpart, Recep Tayyip Erdogan, met in Nakhichevan. Both reiterated their preference for the Zangezur route and asserted that its development would greatly benefit Armenia as well. They declared that Baku and Ankara, nevertheless, are now ready to develop the route via Iran due to Yerevan's ongoing opposition to Zangezur. The new initiative will connect the two Turkic countries, representing another step toward solidifying the Turkic world, and promote east-west trade more generally (RIA Novosti, September 25; Interfax, September 26; Republic of Azerbaijan Ministry of Foreign Affairs, accessed November 2). Those declarations were followed by Aliyev's announcement in October that Iran had agreed to the arrangement. As a result, Baku stated publicly that it is already modernizing those roads leading to Iran and building a bridge over the Aras (Vestikavkaza, October 27, 30; Sputnik Azerbaijan, October 30).
The international response to Azerbaijan's pivot on this matter has been rather muted. Russia's war against Ukraine and the Israel-Hamas conflict have overshadowed these developments. Russian officials have not criticized either Baku or Tehran regarding the new arrangements. They have, however, insisted that any agreements must not harm Moscow's north-south trade corridor, nor lead to a distancing of the parties involved from Russia. Some Russian commentators have even suggested that this turn toward Iran will leave the South Caucasus without a peace accord between Azerbaijan and Armenia. They contend that this may even be the true explanation for Baku's latest move (Interfax Azerbaijan, October 26; Forbes.ru, October 30).
The consequences of the shift in Baku's approach are certain to reverberate in a wider geopolitical sense and perhaps come sooner than expected. Azerbaijan's warming to Iran will call into question its relationships with the United States and other Western countries that have imposed sanctions on Tehran. More immediately, the war in the Middle East is likely to make it difficult for Baku to continue its rapprochement with Iran. The normalization of relations between Baku and Tehran is critical to the functioning of the land corridor connecting Azerbaijan proper to Nakhchivan, given that Azerbaijan has long been an ally of Israel (see EDM, November 10, 2020). Iran is Israel's most committed enemy. Consequently, Azerbaijan's decision to use the Iranian route to Nakhchivan will unsettle many of Baku's traditional relationships. The undermining of those relationships may make it impossible for Azerbaijan to move forward with its restructured approach.
Those risks portend an even more ominous danger. If the war in the Middle East continues and Baku decides that it cannot count on the Iranian route, Azerbaijan may decide to seize the Zangezur Corridor passing through Armenian territory. Such a move would almost certainly draw Iran, Russia, and Türkiye into a burgeoning conflict. For that reason, the Nakhchivan corridor may very well become the trigger for another outbreak of violence in the South Caucasus.