Baltics Sharply Increase Defense Expenditures
Publication: Eurasia Daily Monitor Volume: 14 Issue: 5
By: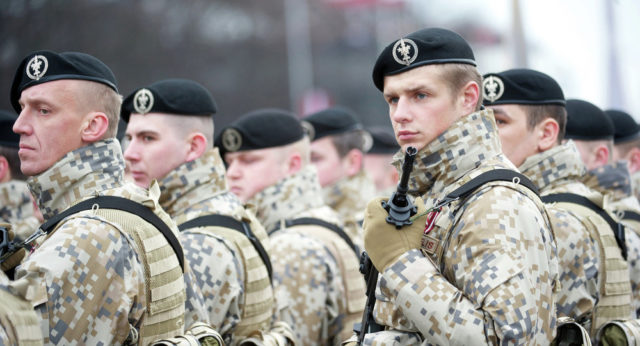 By approving additional defense spending in their national budgets for 2017, the Baltic States—Lithuania, Latvia and Estonia—strongly answered Russia's aggression in Ukraine. Their budget figures, adopted this past December, mean not only greater resources for their own national defense, but also a significant step forward in meeting their obligations to the North Atlantic Treaty Organization (NATO) to spend at least 2 percent of their GDP on defense. Estonia has met this requirement for years, while Latvia and Lithuania will reach the 2 percent threshold by 2018. Referring to analysis done by the consulting firm "IHS Markit," the Ministry of Defense of Latvia indicates that, since 2014, Latvia and Lithuania have the two fastest-growing defense budgets in the Alliance, and this growth rate will continue until next year (Mod.gov.lv, accessed January 16).  Since 2014, when Russia annexed Ukraine's Crimean Peninsula, Riga and Vilnius have, on average, increased their defense spending by about a third each year.
Estonia's defense spending as compared to its GDP has already far exceeded that of its two Baltic neighbors. And this past December, the Estonian legislature passed an additional 28 million euro ($30 million) increase to annual defense expenditures, for a total of 477 million euros ($513 million) for 2017, which will equal 2.17 percent of the country's GDP. Last year's defense expenditures corresponded to 2.07 percent of Estonia's GDP (Kmin.ee, accessed January 16). The country's total state budget for this year projects revenues of 9.48 billion euros ($10.18 billion), while spending and investments will equal 9.65 billion euros ($10.35 billion), running a modest deficit (Bnn.com, December 20, 2016).
This year's defense priorities for Estonia are procurement of infantry fighting vehicles, new long-range anti-tank missile systems and self-propelled guns, as well as replenishing equipment and supplies for the wartime units of the Defense Forces. Additionally, Estonia will continue the installation of a fence and other security infrastructure along its eastern border, which will cost 20 million euros ($21.5 million) this year (Kmin.ee, accessed January 16).
Latvia, on the other hand, is still on track to reach NATO's required 2 percent defense spending threshold, according to the progressive budget plan adopted in 2015. In 2016, Latvian defense spending made up 1.4 percent of the country's GDP. In 2017, state funds for the military will make up 1.7 percent of GDP and, as of 2018—2 percent. Total 2017 state budget revenues are planned at more than 8 billion euros ($8.6 billion), and expenditures at $8.4 billion ($9 billion) (Leta.lv, November 24). As recently approved by the Latvian Parliament, the defense portion of the national budget will be 449.57 million euros ($482.85 million)—an increase over last year of 98 million euros ($105 million) (Mod.gov.lv, accessed January 16).
Drilling down on the approved 2017 defense budget itself, 33 percent of the funds are to be allocated to investments, 28 percent—for maintenance, and 39 percent—for staff and personnel costs. The identified defense spending priorities will be on development and infrastructure projects, intelligence, air surveillance and air defense capabilities, as well as troop equipment. Also this year, the defense ministry will continue with its Land Force Infantry Brigade mechanization project.  Additional funding this year will be shifted toward bolstering the country's eastern border as well as strengthening the capacity of the Security Police and the Constitution Protection Bureau (National Security Authority) (Mod.gov.lv, accessed January 16).
Additional details of Latvia's budgetary priorities for defense can be found in the National Armed Forces (NAF) Development Plan 2016–2028, which was adopted by the government in late November of last year. This document states that infrastructure development will receive more than 8 percent of the total annual defense budget, and about 20 percent will be allocated for equipment acquisitions. Taking into account the international and regional security situation, the NAF's medium-term development goals, according to the NAF Development Plan, must be aimed to improve early-warning capacity, airspace surveillance, air defense, mobility, land-combat capabilities and Host Nation Support capability (Leta.lv, November 29, 2016). Additionally, in order to boost recruitment, more funds this will be spent to extend soldiers' "motivation packages." At the same time, the NAF's structure will be revised, delegating specific tasks to civilian staff and businesses while outsourcing certain services (Lsm.lv, December 20, 2016).
The largest of the three Baltic States, Lithuania has passed a budget for 2017 that will see expected revenues of 12.35 billion euros ($13.26 billion) and total expenditures of 12.63 billion euros ($13.56 billion), resulting in a deficit of 0.7 percent of GDP (Finmin.lrv.lt, accessed January 16). Lithuania's parliament gave up the goal of a balanced budget for 2017, prioritizing national security by increasing defense spending amid tensions with neighboring Russia, despite the Lithuanian central bank's warnings against such a fiscal policy (Reuters, December 22, 2016). Compared to last year, Vilnius has boosted its defense expenditures by about 150 million euros ($161 million)—a 25 percent increase over 2016—to a total of 723.5 million euros ($777 million), which equals 1.8 percent of the country's GDP (Kam.lt, accessed January 16).
Lithuanian Ministry of Defense officials indicate that additional financing will be used to modernize the Army and troop equipment. The Army will acquire infantry fighting vehicles, as well as anti-aircraft and anti-tank weapons. The biggest part of the national defense budget this year will be used to enhance the Armed Forces' combat and combat-support capabilities (Kam.lt. accessed January 16). Further priority areas for Lithuanian defense appropriations this year will be the development of combat-training support capabilities and upgrading the military's command-and-control (C2) as well as cyber-security capabilities.
Lithuania has met NATO's defense budget allocation requirements since 2015. According to these requirements, member states' appropriations funding for military personnel cannot exceed 50 percent while major procurements and upgrades of weaponry and materiel cannot take up less than 20 percent of the national defense ministries' annual appropriation budgets (Defense-aerospace.com, October 15, 2016). Lithuania's 2017 defense budget allocates around 43 percent of appropriations funds for personnel and around 43 percent for contracts (investment and other property, weaponry and military equipment, war reserves, as well as strategic and non-expendable stocks). Around 14 percent of all appropriations funds are to be used to cover running costs (Kam.lt, accessed January 16).
Coming into the new year, Latvia and Lithuania have adopted the largest defense budgets the two Baltic States have had since regaining their independence in 1991. As such, these countries are demonstrating a sound political consensus and growing cohesion within their societies regarding national defense, which suggests a smooth road ahead to reach at least 2 percent of GDP for defense spending by 2018 and beyond.