Balts Again on Collision Course With Moscow Over Georgia
Publication: Eurasia Daily Monitor Volume: 11 Issue: 18
By: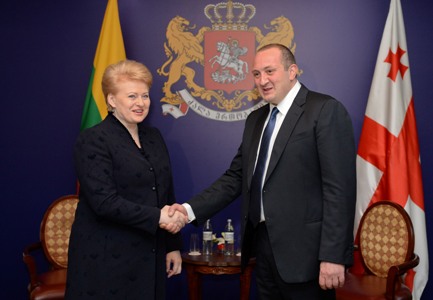 Moscow commentators have already denounced the Baltic countries for supposedly helping to organize the Ukrainian revolution (windowrussia.ruvr.ru/2014_01_24/Baltijskij-sled-na-kievskom-evromajdane-5748/), and they have condemned Estonia, along with Finland, for supposedly stirring up the Finno-Ugric nations of the Middle Volga region of the Russian Federation (apn.ru/opinions/article30878.htm). But Moscow and the Baltic capitals appear headed for a real collision in Georgia where Baltic officials, in contrast to many other Western governments, have remained just as actively engaged with Tbilisi as they were when former Georgian president Mikheil Saakashvili was in office.
If relations between Tbilisi and some Western governments have cooled since the change of power in Georgia, they have not between the new Georgian government and the leaderships of Estonia, Latvia and Lithuania. According to a new commentary by Sergey Redeka on Rubaltic.ru, a portal that reliably presents the Russian perspective on Baltic issues, relations between Georgia and the three Baltic countries are, if anything, closer than they were (rubaltic.ru/article/politika-i-obshchestvo/deja-vu-gruziya-snova-uchitsya-demokratii-u-pribaltiki23012014/).
Symbolically, if only by accident, the first foreign trip of incoming Georgian President Giorgi Margvelashvili was to Vilnius for the Eastern Partnership summit, Redeka notes. And the Russian analyst stresses that while there, the new Georgian leader had bilateral talks with his Estonian, Latvian and Lithuanian counterparts as well as with the president of Poland. But these meetings did not take place in isolation: In January and November of last year and in early January 2014, Georgian officials, including Parliamentary Speaker David Usupashvili, visited the three Baltic countries and, in each case, signed cooperation accords.
What is striking about all this is not that it is new but that it is continuing. Many Western governments, at least early on, were major supporters of Saakashvili, but they became much cooler toward him at the end of his time in office and much cooler toward Georgia as such when he was replaced. Estonia, Latvia and Lithuania, in contrast, were major supporters of Saakashvili even during the August 2008 war and are now active supporters of the new Georgian Dream leadership. Indeed, over the past year, while Lithuania has held the rotating presidency of the Council of the European Union, Vilnius became the chief European supporter of Georgia internationally in both the EU and the North Atlantic Treaty Organization (NATO).
According to Redeka, the Baltic leaderships were quite willing to overlook Saakashvili's shortcomings and they are more willing to overlook the shortcomings of his successors than are most Western governments who, perhaps because they were once burned, are now twice shy. That makes Estonia, Latvia and Lithuania especially key players in Georgia's relationship with Europe and the West. Moreover, it inevitably adds to the problems Moscow already has with the Baltic governments because of continuing tensions between the Russian Federation and Georgia over the breakaway republics of Abkhazia and South Ossetia and other issues, the Russian analyst argues.
Because of their commitment to the idea of "exporting democracy," Redeka says, the Baltic countries are eager to find interlocutors like Georgia that share their views. But in doing so, he continues, they have ignored both the ways in which Tbilisi is exploiting them and the ways in which such relationships, if not kept in check, can lead to disaster for all sides.
According to Redeka, the Baltic countries in general and Lithuania in particular have become for Georgia "almost the main corridor for illegal labor migration into the European Union." Vilnius officials acknowledge that in the past several years, ethnic Georgians have made up more than half of the illegal immigrants it has detained. Of course, Redeka suggests, those figures reflect only the ones Lithuanian officials have caught and not what must be the far larger number of illegals they have not. That, of course, creates problems in the Baltic countries and in their relationships with other EU states—something he says the three governments need to remember.
But even more seriously, Baltic involvement in Georgia is pushing that country in the direction of Ukraine, which threatens the South Caucasus country with instability and even chaos. The Baltic governments should recognize—and Redeka's article suggests that Moscow will ensure that other governments do—that the events now taking place in Kyiv are "almost the same" as those that took place in May 2011 in Georgia, although fortunately at that time the Tbilisi authorities were able to keep things from spiraling out of control. Whether the new Georgian authorities will be able to do so if presented with a similar challenge, Redeka implies, is an open question.
Seeking to isolate Georgia by attacking Tbilisi's friends in the West is an approach the Russian government has adopted for more than a decade. But the Redeka article suggests that the situation may now be deteriorating and that Moscow and the Baltic countries are on a collision course over Georgia. By underlining this danger, the Russian commentator clearly hopes that the Balts or their allies will change course first.