Bay of Bengal Littorals in Chinese Strategic Calculus
Publication: China Brief Volume: 10 Issue: 14
By: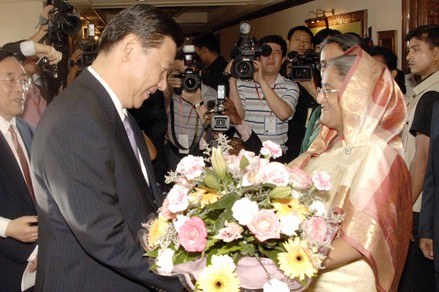 China appears to be zealously guarding its maritime footprint in the Bay of Bengal through politico-economic and strategic initiatives. Two high level visits in June by Chinese Vice President Xi Jinping to Bangladesh and Premier Wen Jiabao to Burma (Myanmar) signal the urgency with which Beijing is moving to counter Indian pro-activeness to wean these states away from China's growing influence. These high profile visits also come at a time when Bangladesh, Burma and Sri Lanka are warming up to New Delhi.
The new government in Dhaka led by Prime Minister Sheikh Hasina is favorably inclined toward India (Atimes.com, January 16). Naypyidaw is also expanding its bilateral political, economic and defense relations with India, which include the transfer of military hardware (Burma News International, February 25; Idsa.in, November 2009). After the defeat of the Tamil-insurgency led by LTTE in 2008, Sri Lanka became favorably positioned toward India. According to Sri Lankan President Mahinda Rajapaksa, Sri Lanka and India are friendly neighbors whose cultural ties date back to ancient times (Times of India, June 28).
New Government and New Initiatives
Vice President Xi Jinping's visit to Bangladesh in early June was a 'return visit' to the one paid by Prime Minister Sheikh Hasina in March this year after coming to power in 2009. Although protocol and logic demand that the return visit should have been by Chinese Premier Wen Jiabao, Xi Jinping's visit carried added salience because Xi is a powerful functionary of the party and is slated to succeed Hu Jintao as the lead helmsman of the CCP and the PLA (Sify.com [India], June 23).
During the visit, the two sides signed infrastructure development grants totaling 40 million yuan ($5.8 million) as a follow up to the three treaties and a Memorandum of Understanding (MoU) to expand bilateral co-operation signed during Sheikh Hasina's visit to China in March. Soon after Xi's visit, Prime Minister Sheikh Hasina notified parliament that a two-phase infrastructure project to link Bangladesh (Chittagong) to China (Kunming) through Burma would be implemented with Chinese assistance (The Economic Times, June 17). In the first phase, Bangladesh and Burma will be connected by a two kilometer road from Ramu to Gundum (in Bangladesh) and a 23 kilometer road between Taungbro and Bolibazar (in Burma). In the second phase Burma will construct a 110 kilometer road between Bolibazar and Kyanktow that will finally link up with Kunming (in China). The project will eventually connect Bangladesh with ASEAN (Association of South East Asian Nations) countries.
Just before Xi Jinping's visit, the Bangladeshi Foreign Minister noted that, "China is the largest defense hardware supplier to Bangladesh. So talks on enhancement of the defense cooperation will be in the agenda." Boosting naval capability has been high on the agenda of the Bangladesh government, particularly after the October 2008 standoff between Bangladesh and Burma over exploration activity in the disputed offshore oil and gas fields in the Bay of Bengal (Reuters, June 13). China has been a major supplier of military hardware to the Bangladesh military, particularly its navy. According to a Bangladesh Navy report, its current force structure is obsolete and of the 82 ships, only 25 vessels are less than a quarter-century old. The antiquated naval fleet thus undermines its operational capability and deployment (The Daily Star [Bangladesh], June 24, 2009).
The Bangladesh Navy has an ambitious agenda to develop a three dimensional navy to thwart any pressures from India and Burma, with whom it has unresolved maritime boundary disputes. The Bangladesh Navy reportedly plans to acquire three frigates, three large patrol aircraft, 12 patrol craft, two landing craft utility (LCU), one hydrographic unit, one salvage vessel, four missile boats and also to equip some ships with missiles (Stratgypage.com, July 2).
Submarines are also apparently top on the agenda and the Bangladesh Navy report notes, "Before purchasing the submarine, steps have already been taken to build infrastructure and train up personnel. When the preparatory work is completed, it will be possible to initiate steps to purchase a submarine by 2019" (The Daily Star, June 24, 2009).
In November 2009, Bangladesh announced its space program (estimated to cost $150 million to $200 million) with plans to launch a satellite. Raziuddin Ahmed Raju, Post and Telecommunications Minister has stated, "We've already started talking to different countries including the United States, Japan and China, to help us launch our own satellite" (The Daily Star, November 27, 2009). Apparently, during Vice President Xi Jinping's visit, an offer of assistance was made by China to launch a satellite for Bangladesh in order to develop its 'telecommunications services, map natural resources, broadcast television programs and obtain meteorological data for disaster warnings' (Tehrantimes.com, June 16).
Burma still a favorite for China
While the Chinese media waxes lyrical the message of political reform, Premier Wen Jiabao's visit to Burma actually had a strong thrust toward infrastructure projects including oil and gas pipelines, mining projects, a hydropower station and aid packages. Among these projects, the pipeline is of critical importance to China for overcoming the vulnerability of the energy supply chains that run across the Indian Ocean and the Strait of Malacca. This 2,800 kilometers long network of two pipelines, one each for gas and oil, is being built at a cost of $2.54 billion, of which China's CNPC oil firm has a 50.9 percent stake and the Burmese government has 49.1 percent (Defenseindustrydaily.com, June 30). The oil pipeline will terminate at Kunming in Yunnan province, while the gas line will run to Guizhou and Guangxi (China Daily, July 3). Burma has huge oil and gas reserves estimated at 700 million barrels of oil and 444.3 billion cubic meters of natural gas (China.org.cn, February 8).
Perhaps the most interesting agreement between the two sides involved the China North Industries Corporation (NORINCO) signing a copper mining contract in Burma. NORINCO is widely known as one of China's largest arms manufacturers and a wing of the PLA, and so its interest in mining elicits intrigue. Nevertheless, the NORINCO website has noted that the project serves two purposes of "strengthening the strategic reserves of copper resources in [China], and enhancing the influence of our country in Myanmar [Burma]" (Norinco.com, June 10).
China has been known to supply a variety of military equipment and has developed military infrastructure to build up the Burmese Armed Forces, officially known as Tatmadaw. The Burmese Army has received significant quantities of military hardware including tanks, AFVs, Artillery, air defense equipment, utility vehicles and trucks, and a variety of personal weapons of Chinese origin [1].
The Burmese Air Force is essentially made up of Chinese aircraft MiG-21 (60 J-7s) and MiG-19 (12 J-6 and 36 Q-5) variants (Defenseindustrydaily.com, June 30). In 2009, Burma placed orders for 50 K-8 Karakorum (a joint venture between China and Pakistan and the export variant designated as JL-8) jet trainers and light attack aircrafts (Mizzima.com, June 18). These are in addition to the 12 K-8 aircrafts purchased in 1998. In 2009, Myanmar signed a contract for Russian MiG-29s at a cost of nearly $570 million (Irrawaddy.org, June 15). The Burmese Navy has also received a variety of small platforms and missiles (C-801). In the aftermath of Cyclone Nargis in 2008, as many as 25 Burmese naval ships sank and the current force structure is highly depleted.
It should also perhaps be noted that the revenue from the Chinese pipeline will ensure that the Burmese government has the resources to continue purchasing these arms and, more troublesome, it's effort to acquire more advanced weapons. Further, the worrying links between Burma and North Korea, particularly in the nuclear domain, can potentially destabilize security situation in the Bay of Bengal (Idsa.in, June 16).
Yet, China's other push has been to develop naval infrastructure, which reportedly includes berthing facilities and shipbuilding yards at a number of places along the Burmese coast and wharfs on islands such as the Coco Island (Indoburmanews.net, April 23, 2009). Indian analysts believe that these could be made available to the PLA Navy when it is deployed in the Bay of Bengal/Indian Ocean [2]. More significantly, China has also established in Burma SIGINT (signal intelligence) and ELINT (electronic intelligence) monitoring stations at Hianggyi, Kyaukpyu, Zadetkyi, Mergui, and Great Coco Island (Southasiantribune.com, June 29), and the latter is likely meant to monitor Indian naval activity in the Andaman and Nicobar Islands, which are home to a variety of India's strategic assets, such as missile sites, airfields, military establishments and monitoring stations. Perhaps what is significant is that these facilities can also monitor missile launches from Chandipur-at-sea along the Orissa coast in the Bay of Bengal, the test site for Indian missile programs.
Primacy of Neighbor
Sri Lanka also appears to be warming up to India. After his successful visit to New Delhi, the Sri Lankan President Mahinda Rajapaksa has been upbeat in the local media about the bilateral relationship. Yet, Rajapaksa maintained that Sri Lanka is free to invite any country to develop infrastructure in that country. Hambantota in the south is currently being developed as a major city that will have an international airport and a deepwater modern port, which is being built with Chinese assistance (Times of India, June 28). Dismissing domestic fears as well as Indian concerns that the Hambantota port was being developed for use by China, Rajapaksa reassured that, "The Chinese will come to Sri Lanka, build some projects and go, but the Indians will come here, they will build and they will stay. This is the difference in our relations with China and India" (Times of India, June 28).
National interests and priorities
Bangladesh, Burma and Sri Lanka appear to have adopted an equidistant approach to managing their relationships with China and India. At the same time, the countries in the sub-region are exuding a newfound confidence in regional affairs and are attempting to leverage their geostrategic location in the Bay of Bengal by giving equal priority to their engagements with India and China. After all, these countries would not like to be caught in a situation where they must choose between the two Asian giants.
For their part, China and India are eager to woo these states and exercise influence. For China, the 'Irrawaddy Corridor' that links Kunming in Yunan to the Bay of Bengal through Burma and Bangladesh offers land-based maritime access that is critical for the development of its western and southern regions. The corridor also gains salience in terms of transporting gas from Burma's offshore platforms to Yunan as well as in overcoming the vulnerability of its shipping in the strategic Southeast Asian choke points. In fact, the 'Irrawaddy Corridor' is similar to the 'Karakoram Corridor', which links Xinjiang-Pakistan onward to the Persian Gulf with access to energy sources in the Persian Gulf. In spatial and strategic terms, access and basing arrangements particularly in Gwadar in the Arabian Sea and Chittagong and Burmese ports in the Bay of Bengal ensure a strategic initiative of China to check Indian advances in South Asia.
India considers the Bay of Bengal as its own lake and a strategic maritime space for its politico-diplomatic initiatives toward the Southeast Asian region. New Delhi is conscious of China's growing strategic initiatives in the Bay of Bengal and has taken politico-military and economic measures to reduce Chinese influence there. These initiatives have so far delivered the desired dividends of maintaining stability. Yet, the big challenge for both India and China will be to address the ability of Bangladesh, Burma and Sri Lanka to exercise strategic autonomy, even if it is limited, and thereby minimize the probability that the sub-regions become a source of instability.
Notes
1. "China's Myanmar Dilemma", International crisis Group, Asia Report N°177 – 14 September 14, 2009; B. S. Sachar, "Military Diplomacy Through Arms Transfers: A Case Study of China", Strategic Analysis, Volume 45, No 2, April 2004: 290-310.
2. Interview with retired Indian navy officers, July 6, 2010.
[The views expressed in the above article are the author's own and do not reflect the policy or position of the Indian Council of World Affairs.]