Beijing Prepares for APEC Summit Amid Possible Sino-Japanese Thaw
Publication: China Brief Volume: 14 Issue: 20
By: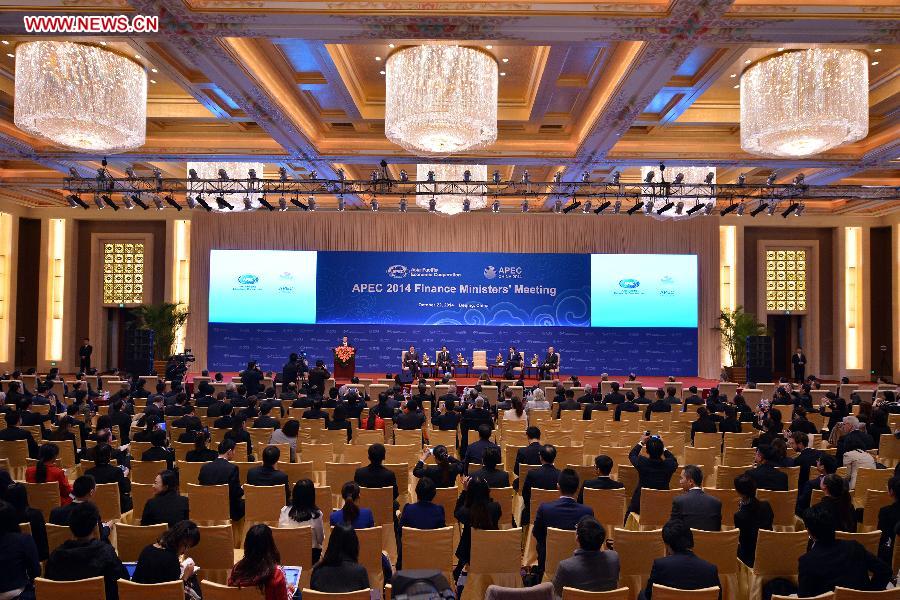 U.S. Secretary of State John Kerry's meetings with Chinese Minster of Foreign Affairs Yang Jiechi in Boston on October 17–18 marked the end of preparations by senior-level officials for the 22nd Asian Pacific Economic Cooperation (APEC) summit and turned the attention to the leaders' meetings in Beijing this November. Several days later, China's state-run People's Daily published a front-page article, under the pseudonym Zhong Sheng, about the upcoming meetings. Beijing has seized its platform as host to pursue political gains and take the driver's seat in its most challenging relationships—the United States and Japan.
The APEC summit provides China the opportunity to outline its vision for Asia's economic future. [1] The Zhong Sheng article outlined China's goals for the two-day APEC meeting, emphasizing its informal style and reasserting, "China has always raised high the banner of peace, development, cooperation and 'win-win' " (People's Daily, October 21). This reflects China's decision to carry over its "peace through development" approach to regional diplomacy to the summit (see China Brief, July 17). The article also echoed the Ministry of Commerce, which stated that China seeks to: "promote the Asia Pacific region's economic integration; advocate innovative development, reform and growth; and strengthen all parties' online communications and infrastructure development" (People's Daily, October 21). China also plans to pursue the Free Trade Agreement of the Asia Pacific (FTAAP), a regional FTA that was first suggested at APEC's 2004 meeting. The FTAAP may bridge the gap between the two major competing regional FTAs—the Regional Comprehensive Economic Partnership (RCEP), led by China, and the Trans Pacific Partnership (TPP), led by the United States—but must accommodate so many countries that it will likely be difficult to pursue.
Beijing has sought to use the upcoming talks between Chinese President Xi Jinping and U.S. President Barack Obama, planned to be held after the multilateral summit, to put the U.S.-China bilateral relationship back on track and to look forward to 2015. High-level meetings between National Security Advisor Susan Rice and President Xi in September, as well as Secretary Kerry's meetings this month, have been touted as largely smoothing over the challenging summer, including a near-collision between U.S. and Chinese aircraft in August over the South China Sea and the disappointing, if expected, lack of deliverables at the July Strategic and Economic Dialogue. China's desire to refocus the relationship on a more positive footing was evident in Minister Yang's comments to Rice that "both parties should appropriately control their differences and sensitive areas, and ensure the U.S.-China relationship carries a non-confrontational, mutually-respectful and 'win-win' cooperation forward for constructive development" (China Online, September 16). Xi and Obama's meeting will be watched carefully to see if the narrative of the relationship can be recalibrated.
Similar to its APEC-focused engagement with the United States, China has ostensibly sought to improve relations with Japan by hinting at the potential for a long-awaited meeting between the two leaders at the summit—but has set a high price for Japanese Prime Minister Shinzo Abe to pay in order for the meeting to go through. With the Sino-Japanese relationship at its lowest point in years—China has vehemently criticized Abe's agenda to reinterpret the constitution and his visits to the Yakashuni Shrine. Given the fact that there has been no meeting between the two leaders for nearly two years a simple handshake at the summit would be a major step forward and hold also significant symbolism for renewed rapprochement between the two Asian powers. The Chinese press continues to play a game of "will he or won't he" concerning Xi's potential meeting with Abe, despite Western and Japanese media reporting that Xi and Abe have reached a tentative agreement—conditioned on Abe "acknowledg[ing] that China has a case as well" to the Senkaku (Diaoyu) Islands (New York Times, October 18; Mainichi, October 16). Zhang Jingwei, a researcher at China's Charhar Institute, wrote several days later, "it is still unclear whether or not there can be a 'Xi-Abe meeting' of Japanese and Chinese leaders at Beijing's APEC summit" (China Online, October 20). Zhang repeated the two conditions that China has set for Xi to accept a meeting with Abe: "acknowledge the Diaoyu [Senkaku] Islands are disputed, and Abe must unequivocally not go to Yasukuni Shrine." Reflecting Beijing's decision to leverage Japan's much-sought meeting into concessions from Tokyo, Zheng contended that summit meetings between Chinese, Japanese and South Korean leaders were a "trilateral game" and "in fact [a reflection of] profound changes in Northeast Asia's geopolitical situation." When Xi likely meets with Abe, the Chinese president is now in a position to turn the event into a magnanimous gesture from the high ground.
China has also used its chairmanship of APEC to expand international cooperation on its efforts to fight Xi's anti-corruption campaign abroad. In August, APEC countries agreed to establish the APEC Network of Anti-Corruption Authorities and Law Enforcement Agencies (ACT-NET), which seeks to enhance information sharing and law enforcement cooperation on corruption issues (21st Century, August 23). China will host the initiative in its first year in 2015. With a reported 150 "economic fugitives," mostly corrupt officials, living in the United States, enhanced bilateral cooperation on one of Xi's major policies is a strong signal by the Xi administration to Chinese Communist Party (CCP) cadres back home and a positive development for Beijing in its relations with Washington (Beijing News, August 22).
With Russian President Vladimir Putin also expected to attend the summit and a planned private meeting with the Chinese president, Xi will be very busy catering to a wide range of bilateral relationships. The question remains if Xi can craft one inclusive economic vision of Asia for all of his guests, or if he will play favorites—and if so, who he will decide to exclude.
Notes
This flows from China's "home field diplomacy" (zhuchang waijiao), which Chinese President Xi Jinping began developing this year with his May speech to the Conference on Interaction and Confidence Building Measures in Asia (CICA). His CICA speech promoted Xi's vision of Asian security by Asian nations—notably excluding the United States (see China Brief, May 23; Ministry of Foreign Affairs, May 21).