Beijing Seeks Paradigm Shift in Geopolitics
Publication: China Brief Volume: 10 Issue: 5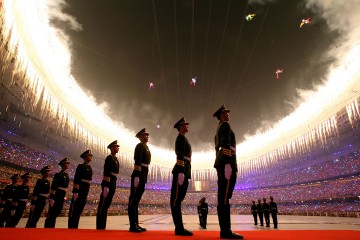 China's on-going tussle with the United States over issues including Taiwan, Tibet and trade is in a sense nothing new. For more than two decades, Sino-U.S. relations have periodically gone through rough patches over these and related causes of disagreement. What is new is China's much-enhanced global clout in the wake of the world financial crisis, which is coupled with a marked decline in America's hard and soft power. More importantly, the Chinese Communist Party (CCP) leadership is gunning for a paradigm shift in geopolitics, namely, new rules of the game whereby the fast-rising quasi-superpower will be playing a more forceful role. In particular, Beijing has served notice that it won't be shy about playing hardball to safeguard what it claims to be "core national interests."
The pugilistic turn in China's Great Leap Outward is stated by several well-known academics and advisers to the Chinese government. According to the Li Wei, president of the high-profile China Institute of Contemporary International Relations (CICIR), there is a reawakened resolve on the part of Beijing to do whatever it takes to defend "core interests" such as Taiwan and Tibet. Referring to the country's new-look foreign policy since late last year, Li said: "We have become a more pro-active and much more mature [global player]." Professor Yuan Peng, an America expert at CICIR, which is affiliated with the Ministry of State Security, is even more forthright about his country's global strategy. He said Beijing's unusually harsh reactions to Washington's arms sales to Taiwan and President Barack Obama's meeting with the Dalai Lama amounted to a game changer. "China wants to change the rules of the game," said Professor Yuan. "The U.S. leadership had sold arms to Taiwan and met with the Dalai Lama, and we had scolded the U.S. before. But this time, it's real rebuke and real fanzhi (counter-control)" (Global Times [Beijing], February 3; Sina.com.cn, February 22).
Likewise, Central Party School strategist Gong Li said Beijing should "not yield a single inch" as far as matters such as Taiwan and Tibet are concerned. Professor Gong said while China is not yet a superpower that can throw its weight around on a global scale, Beijing should "brandish the sword" in areas affecting the country's "core values and major interests." According to Yang Yi, a well-known scholar at the Beijing-based National Defense University, China has been thrust to the forefront of the global stage by force of circumstances. "Under such circumstances, it's better that we take the initiative and be proactive and creative," said General Yang. When faced with challenges and provocations, China should "show the flag and hit hard [at opponents]," he added. "While we may suffer temporary damage, it is imperative that our opponent be dealt a blow that it cannot sustain" (China News Service, February 27; Sina.com.cn, February 22).
Central to Beijing's novel modus operandi is cracking the whip on whoever dares impinge upon the country's vital interests. In reaction to perceived provocations from Washington, the CCP administration has as in the past scaled down diplomatic exchanges particularly in the military sphere. A planned American tour by the People's Liberation Army (PLA) Chief of the General Staff General Chen Bingde has been indefinitely postponed. For the first time, however, Beijing has threatened to penalize American businesses, for example, Boeing and other companies that are manufacturing weapons due to be sold to Taiwan. Moreover, the leadership under President Hu Jintao seems to have injected aspects of Chairman Mao's "people's war" into its diplomatic struggle against the United States. For instance, several official media and websites have urged citizens, particularly China's famously nationalistic fenqing ("angry young men and women") to join on-line signature campaigns to condemn the alleged "anti-China" and "belligerent" policies of the Obama administration (China Daily, February 24; Ta Kung Pao [pro-Beijing Hong Kong daily], February 26; Global Times, February 1).
An equally potent punitive measure is to stop helping the United States on the Iran and North Korea fronts, two key areas where Beijing's contributions or at least acquiescence are eagerly sought by Washington. This is despite the fact that shortly before his first China visit last November, Obama had sent two senior aides from the National Security Council to Beijing to secure the Hu administration's assistance in reining in the nuclear programs of Tehran and Pyongyang. And it was apparently due to Beijing's positive response that Obama steered clear of controversial issues such as human rights during his China tour. Soon after Obama left Beijing, Beijing joined 25 other members of the International Atomic Energy Agency in rebuking Iran for concealing a uranium enrichment facility (New York Times, February 25; Washington Post, November 26, 2009). Since early this year, however, Chinese diplomats have pulled back from active cooperation with the United States in putting pressure on Iran and North Korea regarding their nuclear gambits. For example, Beijing indicated last month that it was opposed to sanctions against Iran, whose energy cooperation with China has become more entrenched than ever (New York Times, February 5; The Telegraph [London], February 28).
Also intriguing is the enhancement of the quasi-alliance relationship between Beijing and Pyongyang. The Hu leadership has approved more economic aid and investment in the DPRK, which is reportedly poised to lease two islands to Chinese entrepreneurs for 50 years. Dear Leader Kim Jong-Il is due to visit Beijing later this year. While meeting Kim Yong-Il, director of the North Korean Workers Party's International Department in Beijing last week, President Hu indicated that Beijing was prepared to "further develop the traditional China-Korean friendship and raising China-Korean friendly ties to new levels." More significantly, the Chinese supremo did not say a single word about either denuclearization in the Korean Peninsula or the Six-Party Talks on resolving the Korean crisis. This has raised fears that while Beijing is officially committed to reviving the Six-Party Talks, it is not about to pressurize the wily Kim into make any substantial concessions (Xinhua News Agency, February 23; Wall Street Journal, February 26).
Beijing's hardened diplomatic posture is not confined to the United States – or to issues relating to thwarting so-called secessionist conspiracies in Tibet or Taiwan. Since late 2009, Chinese cadres have used strong-armed tactics to counter perceived efforts by foreign governments, institutions and companies to "infiltrate and subvert" the socialist order. The CCP administration's on-going row with Google and a host of multinational IT companies is partly predicated upon fears that, in the words of Minister of Public Security Meng Jianzhu, "the Internet has become a major vehicle through which anti-China forces infiltrate and subvert" the country (The Guardian [London], January 13; Ming Pao [Hong Kong] February 23).
CCP authorities have also displayed more zealousness in curbing apparent efforts by respected international institutions to give moral and other kinds of support to the country's dissident community. Chinese diplomats based in Oslo have leaned heavily on the Norwegian government not to allow famous dissident Liu Xiaobo – who was given an 11-year jail term last December for "inciting subversion" against the Communist regime – to be awarded the Nobel Peace Prize later this year. This is despite the fact that Norwegian authorities have no control over the decision of the Nobel Peace Prize Committee. In late 2009, the Chinese government also pulled out all the stops to oblige the organizers of the Frankfurt Bookfair to withdraw invitations to two moderate dissident writers, Dai Qing and Bei Ling, to give talks at the global cultural event (Apple Daily [Hong Kong], February 9; Asianews.It.com, February 4). These big-bully tactics appear to constitute a breach of the CCP administration's time-honored principle of "non-interference in the internal affairs of other countries." Beijing has invoked this principle when telling foreign governments and human rights watchdogs not to criticize the country's human rights record.
There are indications, however, that the Hu leadership's assessment of China's unprecedented power projection has been less than satisfactory – and that the foreign-policy establishment has at least temporary switched back to a more moderate if not conciliatory stance. For example, Beijing has so far not announced specific punitive measures against U.S. corporations. And while military-to-military exchanges have been suspended, the Foreign Ministry last month allowed the U.S. aircraft carrier USS Nimitz to make a port call on Hong Kong (Wall Street Journal, February 19; AFP, February 11). More significantly, senior officials have sought to reassure the global community that China is not harboring "hegemonic" aspirations. On his recent European tour, Foreign Minister Yang Jiechi reiterated the familiar doctrine that China's rise will not upset the global order. "The logic that 'a strong country will become hegemonic' is contrary to China's history," Yang said. "This is also against the intention of the Chinese people." Citing Confucius' famous dictum, Yang added that "'maintaining harmony in the midst of differences' is a value much treasured by the Chinese people" (China Daily, February 8; China News Service, February 6).
A likely factor behind the apparent softening of Beijing's diplomatic gambit could be fears of a backlash from countries that have been burnt by the fire-spitting dragon. General Yang Yi has warned of the danger of the emergence of an "anti-China coalition" in the West. "Some Western nations may adopt the formula of 'making individual moves to produce the effect of concerted action' – and join the 'contain China' camp one after the other," he said. Under this scenario, the well-known strategist added, "[anti-China] measures may come one after the other the rest of the year." A late February commentary by the Beijing-run Hong Kong journal Bauhinia also drew attention to the possible worsening of the international climate this year. The monthly magazine noted that Western countries' dependence on China might lessen in the wake of the global economic recovery. "It is possible the West will put more pressure on China over issues such as Tibet, Xinjiang, human rights, the value of the Renminbi as well as trade protectionism," the commentary said. "Forces calling for the 'containment of China' may also rear their head" (China News Service, February 27; Xinhuatimes.net, February 4).
Irrespective of the trajectory of Beijing's bid to change the rules of the game of global intercourse, a number of disturbing questions have been raised about the means as well as the end of geopolitics with Chinese characteristics. The CCP leadership's apparent willingness to acquiesce in the nuclear ambitions of Iran and North Korea – if only in the context of punishing the Obama administration – smacks of shortsightedness if not failure to live up to its international responsibilities. Saber rattling against the U.S. may also constrict Beijing's room for maneuver. Take, for example, the issue of the Renminbi, which has been pegged to the U.S. dollar for more than a year. If only for the purpose of not being seen as succumbing to American pressure, Beijing has refused to entertain even a moderate appreciation of the Chinese currency (Wall Street Journal, February 19; China News Service, February 4). This is despite the fact that a mild concession on this front could reap a bonanza of goodwill from not only the United States and the European Union but also dozens of the nation's trading partners.
There are also fears that in his eagerness to stir up nationalistic fervor, President and Commander-in-Chief Hu may have given too much leeway to his generals to express irresponsible anti-American sentiments. A case in point is recent threats issued by several hawkish PLA officers to penalize Washington by dumping China's holdings of American government bonds (Asia Times [Hong Kong], February 9; Washingtonindependent.com, February 10). While Beijing may seem justified in expecting Western countries to make certain adjustments in their dealings with a much-strengthened China, the CCP administration must first make sure that its commitment to global fair play is not compromised by what critics consider to be the overweening ambitions of a geopolitical parvenu.