Beijing Talks Tough About "New Cold War" in Asia
Publication: China Brief Volume: 16 Issue: 15
By: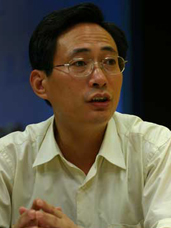 Beijing has declared a New Cold War against "hostile anti-China forces in the West," a code word for the United States and its Asia-Pacific allies (Military.China.com, August 26; Chinaiiss.com, August 25). This contrasts directly with the auspicious language used by President Xi Jinping when he hosted the Group of 20 meeting in the coastal city of Hangzhou earlier this month. Xi called on "China and the world to embrace each other" through "achieving common prosperity." Xi, who is also General Secretary of the Chinese Communist Party (CCP) and commander-in-chief, indicated that "China's interaction with the outside world has deepened." "Indeed, we have friends all over the world," he noted (China.org, September 12; Xinhua, September 3).
Yet Beijing is at the same time taking tough actions against perceived enemies under a global climate that official commentators have called a "New Cold War." Emblematic of Beijing's pugilistic mentality is a series of war games staged with Russia, China's "Comprehensive Collaborative Strategic Partnership" immediately after the G20 conclave. For eight days beginning September 12, the Chinese and Russian navies began unprecedentedly large-scale war games in the South China Sea. The "Joint Sea 2016" maneuvers, which involved latest-model submarines and amphibious armed equipment, consisted of drills, such as the seizure of simulated enemy strongholds (Xinhua, September 16; RT.com, September 15; Jinghua Times [Beijing], September 12). Perhaps not by coincidence, 22,000 Americans military personnel held exercises code-named "Valiant Shield 2016" in waters around Guam. The Pentagon also scheduled early autumn drills with the forces of South Korea, Japan and India (Guan Daily, September 13; Guancha.cn [Beijing], September 8). The China-Russian drill in Sept was of a larger scale than before.
According to the party mouthpiece Global Times, "Northeast Asia is under imminent threat of a New Cold War," with the U.S. and its Japanese and South Korean allies pitted against China, Russia and the DPRK. Seeing a zero-sum type of ferocious contention in the volatile region, the official Beijing Youth Daily warned in a mid-August commentary that "we must beware of a New Cold War" that could plunge the region into chaos (Global Times, August 13; Beijing Youth Daily, August 13).
The siege mentality in which Beijing finds itself is a result of adverse developments within its sphere of influence. On July 12 a ruling by the Final Court of Arbitration (CFA) in the Hague rendered China's territorial claims to the bulk of the South China Sea illegitimate. Additionally, plans were announced by countries including Australia, France and Japan to patrol the South China Sea so as to demonstrate freedom of navigation. Several claimants to South China Sea islets have pledged closer military cooperation such as Vietnam and the Philippines on the one hand, and the U.S., Japan, India and Australia on the other. On the Korean Peninsula, the deployment of America's Terminal High Altitude Air Defense (THAAD) missile-defense system on South Korean soil is viewed as offsetting China's strategic missile deterrent. To the south and west India has deployed sophisticated BrahMos cruise missiles in areas of Arunachal Pradesh that are close to disputed borders with China (China Brief, September 13; Times of India, August 25; Straits Times, August 22; Xinhua, July 12).
Diplomatic analysts in Beijing said that as a result of these contretemps, the Xi administration has no choice but to ratchet up the rhetoric. Given that nationalism is a key pillar of legitimacy of the CCP—and the successful projection of Chinese power—Xi cannot afford to lose face on the foreign-policy front. A recent symposium of diplomats and generals organized by Global Times concluded that "the shadow of Washington" was behind recent troubles such as the CFA ruling and the deployment of THAAD missiles. Global Times quoted participants as saying that "anybody who dares offend China will have their buttocks smacked" (Global Times, August 16).
The rise in incendiary language could be followed by military action. In the wake of the radical restructuring of the People's Liberation Army's command-and-control structure, Commander-in-Chief Xi has vowed to boost cutting-edge weapons such as the DF-41 intercontinental ballistic missiles and the nuclear-tipped Multiple Independently-targetable Re-entry Vehicles (MIRVs) (The Diplomat, April 23; Asia Times, February 12). Military and diplomatic representatives have cited the imperative of a viable nuclear second-strike capacity. According to former ambassador to Austria Yang Chengshu, China needs to bolster its second-strike arsenal to show the West that "if you want to mess with me, there is absolutely no advantage for you." Former ambassador to Iran and foreign-policy researcher Hua Liming noted that a key aspect of President Xi's "Chinese dream" is national security. "And building up a reliable nuclear second-strike capacity is a prerequisite [for state security]" (Asia Times, September 9; Globalview.cn [Beijing], August 18).
Actions taken by the PLA and other branches of the party-state apparatus to blunt the advance of "anti-China forces," however, may have resulted in the further escalation of tension in the Asia-Pacific Region. For example, in an apparent effort to "punish" Japan, Beijing has deployed jet fighters and naval vessels very close to the disputed Senkaku islands (known in China as the Diaoyus). The PLA has also engaged in joint military exercises with the Russian navy in areas close to the Sea of Japan (Global Times, August 22; Ming Pao [Hong Kong], August 10). Equally significantly, Chinese Ambassador to Tokyo Cheng Yonghua reportedly warned a senior Japanese official not to cross the "Red Line" by joining American naval vessels in "freedom of navigation" missions in the South China Sea. Kyodo and other Japanese news outlets reported that Cheng even hinted at military action if the "Red Line" was crossed (Japan Times, August 21; Asia Times, August 21). In her mid-September trip to Washington, however, Japanese Defense Minister Tomomi Inada indicated Tokyo's "strong support for the U.S. navy's freedom-of-navigation operations" in the South China Sea. She also envisaged joint operations between the two countries' forces to "uphold rule-based international maritime order" (Apple Daily [Hong Kong], September 17; Reuters, September 16).
Seoul's perceived apostasy has perhaps raised the most alarms among President Xi's advisers regarding the exacerbation of Washington's "anti-China containment policy." Since she came to power three years ago, President Park Geun-hey had adopted perhaps the most pro-China policy of any Korean leader since the end of the Korean War. Gestures such as participation in Beijing's 2015 military parade to mark "China's victory in the Chinese People's War of Resistance against Japanese Aggression"—an event not attended by any representative from democratic countries—helped convince the Xi leadership that Beijing could drive a wedge between the U.S. and South Korea as well as aggravate Japanese-South Korean contradictions (Ming Pao, August 30, 2015; South China Morning Post, August 20, 2015).
The CCP administration, however, unleashed personal attacks on Park after Seoul's recent decision to host the THAAD defense system, which Beijing thinks will jeopardize China's national security. Park was accused of being fanhua ["anti-China"] and "playing with fire" (South China Morning Post, August 23; Huanqiuzhiyin.com [Beijing], August 17). The CCP administration has made plans to downgrade economic and cultural ties with South Korea. For example, South Korean singers and movie stars—who are very popular in China—have found it difficult to arrange concerts and other performances in the PRC. Officials have also warned Seoul that its huge trade surplus with China could be jeopardized (Global Times, February 9; Global Times, August 2).
Apart from flexing military muscles, brandishing economic inducements is perhaps the most effective means in Beijing's repertoire. Efforts to woo the new Philippine administration of President Rodrigo Duterte, who has displayed "pro-Chinese" sentiments, are a case in point. Chinese diplomats have hinted that if Manila does not make too much noise out of the CFA ruling, Beijing will significantly boost investments in the Philippines (Japan Times, September 16; AP, September 14). Yet as a result of the downturn in China's economic growth, there are limits as to the efficacy of Beijing's vaunted economics-based diplomacy. For example, Chinese investments in projects along the One Belt One Road have in many cases been held up due to the sheer size of the outlays. Up to now, infrastructure building along the Silk Road Economic Belt and the 21st Century Maritime Silk Road—which Beijing thinks will bond China with countries ranging from ASEAN members to Central Asian states—has been predicated upon generous Chinese economic aid (HKTDC.com [Hong Kong], May 30).
According to Zhejiang University expert on international relations Li Dunqiu, the advent of a New Cold War is a logical consequence of Washington's "Pivot to Asia" and "Asian Re-balance" strategies. "Washington hopes to expand ties with its allies through investments in politics, economics, weapons and diplomacy so as to uphold America's global hegemony and to contain China's rise," he noted (China Youth Daily, July 16). Chinese experts, however, seem oblivious to the fact that a key reason why countries in the Asia-Pacific Region ranging from Japan and Australia to Vietnam and Singapore have enhanced military alliance with the U.S. is Beijing's aggressive power projection and perceived disregard for international law.
According to Ambassador Hua Liming, the most effective way to ensure China's security is to make friends with countries big and small. "Chairman Mao and Premier Zhou Enlai taught us that the more friends we have in the world—and the fewer enemies—the better," he said. "We should treat our neighbors differently from the American [way]. Some countries will stand by us once we have enticed them; if we do nothing, they will stick with the U.S." "China's most urgent problem is to persuade friends to trust and respect us" (Mil.qianlong.com [Beijing], August 16). Insofar that the "New Cold War" atmosphere shrouding Chinese foreign policy is predicated at least in large part on the "China threat theory," however, the country's generals and diplomats face an uphill battle trying to persuade America's friends in the Asia-Pacific Region to fall for Beijing's embrace.
Dr. Willy Wo-Lap Lam is a Senior Fellow at The Jamestown Foundation. He is an Adjunct Professor at the Center for China Studies, the History Department and the Program of Master's in Global Political Economy at the Chinese University of Hong Kong. He is the author of five books on China, including "Chinese Politics in the Era of Xi Jinping: Renaissance, Reform, or Retrogression?," which is available for purchase.