Belarus a Blip, Russia Looms Large on Macron's Baltic Visit (Part Two)
Publication: Eurasia Daily Monitor Volume: 17 Issue: 137
By: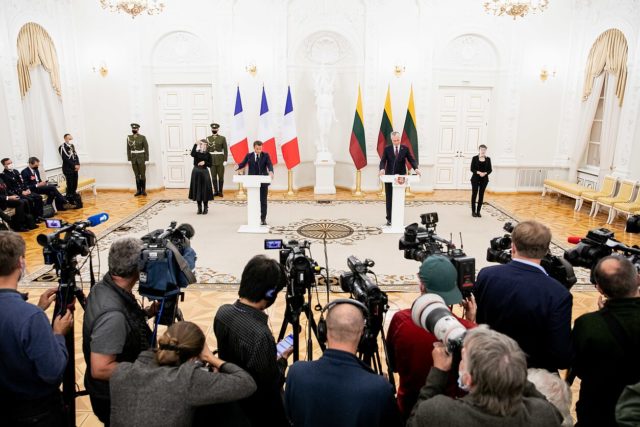 Visiting Lithuania and Latvia on September 28–30, French President Emmanuel Macron communicated a complex message. On one hand, he reassured both countries of France's intention to continue participating in the North Atlantic Treaty Organization's (NATO) missions in the Baltic states. On the other hand, Macron proselytized for his notions of reducing The United States' role in European affairs, reconstructing Europe's security architecture together with Russia (provided that Moscow helps resolve conflicts on Europe's peripheries), and his unilateral quest for a "strategic dialogue" with the Kremlin. The Baltic and other NATO frontline states are highly skeptical of such Macron initiatives (see Part One in EDM, September 30).
As a new element in his putative dialogue, Macron offers to mediate between the Belarusian opposition and Russian President Vladimir Putin. The Baltic States support the opposition, on the shared (though not to the same degree) assumption that Alyaksandr Lukashenka has become fully dependent on Moscow following his dubious reelection as Belarusian president. Macron's mediation proposal seeks, on the one hand, to propitiate his skeptical Baltic audiences by helping to replace Lukashenka and allow the opposition to bid for power in Belarus. On the other hand, Macron would offer Putin a chance to resolve this crisis on terms acceptable to all concerned, thereby vindicating Macron's "strategic dialogue" and qualifying Putin for at least preliminary consideration as European security partner. Tacitly, however, the Baltic States, Macron, the Belarusian opposition and all concerned seem to hope for a Putin-assisted regime change of the soft variety in Belarus.
The Vilnius-based Belarusian opposition leader Sviatlana Tsikhanouska publicly requested a meeting with the French president (Macron had insisted on receiving such a request). Widely pre-announced and commented on in French mainstream media, their meeting in Vilnius was limited to a half-hour conversation behind closed doors, without a joint public appearance or photo opportunities. In their follow-up, separate statements, both indicated that Macron would try to mediate between the Belarusian opposition and Putin. For her part, Tsikhanouska also alluded to mediation between the opposition and putatively willing elements among the official authorities. The overall message is that the opposition seeks free elections, is fully open to cooperation with Russia, and defines Belarus's political crisis as a purely internal matter, without geopolitical motivations (Tut.by, BNS, Agence France Presse, September 28, 29).
Macron promptly initiated a phone call to Putin on September 30. According to the Kremlin's readout, Putin waved off a dialogue: instead, he cautioned Macron against "any external attempts at interference or pressure on the legitimate state authorities" (Kremlin.ru, September 30).  The Elysée Palace has not published a readout (Elysee.fr, accessed October 1). For her part, Tsikhanouska used a French state radio interview to break her silence about her jailed husband, Siarhei Tsikhanouski, the initial presidential candidate, whom Sviatlana replaced on the ballot after he had been detained. Tsikhanouska confided to French state radio that her husband had been portrayed as a "Russian puppet" when he was running for president (Radio France Internationale, September 29). Yet in fact, Tsikhanousky had operated an outspokenly pro-Russia blog as a platform for launching his candidacy (InformNapalm, July 24).
Macron's talking points on this visit fairly represented his ideology about Europe's place in contemporary international relations (Euractiv, September 28–29; ELTA, September 28–30).
– "If we want durable peace in Europe, we need to work with Russia, because we share a common history and geography. […] We cannot live as if Europe was an island far away from Russia, we must create the security architecture, renew cooperation and trust," albeit "this would not happen overnight."
– "Ways must be found to normalize relations with Russia, otherwise the resolution of regional conflicts would not be possible."
– "[My] strategic dialogue with Russia will be a demanding one," "transparent and non-naive."  This dialogue "would [also] help to better resist cyber attacks."
– "Europe must unite in order to offset domination by the United States and China, so that the world not be divided between the US and China, [in which case] European countries might have to choose between the US and China."
– "Lithuanians should soon view Europe as the main guarantor of their national security because we could no longer rely solely on US guarantees."
Lithuanian and Latvian leaders responded at every step by emphasizing the Baltic States' Transatlantic link and confidence in NATO. They also expressed gratitude for France's contributions to NATO's battle group rotationally stationed in Lithuania (300 French soldiers in the 1,500-strong unit led by Germany as framework nation) and NATO's Baltic Air Policing mission. France has participated in eight rotations within either mission thus far, which represents a rate of about one half of the rotations performed to date.