Belarus and the Murder of Pavel Sheremet
Publication: Eurasia Daily Monitor Volume: 13 Issue: 138
By: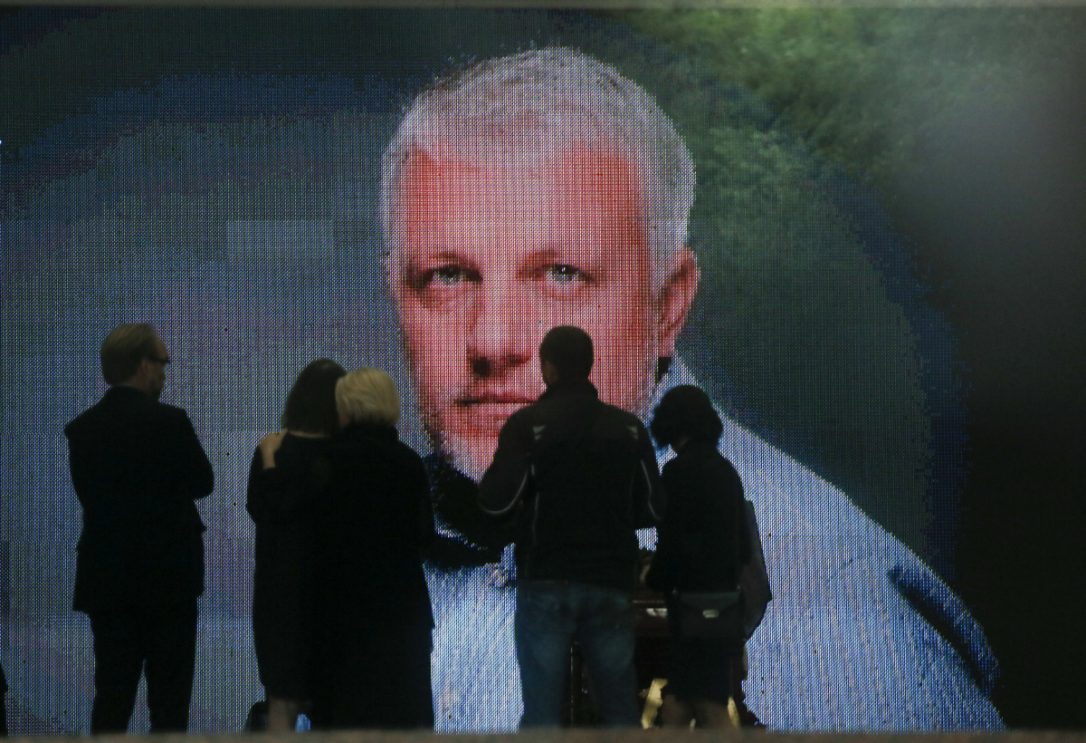 Pavel Sheremet (born in 1971), one of the most well-known Belarusian journalists, was killed on July 20, in downtown Kyiv, Ukraine, where he was working for the last five years (Ukrainskaya Pravda, Tut.by, July 20). The car Sheremet was driving fell victim to an explosive device attached to the vehicle's undercarriage. An economist by training, Sheremet began work as a journalist on Belarusian TV in the early 1990s, but in 1996 he left because of his opposition to President Alyaksandr Lukashenka. Subsequently, Sheremet worked for Russian TV, initially as a correspondent in Minsk. In 1997, he was imprisoned for three months in Belarus—allegedly for illegally crossing the Belarusian-Lithuanian border. Then-president of Russia Boris Yeltsin pleaded for his release, at which point Sheremet moved to Moscow and, until 2008, worked for the Russian TV Channel 1. From 2008 to 2012, he wrote for various liberal Russian media outlets but subsequently moved to Kyiv, where he collaborated with the daily paper Ukrainskaya Pravda (founded in 2000 by Georgi Gongadze, another murdered journalist) and hosted a radio show. In 2004, together with Svetlana Kalinkina, Sheremet authored a book, Accidental President, which lambasted Lukashenka. The gist of their criticism is that Lukashenka is a rustic man from the bottom of society, beset with an inferiority complex who has consistently purged the brighter people in his entourage. One of the book's chapters is even titled "President From a Trash Can." Despite a staunchly negative attitude to the Belarusian leader, the authors do not deny Lukashenka's popularity. On the book's last page, they even profess "no doubt that Lukashenka loves Belarus and its people." In 2005, Sheremet founded the opposition-minded online news portal Belorussky Partizan.
Alexander Feduta, Sheremet's comrade-in-arms from the Belarusian opposition and also a well-known journalist, does not think there is a Belarusian trace in Sheremet's murder (Salidarnasts, July 20). The St. Petersburg–based media consultant and investigative journalist Alexander Zimovsky—a former parliamentarian and chief executive of Belarusian TV—believes the explosive device that killed Sheremet was actually intended for Alena Pritula, his girlfriend, whose car Sheremet was driving. Pritula owns Ukrainskaya Pravda. In that capacity, she reportedly became involved in a bitter struggle for the division of property between the Ukrainian oligarch Konstantin Grigorishin, who is close to President Petro Poroshenko, and two business partners of the former prime minister Arseniy Yatsenyuk, Arsen Avakov and Nikolai Martynenko. The latter appeared to be the target of an anti-corruption investigation undertaken by Pritula (Inosmi.by, July 20).
For its part, the Russian Ministry of Foreign Affairs categorically rejected any speculation regarding a possible Russian connection and even praised Sheremet as a man of principle (Mid.ru, July 20). Whether or not one agreed with his principles, Sheremet was definitely not one to shy away from a fight he believed in and was always ready to take on personal risk if necessary.
Like other liberal critics of the Belarusian political regime, Sheremet had for a long time repeatedly spoken about the impending collapse of the Belarusian political regime as well as about the dubious benefits of Belarus's integration with Russia (Ekho Moskvy, August 14, 2005). In actuality, the Belarusian "regime" has evinced more resilience than critics ever gave it credit for, and the country's economic integration with Russia has been on the rise, at least in terms of formal arrangements. Nevertheless, several time periods (e.g., 2003–2005, 2010–2011 and 2015–) have provided fodder for negative predictions. One such period is still underway. Thus, between January and May, real incomes in Belarus were 7 percent lower than during the same period one year ago. Moreover, in 2015, Belarusians' real incomes were 5.9 percent lower than in 2014, so the economic decline has been lasting and steep (Tut.by, July 18).
Belarus's natural gas conflict with Russia (see EDM, June 15) has also lingered on. Minsk has been paying $73 per 1,000 cubic meters of Russian gas, not the $132 agreed upon in an earlier bilateral deal. Therefore, according to sources in Moscow, Belarus's growing debt to Russia currently amounts to $270 million. In retaliation for being underpaid, Russia decreased the supply of duty-free oil to Belarus in the fourth quarter by 2.25 million tons. On July 21, information surfaced that Minsk promised to pay the debt, and once this happens, full-scale oil deliveries will resume. Moscow agreed to discuss a discount for natural gas but only in exchange for an eventual agreement to sell certain Belarusian industrial giants to Russian owners (Kommersant, July 21). Apparently, of utmost interest to the Russians is the Minsk Wheel Tractor Plant, which produces military vehicles for transporting ballistic missiles (Svaboda.org, July 21).
At least one silver lining can be observed when it comes to the Belarusian economy. The export of information technology (IT) services, which in 2005 amounted to just $50 million, had grown to $200 million by 2010 and to $800 million by 2015. So today, the IT sector is generating more export revenue than trucks ($577 million in 2015) and tractors ($446 million)—two traditional Belarusian exports. Ninety percent of IT service exports goes to the West. At the center of the Belarusian IT industry is the Minsk-based High-Tech Park, with 152 resident companies and 25,000 employees. This success story, however, has not offset the overall 20 percent shrinkage of Belarusian exports during the first half of 2016 (Naviny.by, July 15).
It seems that today, Belarus is at a crossroads both economically and perhaps also in terms of its foreign relations. The late Pavel Sheremet's writings invoke some of the systemic problems Belarus is contending with; but as is often the case in relation to this country, the whole picture is much more complicated.