Belarus Asserting Its Own Voice at Home and Abroad
Publication: Eurasia Daily Monitor Volume: 15 Issue: 141
By: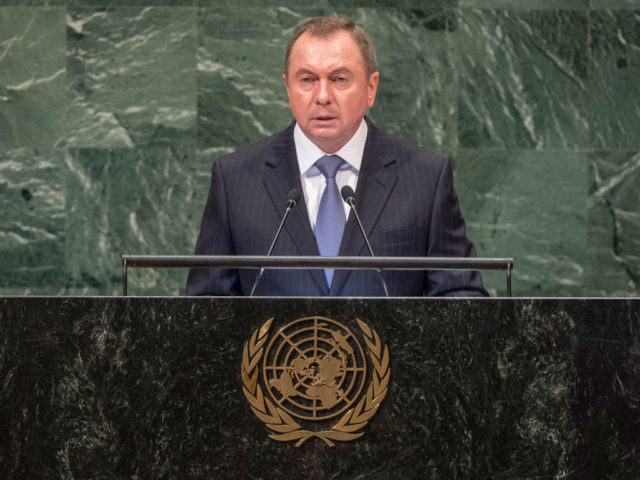 News that the United States is weighing the possibility of establishing a permanent military base in Poland as well as Belarusian Foreign Minister Vladimir Makei's speech at the United Nations General Assembly have both elicited spirited debates inside Belarus, providing useful insight into how the country wishes to assert itself in the world.
The idea of a permanent US military presence in Poland still appears to lack a clear status. What is certain, however, is that Polish President Andrzej Duda wants that presence. Nevertheless, Russian media sources pitch it intermittently as a possibility and as an imminent occurrence. Major headlines give a taste of that: "In Poland, They Will Build a US Military Base for Protection From Russia" (Lenta.ru, October 4); "US Base Will Symbolize the Military Occupation of the Country" (RIA Novosti, September 19); "Dream Come True? In Poland, an American Military Base May Be Deployed" (Topwar.ru, September 19); and "Soft Occupation: How Will American Base in Poland Affect the Balance of Power in Europe?" (Sputnik, September 21).
Belarus, of course, is squeezed between Russia and Poland. But what has been peculiar about the Belarusian reaction to the idea of a permanent US military presence across its western border has been the unprecedented unanimity of opinion. Thus, Nikolay Statkevich, arguably the most unruly critic of Belarusian President Alyaksandr Lukashenka, believes that "if Americans endorse the idea, then NATO [the North Atlantic Treaty Organization] would be in violation of the Russia-NATO Founding Act, according to which NATO committed itself to the non-deployment of permanent military contingents of the alliance's western members in NATO's easternmost countries." Russia's imminent reaction to the base would be the deployment of sizable military contingents in Belarus, and Lukashenka would not be able to resist that. "Nobody knows how long this American military base will linger in Poland, if deployed, but Russia may remain forever just 180 kilometers from Warsaw," Statkevich argues (Nasha Niva, September 25).
The opinion of independent analysts less confrontational to the government in Minsk has not been much different. For example, Alexander Alesin believes that Moscow's response to a US base in Poland will be to deploy several Russian brigades armed with Iskander-M operational tactical missile systems to the western regions of Belarus. These missiles officially have a firing range of 500 kilometers. Together with the Iskanders stationed in the Kaliningrad region, they would be able to target almost the entire territory of Poland (Naviny, October 2), not to mention several of Poland's southern allies and large swathes of western Ukraine.
Independent analysts occasionally collaborating with the government also echo this view. Thus, Yauheni Preiherman, who chairs the Track II Minsk Dialogue expert initiative, writes that not just Belarus but also Ukraine would become the "accidental victims" of Fort Trump, the tongue-in-cheek name of the potential base. Belarus because of the imminent deployment of the Russian military, and Ukraine because Lukashenka's repeated promises that Ukraine will never experience an attack from the north will become worthless (Minskdialogue.by, October 2).
Minsk itself is convinced that "security is indivisible and cannot be achieved by pumping up your muscles… In the world of advanced technology, including in the military sphere, drawing additional foreign military facilities and forces to one's territory is a zero-sum game. It only weakens the security of the state and neighboring states, contributes to a rise in military and political tension, and leads to new division lines," said Anatoly Glaz, the spokesperson for Belarus's Ministry of Foreign Affairs (Interfax, September 27).
Domestic opinions have been less uniform regarding Foreign Minister Makei's October speech at the UN (Naviny, October 1). Among other things, Makei referred to openness of the Belarusian economy and to the fact that the western border of Belarus is "the only [sic] genuinely economic border within the space between Lisbon and Vladivostok and, in the future, perhaps between Lisbon and Shanghai." Therefore, he continued, Belarus is keenly interested in close cooperation between the European Union and the Eurasian Union. Unprecedented challenges and threats to international security leave no choice but to build the new world order on the basis of common values. Such common values, according to Makei, cannot result from "imposing democracy through strong-arm tactics and through violence undermining legitimate governments."
To Makei's opposition-minded critics this last statement reads as "the international community should not prevent dictatorial regimes from doing what they please" (Svaboda.org, October 2). In contrast, a government-friendly analyst sees in Makei's speech an appeal to alternative globalization that would pursue the interests of five billion people just as much as those of the remaining 2.4 billion residing in the world's most powerful and wealthy countries (Sputnik News, October 4).
No less diverse have been the opinions about domestic affairs, particularly about President Lukashenka canceling the short-lived ban on sales of alcoholic beverages in Minsk between 11 PM and 7 AM as well as his harsh criticism of the domestic violence bill prepared by the Ministry of Internal Affairs. According to Yury Drakakhrust of Radio Liberty and Tut.by, the late-night alcohol ban cancelation by the president, who is an avowed non-drinker and proponent of a healthy lifestyle, can only be attributed to Lukashenka's obsessive reluctance to being likened to Mikhail Gorbachev. The latter's anti-alcohol campaign of 1985–1987 is indeed not fondly remembered all across the former Soviet Union. Among other things, Gorbachev was ridiculed as Mineral Secretary (a cross between General Secretary and Mineral Water) and that is the last thing Lukashenka needs, Drakakhrust believes (Tut.by, October 4). Surprisingly, some Lukashenka-loyal pundits allowed themselves to disagree with the Belarusian leaders' decision to lift the nighttime alcohol sale ban (Shpakovsky, October 5).
Somewhat more complicated has been Lukashenka's criticism of the domestic violence bill, which according, to the Belarusian leader, borrows some discredited Western fads that "run contrary to our Belarusian Slavic traditions and our own experience" (Belta, October 5). In particular, this is about outlawing physical punishment of children, which Lukashenka says he himself practiced at times on his elder son. Lukashenka's criticism of behavioral norms now fairly well established in Western liberal democratic societies and his support of "traditional values" inspired reproach from some quarters (Charter97, October 5). At the same time, however, on its surface Lukashenka's attitude is not altogether alien to those in Western countries who see themselves as part of the ascendant populist resistance to granular identity politics and alternative lifestyle choices.
In multiple ways, therefore, Belarus is asserting its right to be its own self, not an imitator of alien mores or a voiceless victim of the international scene's most powerful and aggressive actors.