Belarus Balances Pursuit of Economic Growth With Strengthening National Identity
Publication: Eurasia Daily Monitor Volume: 13 Issue: 180
By: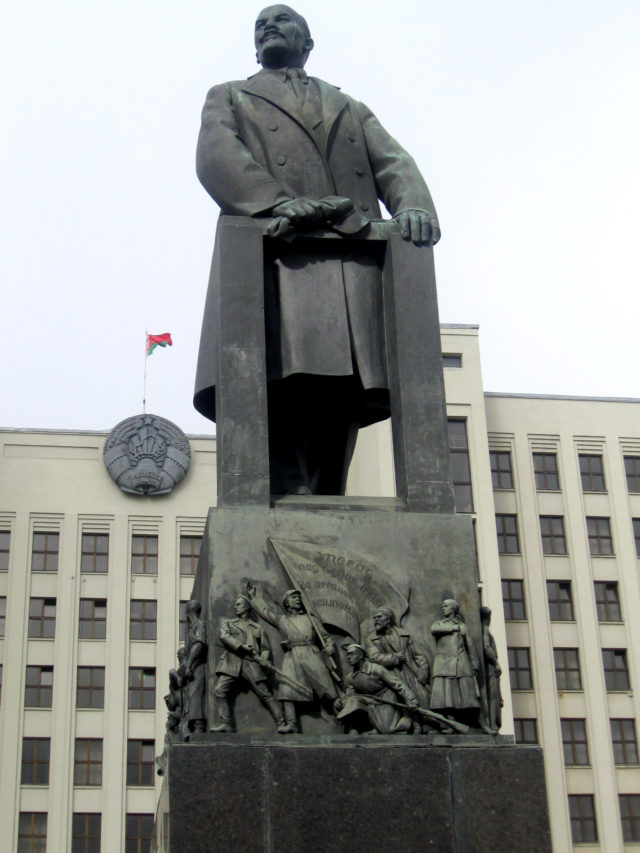 On Belarus's eastern flank, the conflict with Russia over natural gas prices has reportedly been resolved; but the parameters of the resolution are not transparent. In the words of Belarusian Prime Minister Andrei Kobyakov, the price of gas remains $132 per 1,000 cubic meters, as Russia insisted, but the Belarusian side is "satisfied by the attendant decisions" (Belta.by, October 31). At the same time, a certain amount of Azerbaijani oil was delivered to the Mozyr refinery to make up for Russia's cut in exports of crude oil to Belarus to penalize Minsk for underpaying for Russian natural gas (Belta.by, October 31).  For the umpteenth time, President Alyaksandr Lukashenka declared that "a delay in establishing a common market for energy in the Eurasian Economic Union (EEU) does not suit us" (Naviny.by, October 28). As per Russia's suggestion, common prices on energy across the Moscow-led economic bloc will only be set in 2025.
Several other recent developments have also been undermining Belarusian-Russian economic integration. Specifically, on November 1, Russia stopped allowing passenger cars from third countries to freely enter Russia via Belarus. Immigration and customs controls do not exist on the Belarusian-Russian border, and so Russia is now demanding that foreign cars enter its territory across border crossings with such controls conducted by Russian authorities. That would imply quite a detour for Russia-bound foreign drivers crossing Belarus—either through Latvia or through Ukraine. This arrangement is an absurdity: Belarus's borders with European Union countries already have Belarusian customs and immigration controls, while the freedom of movement of peoples across borders is enshrined in both the Belarus-Russia Union State and the EEU (of which Russia and Belarus are founding members). The limitation for cars has not yet been extended to citizens of third countries entering Russia via Belarus by trains and aircraft; but these issues are reportedly "under scrutiny" (Naviny.by, November 1). A Belarusian visa does not longer allow citizens of third countries to enter Russia and vice versa—i.e., there is no EU-style Schengen Zone equivalent in the EEU, despite the fact that this bloc has far fewer members than the European Union.
Another notable development has been the growing number of Belarusians who worked abroad in Russia who are now returning to their home country. Scores have come back because wages in Russia are no longer significantly higher than in Belarus. Concurrently, 82,000 Belarusians received job authorizations in the European Union in 2016. In Belarus itself, wages look grim. From January to September, the highest monthly wages in the country were in Soligorsk district of Minsk Oblast, where potassium is extracted. There, Belarusians on average earn 1,058.4 rubles (about $557) per month. In the city of Minsk, monthly wages amounted to 1007.8 rubles ($530). But plenty of areas fall within the $250–$270 range (Naviny.by, November 1). Presumably, Belarusians who earn such small monthly wages must mainly or exclusively rely on consuming homegrown food.
Belarusian exports to Russia have been shrinking overall. But one silver lining may be seen in the fact that the Minsk Truck Factory (MAZ), which for quite some time was operating at a loss, suddenly reported growth in its sales to Russian buyers: 364 trucks were sold in September, 13 percent more than in September 2015 (Tut.by, October 18). According to one popular line of thinking, Belarus should preserve its current economic model, which is dominated by large state-run businesses. However, to unleash its economic potential, the country should allow the CEOs of these state-owned enterprises to undertake risky decisions without fear of criminal prosecution and to engage in serious marketing research without having to worry about being charged with corruption (Respublika, October 21). According to an alternative opinion, most eloquently expressed by Kirill Rudyi, Belarus's ambassador to China and a former economic advisor to the president, Belarus seriously needs to propel private businesses to a position of strength. Furthermore, he argues, the country needs good lawyers who can protect fledgling domestic businesses as well as sociologists to unmask the drivers of local consumer behavior (Tut.by, November 3).  One problem with this solution is that it has already been tried, to some degree in Russia—but the results do not look attractive.
Belarus's closeness to Russia is sometimes asserted by pointing to the fact that Belarus remains one of only two post-Soviet countries that retain November 7, the anniversary of the Communist Revolution of 1917, as a national holiday (the other being Kyrgyzstan). Russia itself, however, no longer celebrates November 7. In his congratulatory remarks to the nation, Lukashenka underscored that the former Soviet Union set international standards in social welfare, equality, inter-ethnic consensus and achieved momentous breakthroughs in industry, agriculture, spacecraft technology, etc. The priceless experience of previous generations inspires the present population, he claimed (President.gov, November 5). Moreover, on November 7, "on the request of veterans and communists" of the Minsk Tractor Factory, a monument to Vladimir Lenin was moved from a location inside the fenced territory of the factory to its original and more visible location outside the factory's checkpoint (Tut.by, November 5).
Referring to the role of Russia in the Belarusians' worldview, Stas Karpau, a Belarusian-language blogger, opines that his countrymen who love Russia are fixated on it, while Belarusians who dislike Russia are fixated on it even more, as they constantly repeat that Belarus is not Russia. But within such a formulation, there is little room for Belarus itself—that is, a Belarus that can exist on its own without Russia as the meaningful other, he asserts (Stas Karpau, November 4). The oversized role of Russia in Belarusians' reflection over their own country irritates some nationalist thinkers. Thus, yet another blogger, Eduard Palchys, who was recently released from jail after being charged with inciting inter-ethnic hatred in his writing (see EDM, November 2), explained in an interview that his texts were not so much aimed against Russia. Rather, he said, his blog posts were meant to awaken Belarusians' self-defense instinct in the face of a perceived threat to Belarusian statehood. In 2014, amidst the early stages of the growing crisis in Ukraine, most Belarusians did not see that threat and instead became easy victims of Russian propaganda (Tut.by, October 31).
The recent developments in Belarus, thus, make up a kind of a jigsaw puzzle, whose overarching theme is not easy to tease out. But clearly, the lasting problem of developing Belarusian identity has grown entwined with the newer problem of overcoming the country's economic slowdown. The government will need to employ strategic thinking to solve this puzzle.