Belarus Cracks Down on Youth Activists
Publication: Eurasia Daily Monitor Volume: 6 Issue: 231
By: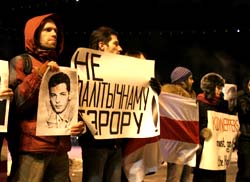 Since late November, the Belarusian authorities have targeted members of the Malady Front (Young Front, MF), an organization registered in the Czech Republic but not in Belarus, as well as Eurapeyskaya Belarus (European Belarus), the members of which overlap.
On November 16-17, the press secretary of the MF, 19-year old law student Tatsiana Shaputska, took part in the Eastern Partnership Civil Society Forum in Brussels. She met Swedish Foreign Minister Carl Bildt (Sweden holds the current EU Presidency), and Benita Ferrero-Waldner, European Commissioner for External Relations and European Neighborhood Policy. Leanid Kozik, chairman of the pro-government Federation of Trade Unions, was also present (www.charter97.org, December 7), who declared that he would personally instigate a protest in central Minsk if Shaputska had any problems from the Belarusian State University for her participation in the Forum (European Radio for Belarus [ERB], December 7).
On December 3, Shaputska received a letter from the university administration, which informed her that she was expelled for violating the university statutes. Later the official reason given was that she had been expelled for excessive absences –despite being an exemplary student (Office for a Democratic Belarus [ODB], December 4). It also appears particularly perverse given that membership of the Eastern Partnership Project has official approval and has signaled the end of the isolation of Belarus by the European Union.
Meanwhile, Kozik reportedly left Minsk to inspect a sewage breakdown at the trade union's sanatorium on the day Shaputska was expelled, and his secretary, when phoned by an office in Brussels, would not divulge further details (ERB, Dec 7). Later, he commented on the trade union website that the expulsion was unrelated to the student's attendance at the forum (Narodnaya Volya, December 5). MF leader, 28-year old Zmitser Dashkevich, and several other opposition figures, including Alyaksandr Milinkevich, leader of the Movement for Freedom and Paval Seviarynets, chairman of the unregistered Christian Democratic Party, held a meeting of an organizing committee to defend Tatsiana Shaputska, on December 4 at the office of the Belarusian Popular Front (ODB, December 4).
The following day, Dashkevich was scheduled to take part in the convocation of a New Generation coalition, a program to unite several youth organizations. As he opened the door of his apartment, five men in civilian clothes abducted him, put him into a minibus and drove to a forest some 40 miles from Minsk. They took his mobile phone and informed him that they intended to dig a pit, but disappeared after putting a wooden pole into his jacket to prevent arm movement. Dashkevich phoned friends from a public telephone, to learn that his apartment had also been raided and his laptop taken (Nasha Niva, Gazeta Wyborcza, December 7).
On December 6, four men in plain clothes forced one of the European Belarus leaders, Yauhen Afnahel, into a car with darkened windows (only the special services may drive such vehicles), forced him to put his head to his knees and took him on a 20-minute drive. They confiscated his camera and cell phones, and returned them after taking out batteries of the former and one of the phones (Radyio Svaboda, December 7).
The most common practice has been for the KGB or police to abduct youth leaders and activists from the streets. On March 25, 2009, they forced Nasta Palazhanka and Dzianis Karnou into a car in Minsk before the rally for Independence Day took place. They were dropped in a forest several miles away, after the abductors, who have never been identified, beat and robbed Karnou (Vyasna, December 7). Earlier the police had raided the apartment of Karnou and several other activists (Belapan, March 25). These tactics have now been revived.
On November 27, before the commemoration of the Slutsk uprising of 1920 against the Bolsheviks in central Minsk –an event regularly marked by the opposition– two policemen seized Uladzimir Lemesh, a member of the European Belarus movement. They confiscated his passport and cell phones, and put him in a Volkswagen minibus with darkened windows, and drove him out of the city, before releasing him with a warning not to continue his political activities. Prominent MF activist Artur Finkevich suffered an identical fate on the same day (www.charter97.org, December 7).
Though there have been dozens of individual acts of harassment by the KGB and police against youth activists over the past year, it is unusual to find so many related actions within such a short timescale. Expulsions of students, as well as pressure on them not to take part in protests or demonstrations, are also common. Several activist students have been expelled from university and forcibly recruited into the army, including Franak Vyachorka, leader of the youth wing of the Belarusian Popular Front, who has medical problems (www.udf.by, July 24). But the treatment of Shaputska seems illogical given the recent rapprochement with the EU. So how are these events explained?
First, the improved relations with Brussels, while adding some much-needed credibility to the Lukashenka regime, have also emboldened youth groups to test just how far liberalization in Belarus can be pushed. The regime is responding with petty harassment, abductions, death threats, and gross invasions of privacy and civil rights, confident that the EU will not reexamine its suspension of sanctions for another year.
Second, the government seeks to prevent any serious opposition coalition from emerging prior to the 2010 municipal and 2011 presidential elections. The Malady Front, with its emphasis on the Belarusian language and culture and its pro-European and anti-Russian direction, is an implacable foe and unlike the official opposition, it is particularly difficult to control.