Ukraine-EU Summit a Failure?
Publication: Eurasia Daily Monitor Volume: 6 Issue: 231
By: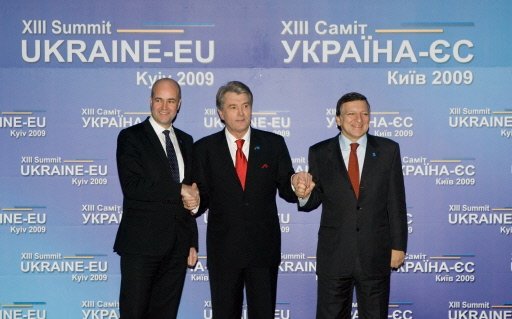 The Ukraine-European Union (EU) summit held in Kyiv on December 4 failed to move the country closer to the West. An association agreement, viewed in Ukraine as a serious step toward EU membership, was not signed because a free trade zone accord which is part of the agreement was not prepared. Very little progress was reported on EU visa regime liberalization for Ukraine. Similarly, Kyiv was told to sort out its gas relations with Russia. The summit's results were predictable, given Ukraine's political instability and lack of progress in reforming the economy.
President Viktor Yushchenko hoped to sign an association agreement at the summit, and consequently it was rescheduled from September to December. This was despite warnings from diplomats who argued the goal was unrealistic, given the failure to prepare a free trade zone agreement, which the EU refused to adopt separately from the association agreement. Differences over sanitary norms in agriculture, intellectual property rights, trade quotas and the EU's refusal to allow visa-free travel were among the main stumbling blocks (Kommersant-Ukraine, October 4).
Had an agreement been signed, Yushchenko would have claimed it as his personal achievement ahead of the January 2010 election. Recently, Yushchenko grudgingly accepted that this was out of the question, telling visiting Lithuanian President Dalia Grybauskaite that only "intermediary documents" would be signed with the EU (Channel 5, November 26). Off the record, Ukrainian diplomats blamed Yushchenko's bullishness and unrealistic expectations for the failure to achieve more concrete results (Kommerant-Ukraine, December 4).
Ahead of the summit, the EU sent negative signals. An unusually harsh statement was offered by the EU envoy Jose Teixeira, who said that Ukraine had failed to reform after the break-up of the Soviet Union and remained, in many aspects, like it was 20 years ago. That is why the economic crisis hit Ukraine so badly, he opined. According to Teixeira, oligarchs are stifling the economy, choking competition and hindering Ukraine's European integration through corruption and administrative barriers. He said the free trade agreement would be signed only when the main economic players in Ukraine agreed to launch real economic reform (BBC Ukrainian Service, November 30).
Kommersant-Ukraine on December 4 cited Ukrainian Foreign Ministry sources as saying that the association agreement would be signed in 2011 or 2012. European Commission President Jose Barroso was more optimistic at the summit, saying that the agreement should be completed in 2010, after the presidential election. Meanwhile, Barroso criticized the Ukrainian leadership for slow reform and said that Ukraine should move from words to deeds after the presidential election. However, Yushchenko blamed recent reforms in the EU, the financial crisis, and Prime Minister Yulia Tymoshenko for the lack of progress in relations with the EU (Ukrainska Pravda, UNIAN, December 4)
In a joint statement summing up the summit Kyiv pledged to attain political and economic stability through improving its constitution, fighting corruption and improving its investment climate. Yushchenko told a press conference that it was agreed to launch talks to improve the EU visa regime for Ukraine (UNIAN, December 4). Foreign Minister Petro Poroshenko said most EU countries would start to issue visas to Ukrainians for free from 2010 (Inter TV, December 4). However, the real problem for Ukrainian citizens is not visa costs, but EU bureaucratic hurdles making it virtually impossible for ordinary Ukrainians to obtain visas especially from the consulates of Spain, Italy, France and Germany. Ukraine introduced a visa-free regime for EU citizens in 2005, but many EU countries have toughened their visa requirements for Ukrainians since then. In early 2009, Ukrainian officials hinted that visa requirements for the EU would be reintroduced if no progress was achieved, but this threat achieved nothing.
Kyiv was told in clear terms at the summit that the EU would blame it for a possible repeat of the disruptions to Russian gas supply from January 2009. Swedish Prime Minister Fredrik Reinfeldt warned that European consumers may "lose patience" over Ukraine's unpredictability in gas issues (Ukrainska Pravda, December 4). Yushchenko promised stable gas transit, but he argued that gas deliveries are not only a Ukrainian problem and that the EU should contribute to its solution. According to Yushchenko, Ukraine spends about $7 billion per annum in order to pump 25 billion cubic meters of gas into its underground reservoirs to ensure stable gas deliveries to Europe during winter. He said Ukraine should not carry this burden alone (UNIAN, December 4). Earlier, the EU refused to provide a loan to Ukraine for buying Russian gas. Naftohaz Ukrainy, the debt-ridden state-controlled oil and gas company, may be short of money to pay for December deliveries from Gazprom. The payment is due in early January.
Kommersant-Ukraine reported on December 7 that the EU hinted to Ukrainian diplomats that Ukraine should be getting ready for membership talks in the future to join the EU simultaneously with Moldova. Moldova is more economically backward than Ukraine, it has not yet started talks on an association agreement with the EU, and it has problems with its breakaway Dniester region, but being a small country it could adapt its legislation to EU standards faster. The Ukrainian foreign ministry vehemently dismissed Kommersant-Ukraine's report (Interfax-Ukraine, December 7), but EU officials neither unequivocally denied nor confirmed it.